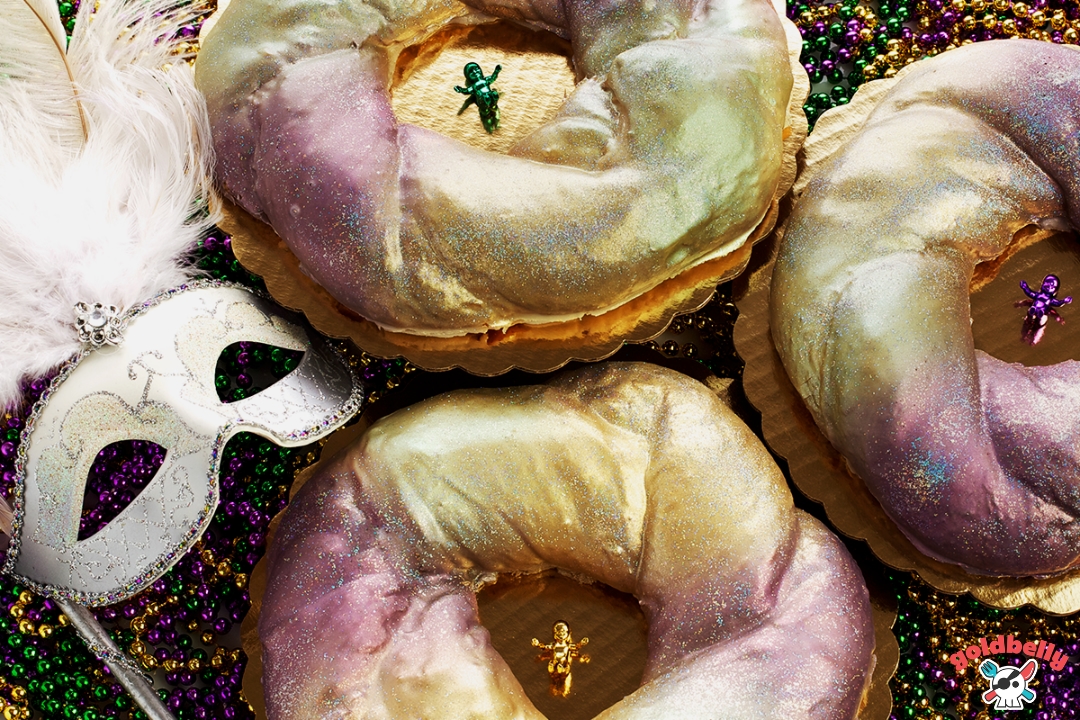 No Fat Tuesday feast is complete without epic, mouth-watering food, shipped straight from New Orleans. With Mardi Gras just around the corner, check out Captain Goldbelly's handpicked, iconic Carnival faves—made-to-order and delivered to your door from The Crescent City. From legendary appetizers and mains to festive desserts, we've got you covered for an unforgettable party.
Mardi Gras' Must-Have: King Cake
More Fat Tuesday Faves
MARDI GRAS' MUST-HAVE: King Cake
King Cake is so quintessential to Fat Tuesday that The Big Easy's residents believe eating it outside of Carnival season will curse Mardi Gras with rain. Legend has it that revelers who find the toy baby hidden in their King Cake slice will unlock good luck and prosperity, in addition to being the "King" or "Queen" for the evening! Bring this Creole tradition to your Mardi Gras party by ordering scrumptious King Cakes from the NOLA shops we love most.
The People's Choice: Classic King Cake by Maurice French Pastries
Made with mouth-watering, cinnamon-infused, hand-braided brioche bread, it's no wonder why Maurice French Pastry's King Cake won the People's Choice award for Best King Cake at the 2016 New Orleans King Cake Festival. Handmade and delivered straight from Metairie, LA, this cake comes with beads, doubloons, and a King Cake baby so you can go all out. Order here now »
Sugar Baby King Cake by Three Brothers Bakery
Give your King Cake a Texas twist with Three Brothers Bakery's show-stopper. With three flavors to choose from (Classic, Strawberry, and Cream Cheese) and an EDIBLE sugar baby you can hide before serving, there's no resisting its charms. Order today »
ALMOST GONE: Praline-Filled King Cake by Gambino's Bakery
If New Orleans were to crown a "King" of the King Cake, it would be Gambino's. This legendary bakery has served up NOLA's best treats since 1949. It's no wonder why Gambino's sells out of their King Cakes days in advance EVERY. YEAR. Order this icon now »
MORE FAT TUESDAY FAVES
The Original Muffuletta Sandwich by Central Grocery
Nobody does "The Moof" better than its originators! Crunchy outside and gloriously messy inside, this heavenly sandwich is packed with flavor: ham, salami, provolone, and their signature, brine-marinated olive salad has our mouths watering just thinking about it. Time's running out to snag this classic NOLA treasure in time for Mardi Gras, so call dibs NOW »
Classic Cajun Gumbo by Herbert's Specialty Meats
Cajun Gumbo is always on our radar when authentic Creole is needed—it's the state's official cuisine and elevates any Mardi Gras celebration. Herbert's authentic dark roux-based Cajun gumbo is a Louisiana favorite because they have developed unique seasoning and cooking process in order to create a wonderfully delicious masterpiece. This savory meal will ship to you frozen. All you have to do is thaw, heat, and serve over rice—simple as that! Order yours today »
Louisiana Étouffée by Hebert's Specialty Meats
If you love your food smothered in deliciousness, then Étouffée is the meal for you. Herbert's Louisiana Étouffée is a classic meal that smothers your favorite rice in heavenly, thick Cajun creole stew. This savory dish is a New Orleans local favorite and a must-have at your Mardi Gras party. This mouth-watering meal can be ordered with an option of either crawfish or shrimp. Prepared fresh onsite then shipped frozen to your door. All you need to do is thaw and heat. Order today »
Smoked Andouille Sausage by Comeaux's
Andouille sausage plays a major role in many Creole dishes from gumbo to rice and beans to jambalaya and much, much more. No matter what Cajun dish you put this sausage in, it will transform it into a delectable, savory meal. One of the best places in NOLA to get andouille sausage is Comeaux. Comeaux's andouille uses USDA pork, coarsely ground, seasoned, marinated, and stuffed in large sausage casing and hickory smoked to perfection. Order here to add authentic, tasty flavors to your dishes on Fat Tuesday.
Boiled Cajun Crawfish
Just thinking about Cajun crawfish is making our stomachs grumble. This savory meal is a show-stopping Fat Tuesday dish, perfect for any foodie out there. But, if you've ever made boiled Cajun crawfish before, you know how much hard work goes into it. Luckily, you can get freshly boiled and seasoned Cajun crawfish delivered to straight to your door from NOLA. Louisiana Crawfish Company will ship up to 60 (?!) lbs of mouth-watering boiled cajun crawfish that is sure to satisfy all of your guests. Order here today »
Pork Boudin Balls
If you're searching for a tasty appetizer to serve at your Mardi Gras party, look no further than pork boudin balls. This savory treat will put a smile on any meat-lover's face. And, there is no better place to order these delicious boudin balls than at Comeaux. Comeaux's signature pork boudin balls are not only scrumptious, they're also easy to make. No matter where you are in the nation, you can order this appetizer straight to your door. All you have to do once it gets to you is dethaw then bake or deep fry. Order here now »
Louisiana Crawfish Tail Meat
If you have never had Louisiana crawfish tail meat, you are truly missing out on a little piece of heaven. It is perfect for if you want a little flexibility with your meals. Throw it in some homemade gumbo or simply batter and fry it. No matter how you decide to prepare these pops of flavor, it's sure to be the talk of the party. You can have up to 10 lbs of delicious crawfish tail meat shipped to you from Louisiana Crawfish Company in New Orleans. The tails are partially cooked, then shipped frozen to your door for easy preparation. Order today »
Hurricane Mix by Franco's
Wash down your epic Fat Tuesday spread with an authentic Bourbon St. cocktail that'll have you dancing in the streets! Franco's is a French Quarter legend—just add dark rum or vodka and the party begins! Order this favorite »
Polish Paczki by Rose's Fine Foods
This Fat Tuesday classic hails from waaay back! Pączki (pronounced "poonch-key") are mind-blowing donuts, laden with the extra fat and sugar bakers had to use up before Lent. Traditionally enjoyed on Fat Tuesday,. Rose's Fine Foods bakes a small batch that sells out every year. You can order yours before they're gone »
Goldbelly's Fat Tuesday Finest—Shipped Straight to You!
These are just a few of our favorite NOLA food ideas for Fat Tuesday. But, if these ideas aren't quite right for your Mardi Gras party, check out the rest of our Mardi Gras picks at Goldbelly. Goldbelly lives to satisfy your cravings with epic food from the most iconic places in the U.S. To view all of our food options for an unforgettably tasty Mardi Gras party, visit our Fat Tuesday Collection here »