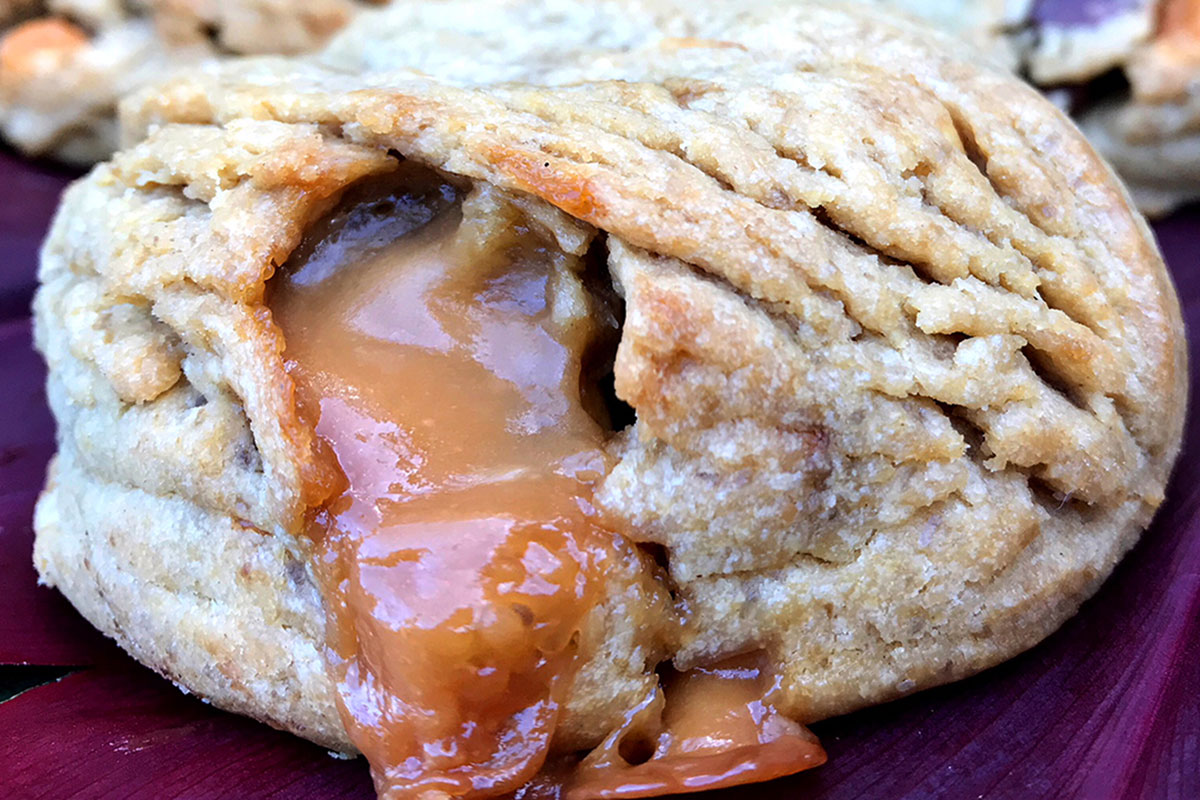 Whether you love your peanuts crunchy or creamy, National Peanut Day is the one day you can embrace both sides. While there are countless ways to celebrate this nutty holiday—from making a classic PB&J sandwich to eating peanut butter straight out of the jar—nothing can compare with stuffing your face with some scrumptious peanut butter cookies.
But, wait! There are so many cookies to choose from! Lucky for you, we've hand-picked the nation's best and most famous peanut butter cookies that can be delivered straight to your door. Check out these 10 deliciously peanutty cookies to celebrate National Peanut Day right:
Peanut Butter Perfection Giant Cookie by The Maui Cookie Lady
The name says it all. This Hawaiian stuffed treat from The Maui Cookie Lady is the ultimate peanut lover cookie. Enormous and baked to perfection, these insta-famous cookies are loaded with delicious ooey gooeyness in each and every bite. This cookie is loved by all, even Dwayne "The Rock" Johnson and Ludacris have professed their love for this yummy treat on Instagram! Order here now »
BETTER NUTTER COOKIES by CHEF THOMAS KELLER'S Bouchon Bakery
There's honestly nothing better than the tastes of childhood. Chef Thomas Keller may hold multiple three-star Michelin restaurants with Per Se and The French Laundry, but he knows how to bring back simple nostalgias with his Better Nutter Cookies. Featuring two giant peanut butter oatmeal cookies filled with a creamy peanut butter buttercream, these Bouchon Bakery classics are Andrew Zimmerman's favourite cookies! Order yours here »
Craftsman & Wolves' Signature No Frills Peanut Butter Cookie
Peanut butter and chocolate? Can you say yum?! This one-of-a-kind cookie handcrafted cookie from Monica's will put a smile on your face with every bite. Created with love, each and every nut is individually placed into the cookie by hand then dipped in chocolate. It's thick, soft and simply melts in your mouth. Order here now »
Chocolate Peanut Butter Porter Cookies by Appalachia Cookie Company
If you're looking for some of the best cookies from America's Blue Ridge Mountains, your search ends here. The chocolate peanut butter porter cookies by Appalachia Cookie Company are a deliciously nutty treat you'll want to try at least once in your lifetime. Order yours here »
Chocolate Chip Peanut Butter Jumbo Cookies by Gooey on the Inside
Cookies that are delightfully crisp on the outside yet perfectly gooey on the inside are truly what dreams are made of. A bite of this Chocolate Chip Peanut Butter Jumbo Cookie from Gooey on the Inside will make those very same dreams come true. Baked to absolute perfection, you don't want to miss out on trying this insta-worthy treat. Order here today »
Chubby Wubbies by Cake Chicago
These delicious "Damn Good Cookies" are not only yummy, they're also very cute—just like their name. Stuffed with a smooth and creamy filling, these bite-sized cookie sandwiches from Cake Chicago are sure to make you say "mmmmmmmmm." Order here now »
FLUFFERNUTTER Cookie DŌ
Let's be honest. Who doesn't love eating fresh cookie dough straight out of the bowl? At Cookie DŌ in NYC, Kristen Tomla has perfected a cookie dough recipe you can scoop straight into your mouth. While they offer a range of flavors, you can skip the long lines and pick out Fulffernutter to celebrate National Peanut Day. Order yours now »
PEANUT BUTTER CUP COOKIES by CookieLove
Rich and dynamic in flavor, CookieLove has some of the best cookies in the Bay Area. Get your hands on their Peanut Butter Cup Cookies for National Peanut Day. Order here today »
Peanut Butter Sandwich Cookies Covered in Milk Chocolate by Sugar Plum
These Peanut Butter Sandwich Cookies from Sugar Plum will take you back to grade school. Sweet, salty, nutty and chocolatey, this expertly crafted cookie will have you begging for more with every bite. Order here now »
Go Nuts with Goldbelly
Didn't find the cookie you were looking for or searching for other nutty treats? We've got you covered for your National Peanut Day celebration. Check out all of your other nutty options here!