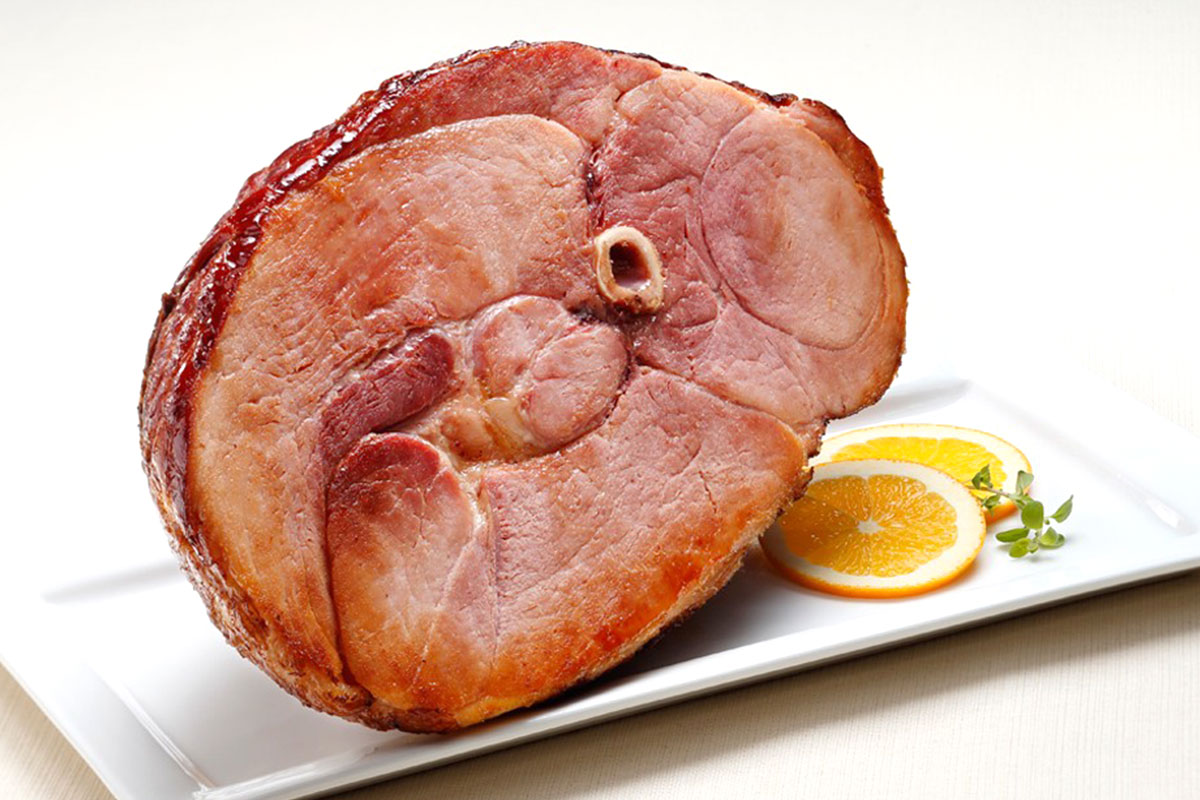 Not sure what to cook your guests this Easter Sunday? Take it easy on the prep this year and serve up the best Easter feast with iconic dishes delivered straight to your doorstep. From a classic honey glazed ham to carrot cake and more, these yummy eats will even have Peter Cottontail sticking around for Easter dinner.
Spiral Cut Honey Glazed Ham by Allen Brothers
Everyone knows that any traditional Easter dinner calls for a legendary honey glazed ham. Instead of stressing about cooking the perfect ham for your guests, get rich flavors and tender textures with Allen Brothers' spiral cut honey glazed ham. Aged and smoked to perfection, this dish will be a showstopper at your Easter dinner this year. Order here now »
Smoking Goose Meatery's Limited Edition Easter Ham
If you're looking for a modern twist on a traditional dish, Smoking Goose Meatery has masterfully created a delicious, mouth-watering ham that will impress your guests this Easter. Made with an apricot glaze then slow cured and smoked, this ham has pops of flavor like you've never tasted before. Get it while you can! Only a limited number available during Easter, so hop on it! Order now »
Biscuits from Charleston's Iconic Hominy Grill
If you're looking for a great addition to add to your Easter meal. You've found it. Crafted by James Beard Award Winning chef Robert Stehling, these traditional southern biscuits from Hominy Grill are simply the best. Get it with Pimento Cheese, scratch-made Sausage Gravy, or go all out with their fried chicken Charleston Nasty! Order here now »
Crazy, Creative Mac N Cheese By Elbows Mac N Cheese
Add a touch of traditional American comfort to your Easter dinner this year with ooey gooey mac and cheese from Elbows Mac N Cheese. Available in 14 different drooling flavors such as More Cheese 4 Me, When Pigs Fly, Pizza My Heart and Winging It, this dish is sure to be a hit. Order here now »
Cinnamon Rolls By Knaus Berry Farm
People line up for hours at Knaus Berry Farm just to get a bite of their famous cinnamon rolls—and we don't blame them. These melt-in-your-mouth rolls are covered in the perfect cinnamon and sugar glaze. Skip the lines and order a batch of these one-of-a-kind treats for your Easter dinner guests. Order here now »
Italian Pastry Easter Assortment by Ferrara Bakery
Give your guests a special sweet treat this year with Ferrara's classic Italian pastries. This Easter assortment includes Ferrara cookies, a mini Columba Di Pasqua (Easter dove bread), Egg Casatella breads and Mini Struffoli. Order here now »
Happy Easter Brownie Basket by Brownie Points
This ultimate Easter basket will wow your guests. Stuffed with a decadent assortment of brownies, chocolate covered sandwich cookies, popcorn and more, this fun basket will have heads turning. Order here now »
Strawberry Easter Egg Cake by Sugaree's
Bursting with strawberry flavor and beautifully crafted into the shape of an Easter egg, this Sugaree's cake is a one-of-a-kind dessert to add to your Easter celebration. Made with traditional deep south techniques, this cake is incredibly delicious. Order here now »
Carrot Cake from Carlo's Bakery
If you really want to impress your guests, a Carrot Cake from Carlo's Bakery will do the trick. Yes… you heard us. You can order delicious cakes straight to your door from the Cake Boss. Made with shredded carrots and finely chopped walnuts, it's frosted with a smooth cream cheese frosting that is simply to die for. Order here now »
Rainbow Cake by Sugaree's
Add pops of color to your Easter Sunday with a Rainbow Cake from Sugaree's. Made with five different colors and flavors, this cake will have everyone begging for a slice! Order here now »
Coconut Cream Pie by Betty's Pies
Mmmmmmmm. Coconut cream pie. Need we say more? This Betty's classic is made up of fluffy coconut custard cream and topped with whipped cream and toasted coconut for a refreshing and tasty dessert. Order here now »
7 Layer Caramel Cake by Caroline's Cakes
Seven moist layers of classic yellow cake topped and filled with creamy caramel icing–it's the cake that started it all and the reason why Caroline's is known as "Home of the World's Best Caramel Cake." You won't want to miss out on having this famous Southern cake at your Easter dinner this year. Order here now »
Olive Oil Citrus Cake by Danny Meyer's Maialino
This classic cake is the perfect balance between rich olive oil and bright citrus. Perfect for any occasion, you can't go wrong with the Olive Oil Citrus Cake from Maialino to finish off your Easter feast. Order here now »
Choose Your Own Sampler Cheesecake by The Nuns of New Skete
Satisfy all your guests with a custom sampler cheesecake from the Nuns of New Skete! Made in a small monastery in Upstate New York, these are considered some of the finest cheesecakes around. So order up fast to get a slice of this heavenly cheesecake for your Easter feast. Order here now »
More Easter Dinner Ideas on Goldbelly
Didn't quite find what you're looking for? Check out our full list of Easter picks from the most legendary places in the U.S.