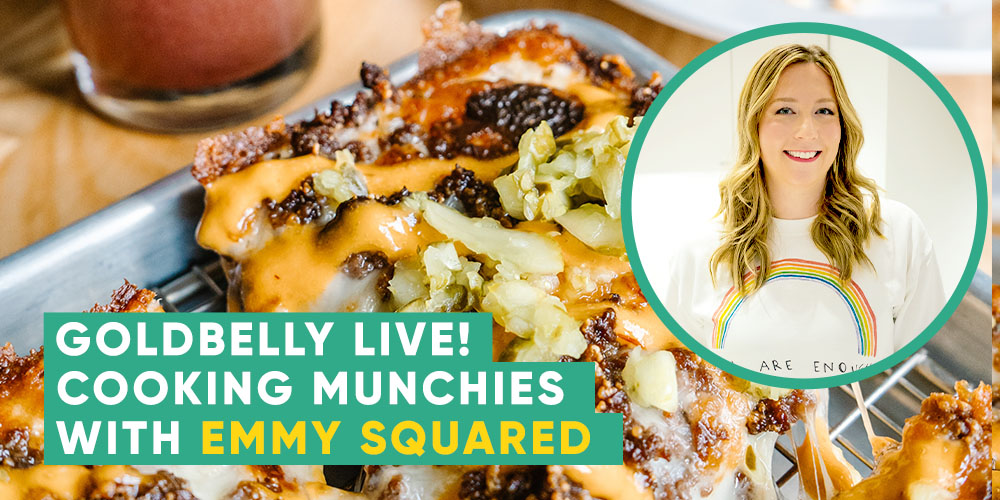 Have the munchies? The off-menu Emmy Squared meal is LOADED. You're invited to join us for our latest Goldbelly LIVE! cook-along: a special-edition burger-pizza mashup with Emmy Squared! Famous for both their legendary burgers and Detroit meets NYC-style pizza, this interactive class led by Emily Hyland combines the best of both and comes just in time to satisfy the munchies around everyone's favorite "high" holiday.
Emily and her team have put together a Limited-edition Munchies Burger-Pizza Meal Kit that includes everything you need to make Emmy Squared's famous burger-pizza, including frozen dough and a Detroit-style pizza pan, mozzarella and American cheese, Bear Creek Farm burger meat, pickles, and their special Sammy sauce; plus, all of the mixings for their signature Cherry Sour cocktail (BYOB!) and ingredients for homemade blondies—after all, the holiday wouldn't be complete without brownies in some form!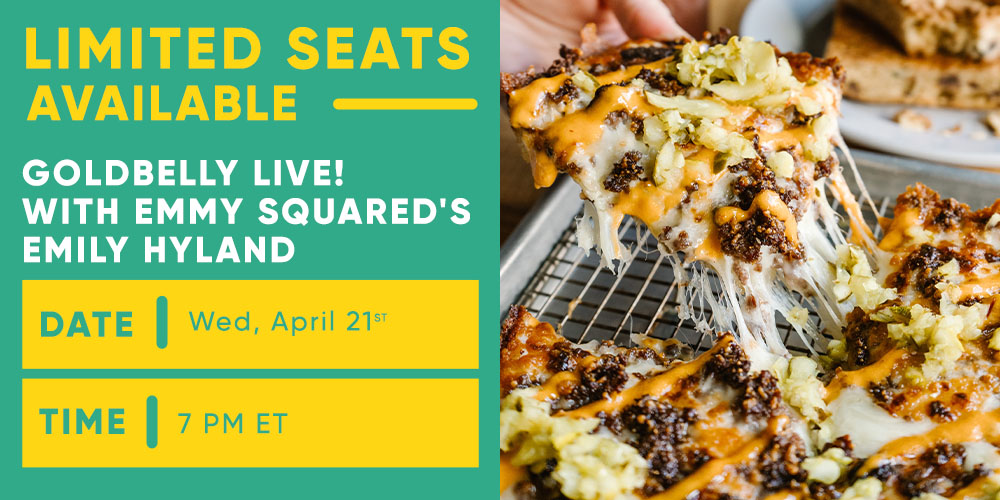 Here's How it Works:
– Order your Munchies Burger-Pizza Meal Kit before Sunday, April 18 at 11 PM ET.
– By placing an order, you will automatically be enrolled in the exclusive Zoom event.
– The week of the class, you'll receive your Munchies Burger-Pizza Meal Kit at your door, along with an email with all the info you'll need to join the Zoom event.
– Join Emily and the Emmy Squared team on Zoom—7 PM ET on Wednesday, April 21!
A limited number of spots are available, and they're expected to fill up quickly. Order your Munchies Meal Kit & reserve your spot today!