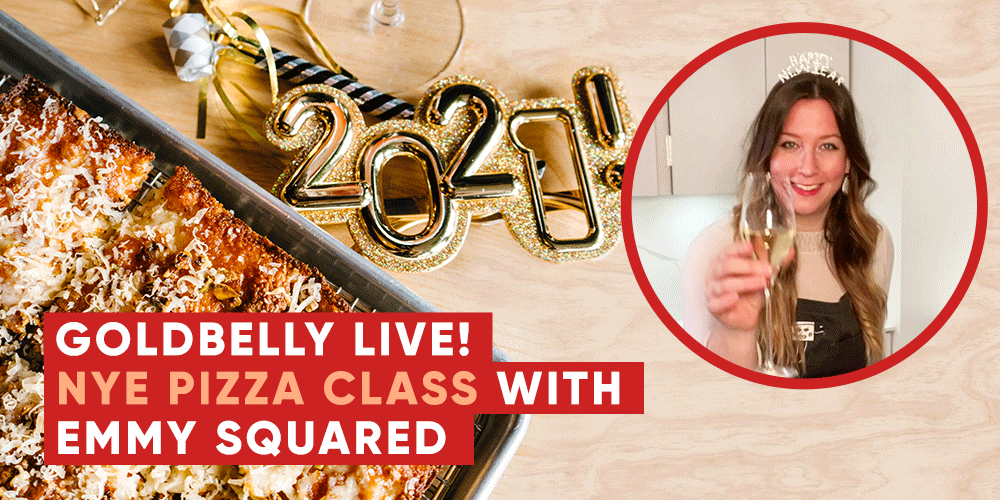 You're invited to join us for our latest Goldbelly LIVE! Cook-along: our first-ever New Year's Eve pizza-making extravaganza with the mastermind behind Brooklyn's renowned Emmy Squared, Emily Hyland! Most famous for marrying New York-style grandma pies with Detroit-style pizza, Emmy Squared's pizzas have a fluffy, focaccia-like crust and a ring of caramelized crispy-crunchy cheese around the rim—a truly life-changing combination that you can now recreate at home, while you await the stroke of midnight!
To ring in the New Year in the tastiest way possible, Emily has curated an absolutely decadent Pizza & Cocktails Kit, from drinks through dessert: starting with Emmy's signature cranberry champagne cocktail (to top with your favorite sparkling wine!), the ingredients to make your very own white pie topped with luxurious truffle cheese, crumbled pistachios, and a drizzle of delicious honey (a combo known as "The Emmy"), and finally, fresh homemade blondies (an nostalgia-inducing recipe from Emily's mom)!
Count down to 2021, in true Goldbelly style—with delicious food & cocktails in hand!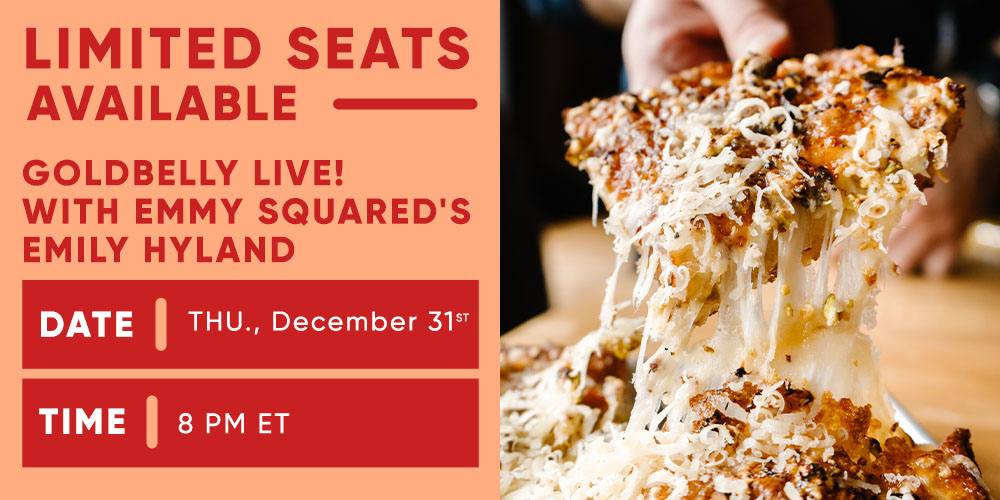 Here's How it Works:
– Order your Emmy Squared Pizza & Cocktails Kit before Monday, December 28th at 11pm ET.
– By placing an order, you will automatically be enrolled in the exclusive Zoom event.
– On Wednesday, December 30, you'll receive your Pizza & Cocktails Kit at your door, along with an email with all the info you'll need to join the Zoom event.
– At 8 PM ET on Thursday, December 31, join Emily & the Emmy Squared team on Zoom and learn how to make those perfect pies at home!
A limited number of spots are available, and they're expected to fill up quickly. Order & reserve your spot today!