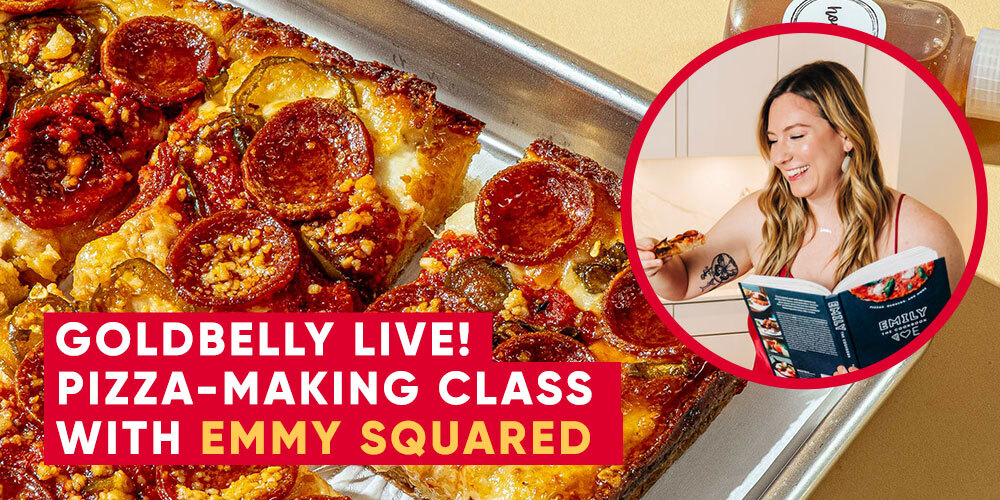 You're invited to join us for our latest Goldbelly LIVE! event series: four upcoming VIP Pizza-Making Classes with the mastermind behind Brooklyn's renowned Emmy Squared, Emily Hyland! Most famous for marrying New York-style grandma pies with Detroit-style pizza, Emmy Squared's pizzas have a fluffy, focaccia-like crust and a ring of caramelized crispy-crunchy cheese around the rim — a truly life-changing combination that you can now recreate at home for the first time!

Four VIP pizza-making events will be held on the following dates. Head HERE to pre-order your pizzas and reserve your spot today!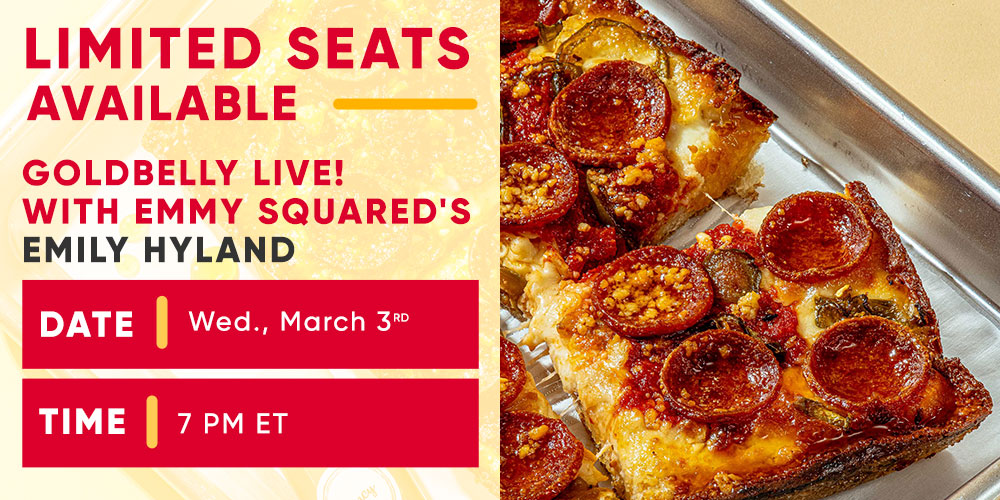 Since few flavor combos pack more of a punch than jalapeños, honey, and pepperoni, Emily will guide you through making Emmy Squared's signature "Colony" at home – a spicy, sweet, savory pizza topped with red sauce, mozzarella, crispy pepperoni cups, pickled jalapeños, and honey. The kit includes ingredients for two pizzas, along with a DIY cocktail kit (BYOB – bourbon encouraged!):
To join us, here's all you have to do:
– Head to Goldbelly to order your Emmy Squared Pizza Kit by 11pm ET on the following dates:
Thursday, October 8 (for the October 14 class)
Thursday, November 12 (for the November 18 class)
Thursday, December 10 (for the December 16 class)
Thursday, January 21 (for the January 27 class)
Sunday, February 28 (for the March 3 & 4 classes)
– By placing an order, you will automatically be enrolled in the exclusive Zoom event.
– The day before your class, you'll receive your Emmy Squared Pizza Kit at your door, along with an email with all the info you'll need to join the Zoom event.
– At 7 PM ET the day of the class, join Emily & the Emmy Squared team on Zoom and learn how to make this perfect pie at home!
A limited number of spots are available for each event, and they always sell out. Order your Pizza Kit here to reserve your seat today!