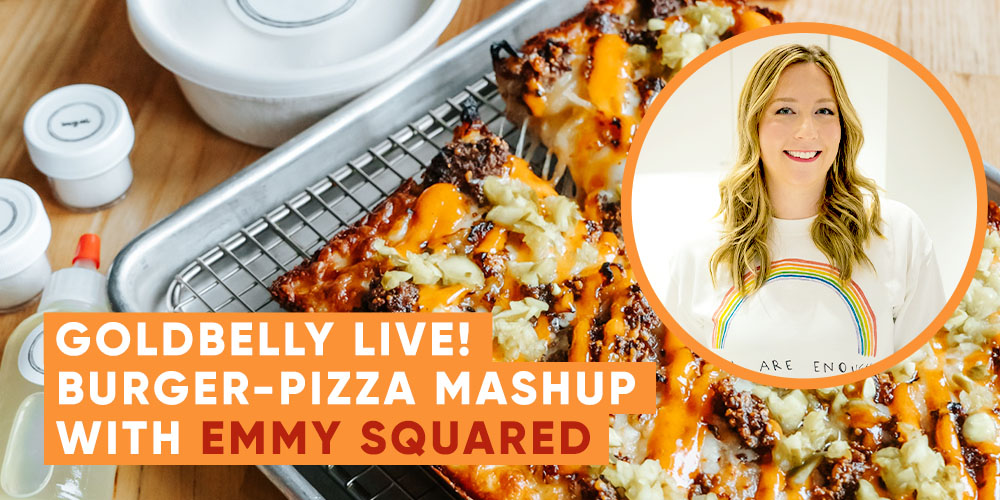 You're invited to join us for our latest Goldbelly LIVE! cook-along: a special-edition, off-menu Burger-Pizza with Emmy Squared! Famous for both their legendary burgers and Detroit meets NYC-style pizza, this interactive class led by Emily Hyland combines the best of both with a deconstructed Emmy Burger on top of their famous Detroit-style frico crust.
Emily and her team have put together this Limited-edition Burger-Pizza Kit that includes everything you need to make Emmy Squared's famous Emmy Burger-Pizza, including frozen dough and a Detroit-style pizza pan, Bear Creek Farm burger meat, American Cheese, cheddar cheese, caramelized onions, and the ever drool-worthy Emmy Sauce, plus all of the mixings for their signature Cherry Sour cocktail (BYOB!) and an extra dough kit.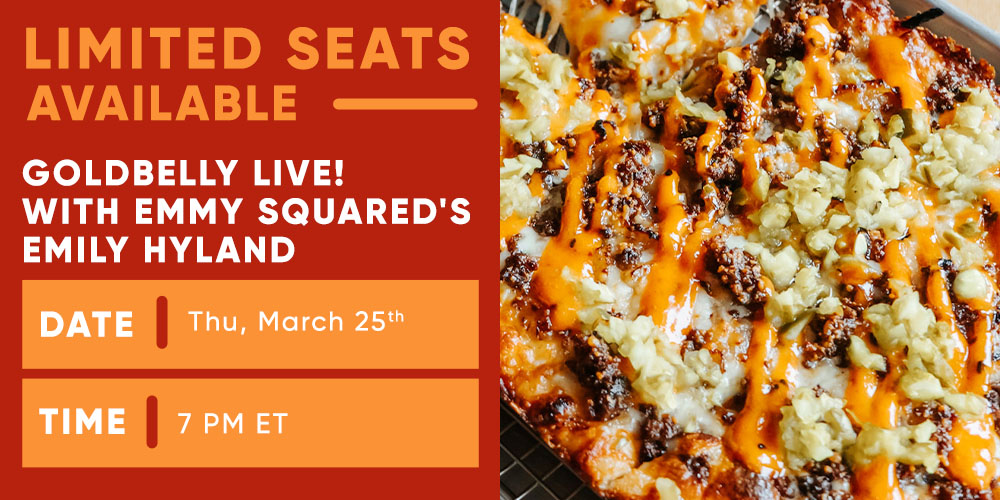 Here's How it Works:
– Order your Emmy Burger-Pizza Meal Kit before Monday, March 22 at 11 PM ET.
– By placing an order, you will automatically be enrolled in the exclusive Zoom event.
– The week of the class, you'll receive your Munchies Burger-Pizza Meal Kit at your door, along with an email with all the info you'll need to join the Zoom event.
– At 7 PM ET on Thursday, March 25, join Emily and the Emmy Squared team on Zoom.
A limited number of spots are available, and they're expected to fill up quickly. Order your Emmy Burger-Pizza Meal Kit & reserve your spot today!