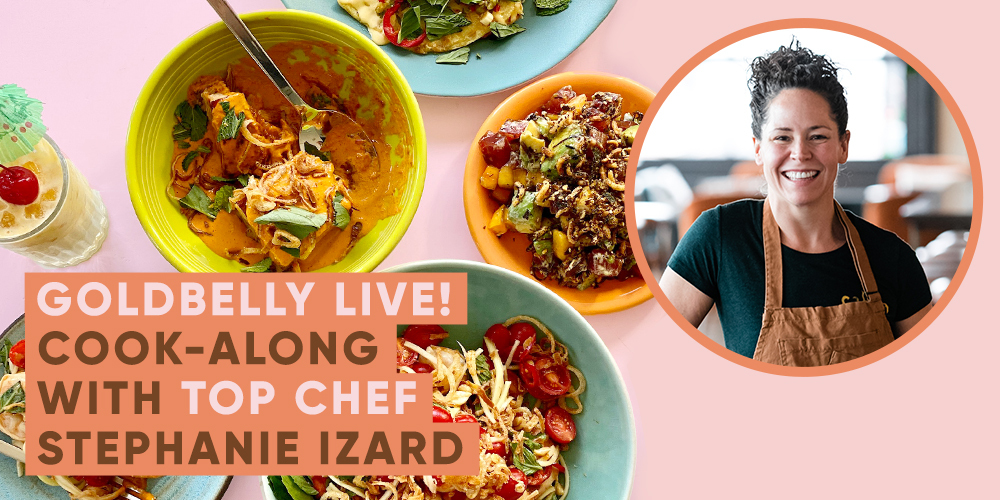 You're invited to join us for our latest Goldbelly Live! Cooking Class on Thursday, November 5 at 7 PM ET—a new cook-along experience with James Beard Award-winner & "Top Chef" Stephanie Izard of Chicago's famed Girl & the Goat! We can all use a vacation, so join in as Chef Izard takes us on a LIVE culinary journey with the exotic flavors of coconut-braised pork belly, shrimp papaya salad, tuna poke, Thai-inspired rice crepes, and two BYOB cocktail kits. Also included are full-size bottles of This Little Goat Went To Tokyo and This Little Goat Went To Southeast Asia sauces — so the vacation will last long after your meal has ended. Wheels (and bottoms) up! 
The "Escape to Goat Island" Meal Kit, as the Girl & the Goat team calls it, serves 2 and includes all of the ingredients to prepare the following island-inspired meal: 
Shrimp Papaya Salad 
Tuna Poke
Coconut-Braised Pork Belly 
Sweet & Sour Thai Squash Rice Crepes 
Pre-made Rum Cake for dessert
India-spiced Tropical Rum Punch (BYO rum!) 
Sweet 'n Spicy Margarita (BYO tequila!)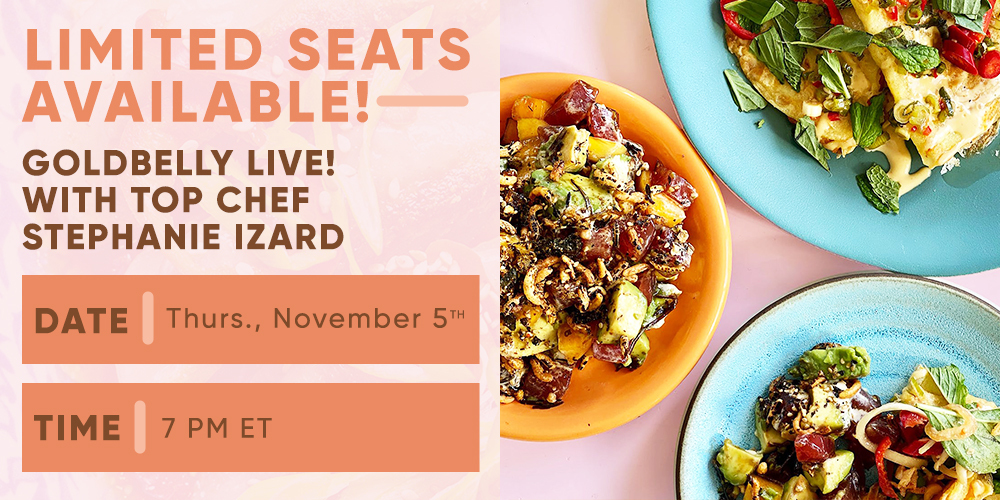 Here's How it Works:
– Order your Girl & the Goat Meal Kit before Monday, November 2.
– By placing an order, you will automatically be enrolled in the exclusive Zoom event.
– On Wednesday, November 4, you'll receive an email with all the info you'll need to join the Zoom event.
– At 7 PM ET on Thursday, November 5, join Stephanie on Zoom and escape to Goat Island!
A limited number of seats are available, and they're expected to fill up quickly. Order your "Escape to Goat Island" Meal Kit today!