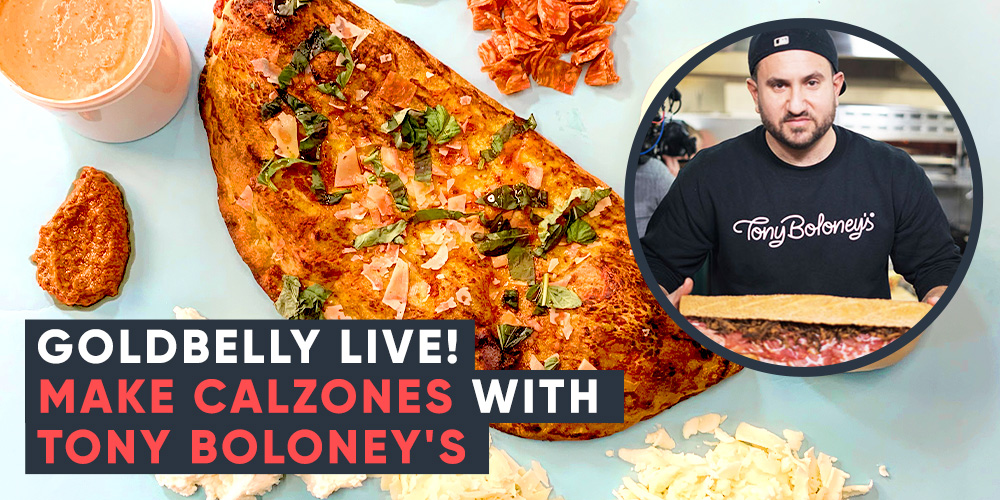 You're invited to join us for our latest Goldbelly LIVE! cook-along: a calzone-making class with Tony Boloney's Mike Hauke! A true New Jersey legend, Tony Boloney's is famous for some of the most creative pizza combos around—Taco pizza anyone? How about a pizza inspired by Netflix's Tiger King—and his hand-pulled fresh "mutz" (aka mozzarella, for those of you not from the Shore) is some of the best you'll find anywhere. In this interactive event, Mike is teaching you how to make his incredible calzone, his spin on the delicious Neapolitan dish with a modern Jersey twist.
This one-of-a-kind Calzone-Making Kit includes everything you need to recreate this cheesy, delicious folded pizza in your own home without totally trashing your kitchen, with 4 balls of dough, fresh mozzarella, burrata, dry-aged mozzarella, spicy Calabrian soppressata, pink vodka sauce, balsamic honey, fresh basil, Calabrian chili spread, lemon vinaigrette & mushrooms. Stuffed, rolled, baked, or fried, you say stuffed pizza, panzarotti, or stromboli….we say calzone! So roll up your sleeves and get ready!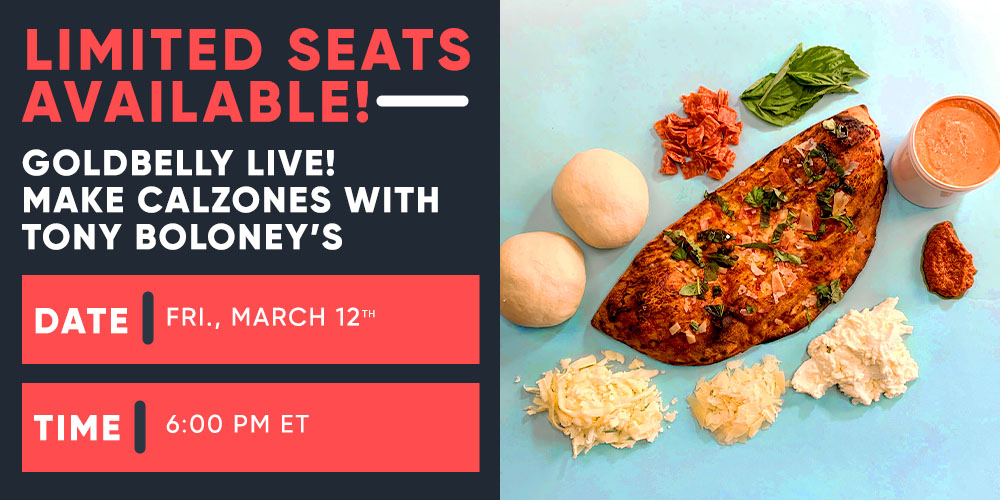 Here's How it Works:
– Head to Goldbelly to order your Calzone-Making Kit before Tuesday, March 9 at 10PM ET.
– By placing an order, you will automatically be enrolled in the exclusive Zoom event.
– Prior to the Calzone Class, you'll receive an email with all the info you'll need to join the Zoom event.
– At 6 PM ET on Friday, March 12, join Mike & the Tony Boloney's crew on Zoom for the Goldbelly LIVE! calzone-making class!  

A limited number of seats are available, and they're expected to fill up quickly. Order your Calzone-Making Kit & reserve your spot today!