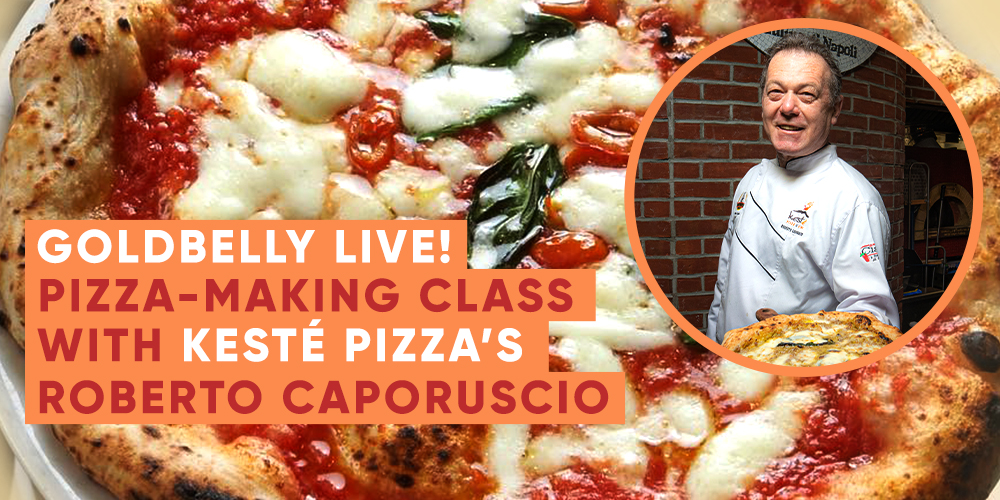 You're invited to join us for our latest Goldbelly LIVE! cook-along: a Neapolitan pizza-making class with Kesté's famed pizzaiolo, Chef Roberto Caporuscio! Born and raised on a dairy farm in Pontinia, Italy, Roberto first developed his culinary skills producing and selling cheese. However, it was in Naples, where Roberto went to study the art of real Neapolitan pizza-making with the most talented pizza masters, that he honed his craft. Traveling to the States, he sparked a pizza revolution in New York, and now serves as the U.S. president of Italy's Pizza Academy Foundation. (Yes, this is a real thing, and we want IN!) In this interactive event, Roberto will lead you in recreating his classic Neapolitan pizzas, featured not once, but twice on Diners, Drive-ins and Dives, and a favorite of New Yorkers everywhere.
Chef Roberto and the team at Kesté have curated a limited-edition Pizza-Making Kit with the finest imported Italian ingredients to make pizzas at home: including two pre-baked pizza crusts straight from the Kesté oven, flour, yeast and extra virgin olive oil for future doughs, Grana Padano cheese, fresh homemade mozzarella, basil, one can of tomatoes harvested straight from Naples. Plus, you can choose to make your kit gluten-free, or add on Italian meats, a pizza pan, or one-of-a-kind Italian pizza stone. Named the "No. 1 Pizza in New York" by New York Magazine, you can now recreate this legendary pizza at home for the very first time!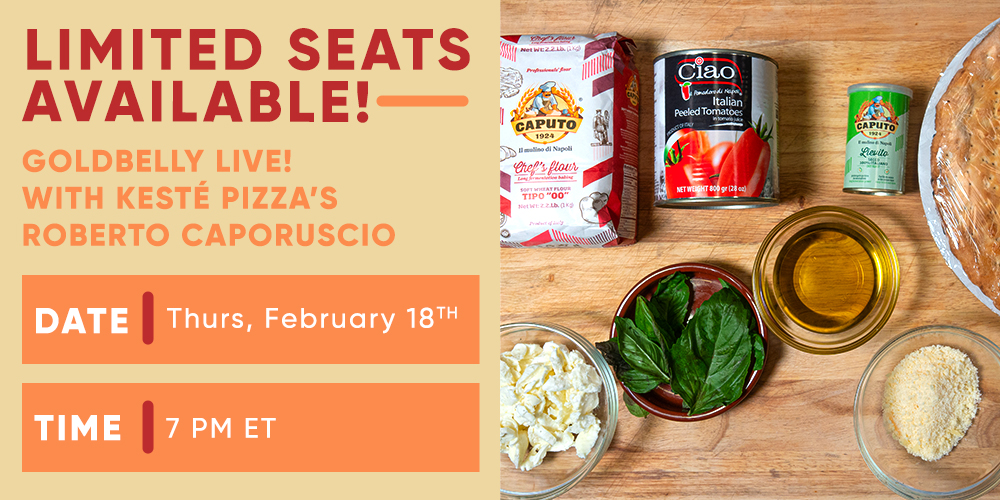 To join the class, here's all you need to do:
– Order your DIY Pizza-Making Kit by Monday, February 15 at 10 PM ET.
– By placing an order, you will automatically be enrolled in the exclusive Zoom event.
– Prior to the class, you'll receive your kit at your door, along with an email with all the info you'll need to join the Zoom event.
– At 7 PM ET on Thursday, February 19*, join Chef Roberto on Zoom for a pizza night you don't want to miss.
*Class was rescheduled from Thursday, February 18 to Friday, February 19, due to the winter storms affecting the country during the week of 2/15.
A limited number of spots are available for each event, and they're expected to fill up quickly. Order & reserve your spot today!