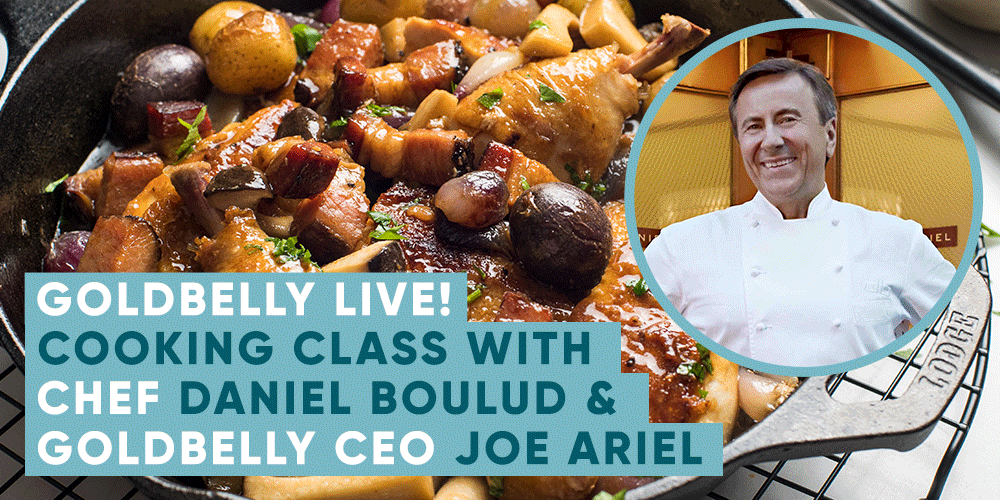 You're invited to join us for our latest Goldbelly Live! Cooking Class: an evening with the renowned Chef Daniel Boulud and Goldbelly CEO Joe Ariel! Most famous for bringing the flavors of the French countryside to life, Chef Boulud is the winner of multiple James Beard Awards & one of America's greatest culinary icons. He has created a one-of-a-kind, Three-Course Meal Kit just for this event, featuring his grandmother Francine's favorite French recipes.
The Meal Kit serves 2 & includes all of the ingredients you'll need to make an Endive and Roquefort Salad with Chef Boulud's grandmother's vinaigrette, along with his specialty dish, Poulet Grand Mere "Francine," a chicken fricassee with mushrooms and bacon. In the words of Chef Boulud, "Poulet Grand-mère, a savory fricassée, is a classic dish in French cuisine, but it was a classic in my family too. It was a specialty and a favorite of my Grandmother Francine, the grandmother who cooked at the original Café Boulud outside Lyon, and at no time was it better than at mushroom harvest time. Mushrooms are a typical Poulet Grand-mère ingredient, but there was nothing typical about the dish when my grandmother would add rose des prés, pink field mushrooms, newly dug potatoes, bacon, and new garlic. Fortunately, this dish always seems to be both satisfying and soothing whether you're making it plain, with cultivated cremini or king oyster mushrooms and creamer potatoes, or fancy, dressing it up with exotic mushrooms and any of the small fingerling or marble potatoes that many greenmarkets now offer." And if that wasn't enough French comfort food, you will receive Chef Boulud's French Madeleines for dessert – the ultimate symbolic gesture of love and appreciation that ends all meals at his restaurants.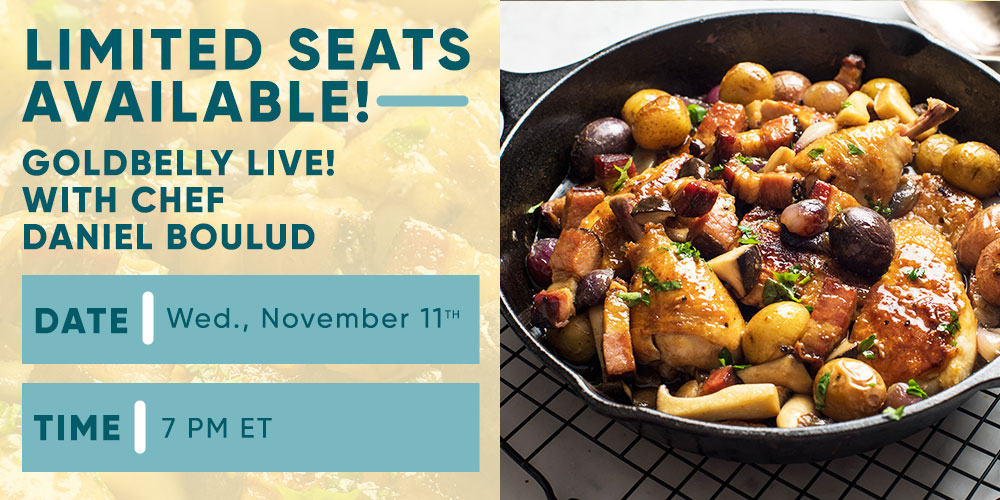 Here's How It Works:
– Order your Daniel Boulud Kitchen Three-Course Meal Kit by Friday, November 6 at noon ET.
– By placing an order, you will automatically be enrolled in the exclusive Zoom event.
– The day before your class, you'll receive your kit at your door, along with an email with all the info you'll need to join the Zoom event.
– At 7 PM ET on Wednesday, November 11th, join Chef Boulud & Joe on Zoom for a French culinary journey.
A limited number of spots are available for the exclusive class, and they're expected to fill up quickly. Order your kit here to reserve your seat today!