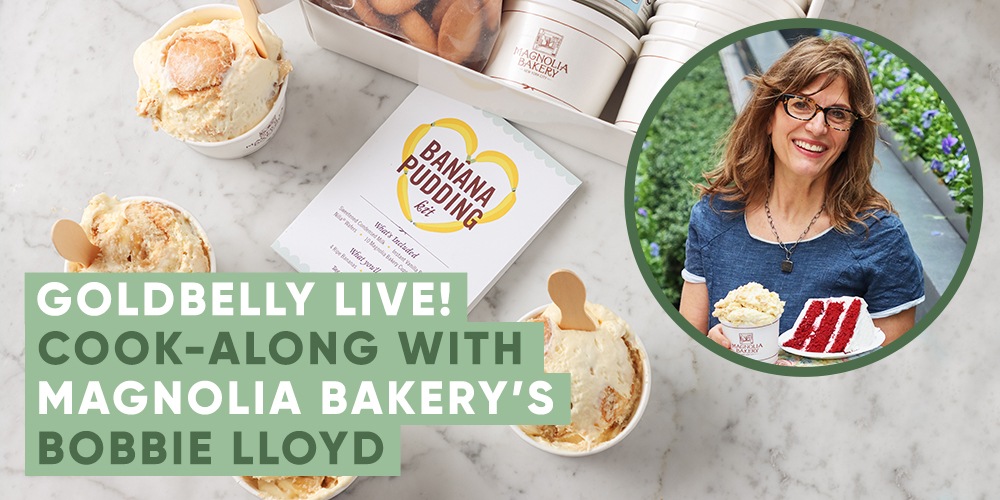 You're invited to join us for our latest Goldbelly LIVE! cook-along: a dessert-making class with New York City's world-famous Magnolia Bakery. And not just any dessert, Magnolia's #1 best-seller, the Banana Pudding! There are few treats more decadent or delicious than Magnolia's legendary banana pudding, and this interactive event will feature a one-of-a-kind, limited-edition DIY Banana Pudding Kit featuring their classic banana pudding with fun mix-ins to customize your dessert. Magnolia's Chief Baking Officer, Bobbie Lloyd, will lead you through creating their luxurious classic banana pudding, so you can recreate these super creamy, luxurious desserts at home. It's the perfect way to treat yourself… or gift it to a fellow food lover to give them an exciting, interactive experience!
Each DIY Banana Pudding Kit includes ingredients for making both Magnolia's classic banana pudding (with mix-ins like pretzels, chocolate, and caramel) in a gorgeous Magnolia-branded box. All you need to supply are bananas & heavy cream!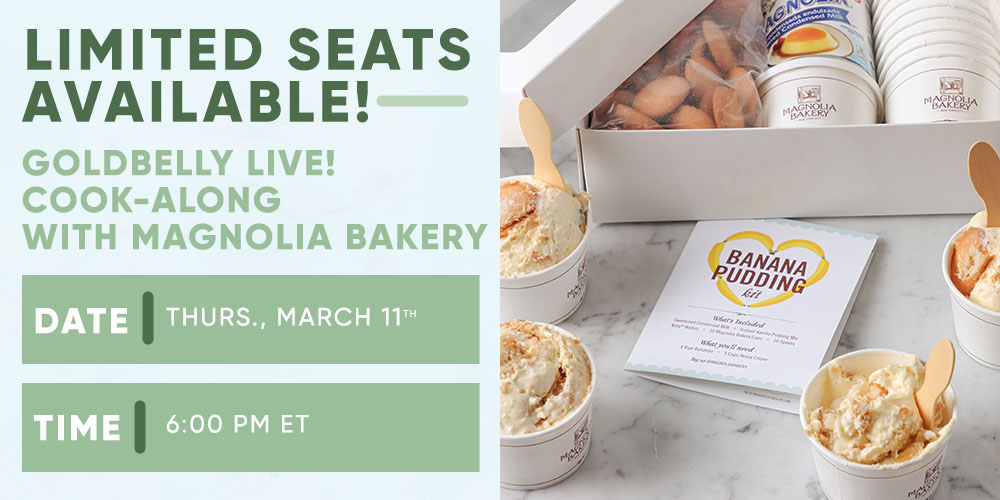 To join the exclusive cook-along, here's all you need to do:
– Head to Goldbelly to order your DIY Banana Pudding Kit by Sunday, March 7th, at 10PM ET. 
– By placing an order, you will automatically be enrolled in the exclusive Zoom event.
– Prior to the class, you'll receive your kit at your door, along with an email with all the info you'll need to join the Zoom event.
– At 6 PM ET on Thursday, March 11th, join Bobbie on Zoom to make the dessert of your dreams!  
A limited number of spots are available for each event, and they're expected to fill up quickly. Order your kit here to reserve your seat today!