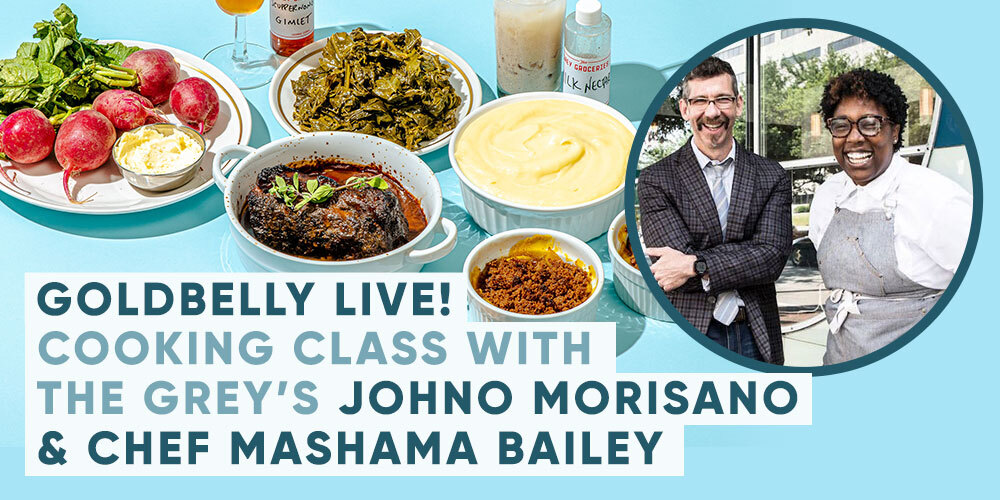 You're invited to join us for our latest Goldbelly Live! Event: a cooking class on Friday, November 13th, with one of Savannah's most beloved restaurants, The Grey! With James Beard Award-winning chef Mashama Bailey (who was the star of season 6, episode 1 of Netflix's "Chef's Table") and her business partner Johno Morisano, together you will all prepare a truly delectable Three-Course Lowcountry Meal that will transport you to an evening on the Georgia coast.

This limited-edition Meal Kit highlights The Grey's signature Port City Southern style and includes everything you need to cook along with Mashama & Johno. Starting with snacks and cocktails, this package takes you all the way through to a delightful Southern dessert. The Meal Kit includes gougères that you will learn how to pipe, radishes with cultured butter, smoked olives, short ribs with a secret dry rub blend and The Grey's unique Port City sauce, silky mashed potatoes, Mashama's famous smoked greens and an apple crisp for dessert. Don't worry, we didn't forget the drinks. You will also receive two DIY cocktail kits – a Scuppernong Gimlet to begin your night and to pair with your favorite gin, and a Milk Nectar dessert cocktail for which you should have your loveliest rum on hand.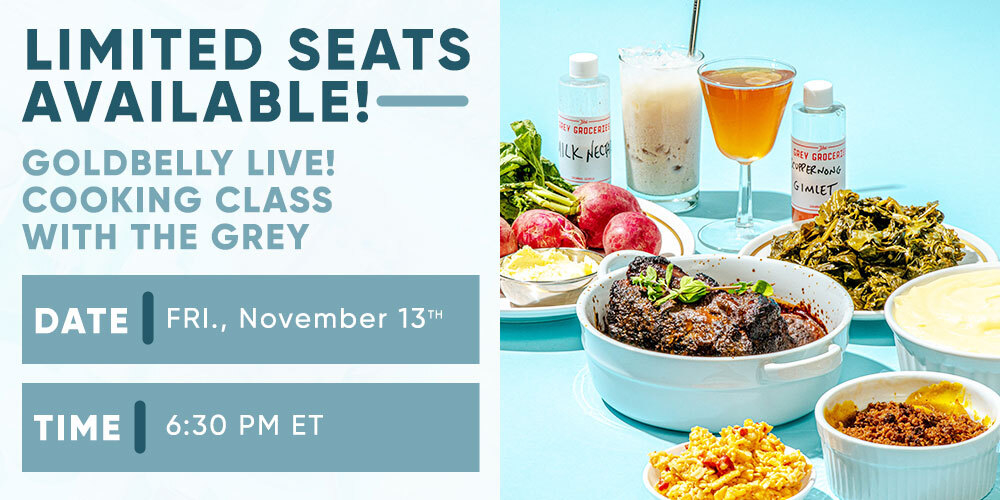 To join us, here's all you have to do:
– Order your Three-Course Lowcountry Meal Kit by Sunday, November 8 at noon ET.
– By placing an order, you will automatically be enrolled in the exclusive Zoom event.
– The day before your class, you'll receive your kit at your door, along with an email with all the info you'll need to join the Zoom event.
– At 6:30 PM ET on November 13th, join Chef Mashama & Johno on Zoom!
A limited number of spots are available for each event, and they're expected to fill up quickly. Order your kit here to reserve your seat today!