ONCE CONSIDERED BBQ SCRAP, LEARN ALL ABOUT BURNT ENDS (AKA BBQ GOLD)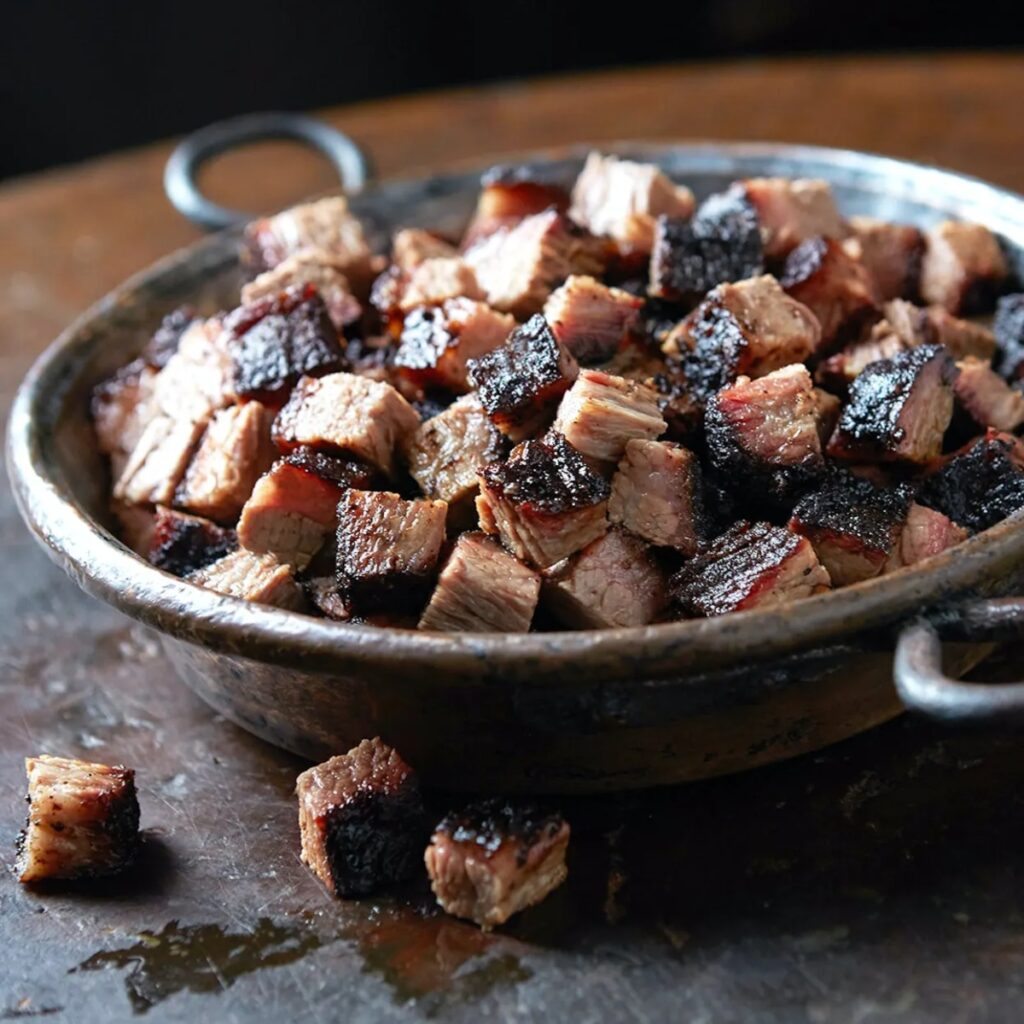 Burnt ends, the charred ends of smoked brisket, are some of the most revered morsels of BBQ. What were once considered scraps and, like ribs, discarded by pitmasters, have become one of the most popular dishes at BBQ joints in the last 40 years.
Burnt ends are a happy accident that started in Kansas City, Missouri, at legendary Arthur Bryant's Barbecue where the burnt tips of the brisket were cut off and placed on the counter for customers to snack on while waiting in line. 
Then, in 1972, Calvin Trillin wrote an article in Playboy magazine about the complimentary countertop charred bits, declaring "The main course at Bryant's, as far as I'm concerned, is something that is given away free — the burned edges of the brisket." This intrigued locals and BBQ aficionados and the rest is culinary history.
Burnt ends are now some of the most sought after BBQ bites. Their use as a standalone BBQ dish and as a component of BBQ sides like baked beans and stews are endless.
What Kind of Meat is Burnt Ends?
Burnt ends are the end trimmings from a smoked beef brisket. Brisket has two muscles, the flat and the deckle, or point. The point is where it come from thanks to its large concentration of fat. Brisket is rubbed with seasonings and cooked low and slow in a smoker. The crispy ends are cut off; hence, the name burnt ends.
Why Are They Called Burnt Ends?
Despite the name, burnt ends are not actually burnt. The meat fat and the seasoning rubbed on the brisket react when smoked, caramelizing the outside of the meat and creating a dark-colored, flavorful "bark" or outer crust while the meat inside turns moist. These crispy pieces of oddly-shaped meat were trimmed off by pitmasters when they sliced the brisket.
At Arthur Bryant's Barbecue, these crispy pieces of meat were placed on the counter, so customers could chew on them while they stood in line. This BBQ trash was later deemed BBQ treasure in the 1970s, so these bite-size bits were added to the menu and called burnt ends.
What Do Burnt Ends Taste Like?
Burnt ends are smoky, juicy, slightly fatty, crispy, a little greasy, and melt in your mouth. They should not be tough or chewy. A quality burnt end — the equivalent of a piece of BBQ gold — has a dark crust, visible smoke ring, and a layer of fat.
Why Are Burnt Ends So Good?
Burnt ends are so good because they taste like meat magic. Time, temperature, the pit and its wood determine if a burnt end will be magical or mediocre.
Each cubed piece has a crispy heavy char texture outside and juicy, pink interior plus a smoky aroma and taste. During the smoking process, the fat on the brisket mixes with the smoke. The best burnt ends are sweet, savory, and smoky.
Today, pitmasters largely recreate what original burnt ends were due to their popularity and short supply. A brisket doesn't yield many ends, so pitmasters often use more than the brisket ends to create these ends. Some use other beef parts or pork, but true, classic burnt ends come from the end of the brisket point.
Where to Buy Brisket Burnt Ends
Brisket burnt ends can be found on BBQ restaurant menus in Kansas City, the birthplace, and on Goldbelly. These crunchy cubes are so popular that they often appear on the menus in other BBQ hotspots like Texas.
Read More: Types of BBQ: Regional American Barbecue Style Explained
Most Famous Burnt Ends
The most smokin' hot burnt ends are made by the top pitmasters in America, particularly Kansas City.
Feel the burn…burnt ends that is. The best BBQ, including beautiful burnt ends, is shipping nationwide on Goldbelly!