THIS UNIQUE DESSERT IS AN ESSENTIAL NYC TREAT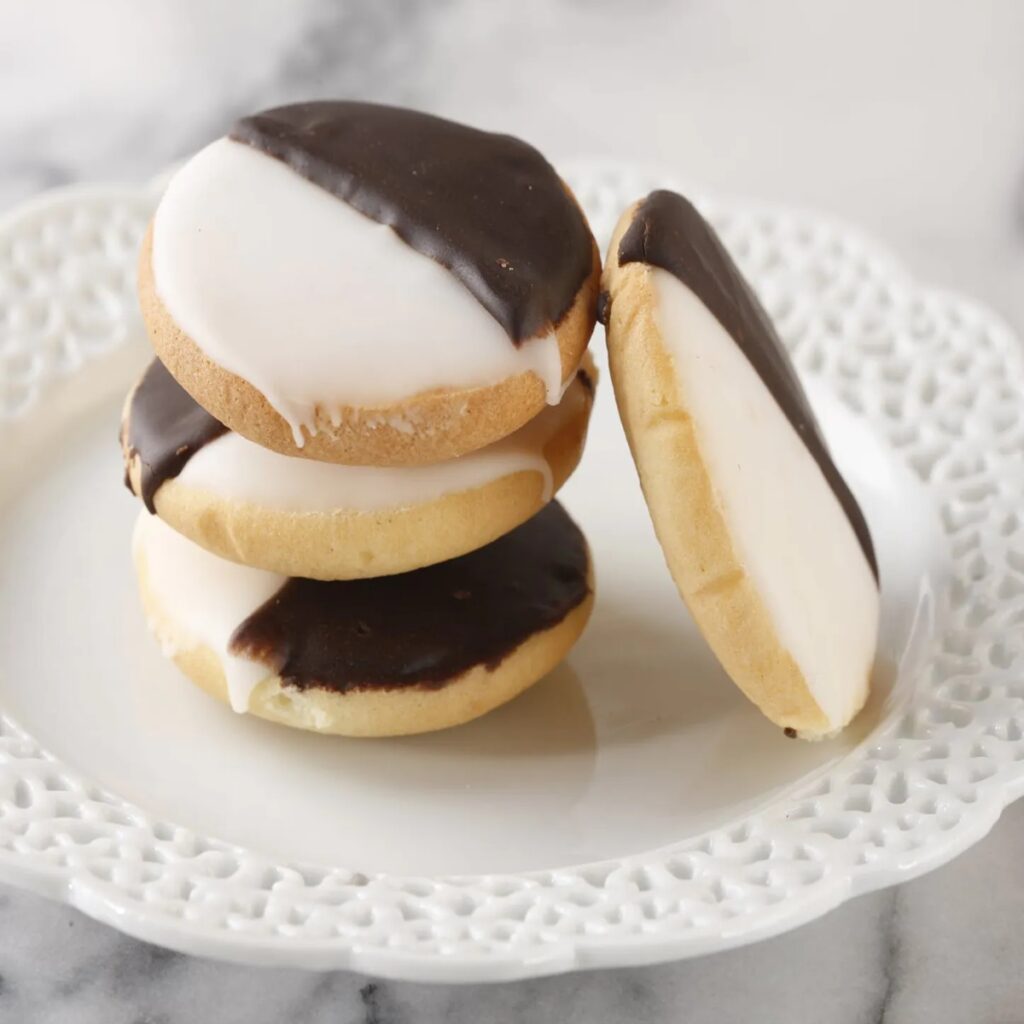 Visit just about any classic Jewish bakery or deli in the New York City area, and you're likely to encounter a unique dessert: the black & white cookie. Oftentimes available in both small and large sizes, these treats are easily identified by their "half and half" topping of both vanilla and chocolate icing. But what is a black & white cookie, exactly, and where did they come from?
What Kind of Cookie is a Black and White?
The term "cookie" is actually a little bit of a misnomer when it comes to black & whites, as the base is far more cake-like than cookie-like. They have a soft, velvety texture with a fine crumb, and the texture is cakey but firmer and denser than that of a traditional cake.
Because of how they're baked, the bottom of the cookie is slightly dome-shaped, and the flat top is the perfect vehicle for half-chocolate, half-vanilla fondant or royal icing. They ideally need to be eaten within a day of baking, as they go stale quickly.
What Are Black and White Cookies Made of?
The base of a black & white cookie is made with many of the same ingredients as a traditional cake, including:
Flour
Sugar
Milk
Butter
Eggs
Baking powder & soda
(A little extra flour in the batter helps firm up the texture). It's also sometimes given an extra dimension of lusciousness with the addition of sour cream, and also is usually flavored with lemon, almond extract, or both. The batter has the texture of thick pound cake batter, and it's dolloped onto baking sheets, baked until golden brown, and allowed to cool completely before frosting.
The frosting itself is usually a classic fondant or thick glaze, made by combining powdered sugar with corn syrup and hot water. Vanilla is added for the vanilla side, and melted chocolate is added for the chocolate side. Some bakeries also sell all-chocolate or all-vanilla variations.
Why Are Black and White Cookies Famous?
Black & white cookies are famous because they're such a quintessential New York dessert. It's believed that the cookie was invented at a Manhattan bakery called Glaser's, which was founded on the Upper East Side by Bavarian immigrants in 1902 and closed in 2018. By the 1950s, the cookie had become an essential part of the city's Ashkenazi Jewish culinary identity.
Are Black and White Cookies a New York Thing?
While black & whites are most commonly associated with New York City, they can be found at bakers all throughout the New York metropolitan area and even further afield.
There are also a few regional variations: In Utica, New York, they're called half-moons, are softer, and are topped with frosting instead of fondant; and in Boston they're usually frosted on the domed side instead of the flat side. They're also fairly common in the Midwest, where they're called harlequins.
Most Famous Black and Whites
Want to try a black & white cookie, straight from New York? Look no further than these beloved shops:
You don't need to go to New York for a taste of a legendary black & white! Shop Black & White Cookies for delivery to your door.