THE GOLDBELLY GUIDE TO REGIONAL BARBECUE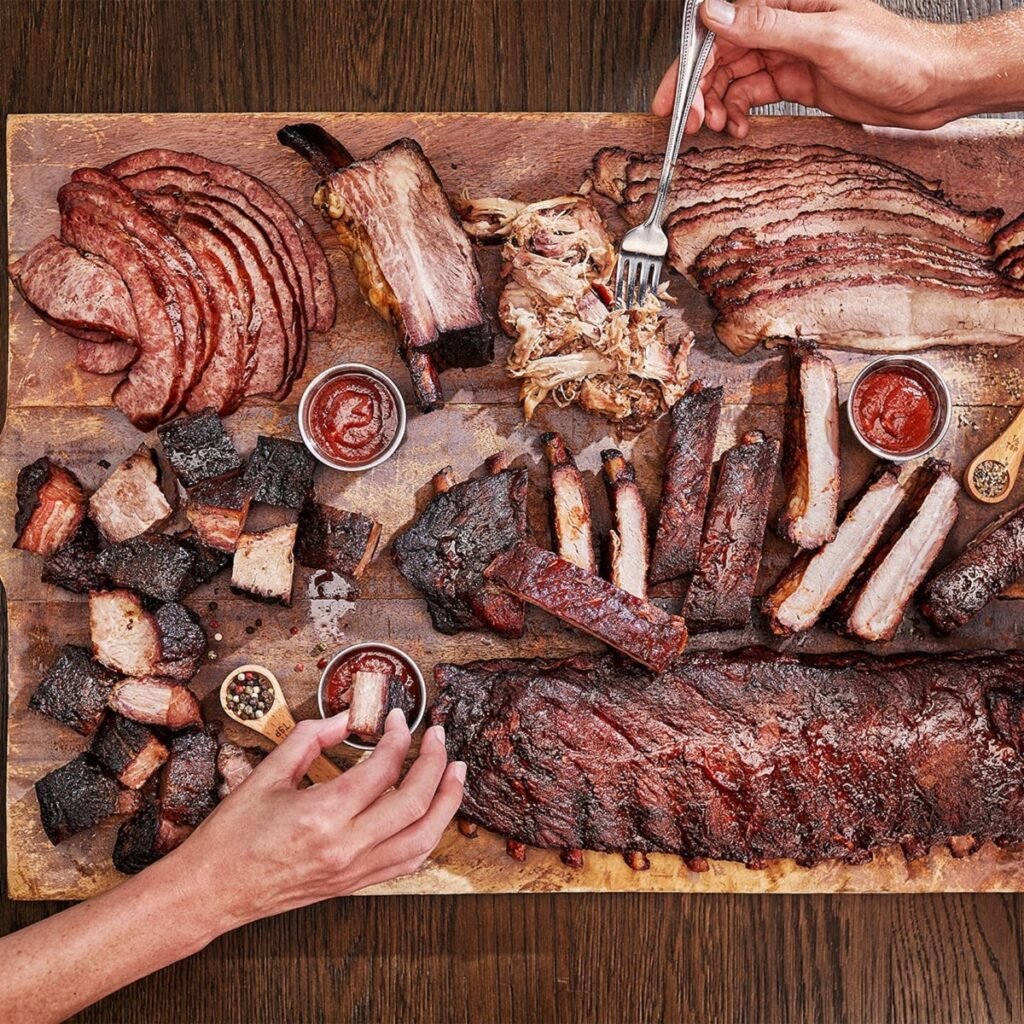 From smoky Texas brisket to saucy Kansas City ribs to tangy Carolina pulled pork, there's a whole nation of amazing barbecue out there. Knowing each state and region's signature BBQ styles straight can be no easy feat.
So today we're taking you on a journey from coast to coast, walking you through what makes barbecue so special. No matter where you travel, barbecue restaurants are putting their own unique regional spin on the timeless art of smoking meat. 
These are the primary (and secondary) American barbecue regions, each with their own beloved BBQ style:
Where is the BBQ Capital of the USA?
There really isn't a single barbecue capital of America – the whole country is the barbecue capital of the world! It also depends on where you live: Folks in Texas would say that the Lone Star State is America's barbecue capital. While we have a good feeling that people who live in Kansas City, St. Louis, and Memphis would also stake their claim as having the best barbecue in America.
Which Region Has the Best BBQ?
This really depends on which type of barbecue you prefer! If you're a fan of peppery, smoky beef brisket, then you'll love Texas. If your ideal BBQ feast is a tower of ribs coated with a sweet sauce, then head to Kansas City or Memphis. And if vinegar-kicked pulled pork is your thing, then North Carolina is for you.
Texas: Where Smoked Brisket is King
The barbecue of Central Texas, mainly centered around the state's Hill Country (of which Austin is a part of) keeps it simple: it revolves mainly around beef brisket, seasoned simply with salt, plenty of black pepper, and maybe a handful of other spices, before being smoked over post oak or pecan wood.
Spare ribs also usually make an appearance, as do spicy smoked sausages, usually made with a mixture of pork and beef scraps. It's all served on butcher paper with white bread, no sauce required. These will all give you your Texas brisket fix:
Kansas City: Sweet KC BBQ Sauce
Kansas City is a major hub for meatpacking, so when it comes to barbecue, you'll find just about everything under the sun there, from ribs to brisket to chicken to turkey. What sets Kansas City apart from the pack is its super-popular signature barbecue sauce, made with plenty of ketchup and molasses (it's most likely the first thing that comes to mind when you think of "barbecue sauce" for a good reason).
Kansas City is also known for its burnt ends, made by cutting fatty smoked brisket into cubes and smoking it low and slow.
These are all Kansas City local legends:
St. Louis: Ribs, Ribs, & More Ribs
Ribs are king in St. Louis; in fact, the city's signature method of trimming meat and cartilage from a rack of spare ribs so it's neat and tidy is known as the "St. Louis cut." Pair that up with the city's signature thick and sweet barbecue sauce, and you've got St. Louis BBQ in a nutshell. STL legend Pappy's Smokehouse's ribs are smoked for 24 hours, and are just about perfect.
Memphis: Ribs, Wet or Dry-Rubbed
Ribs also rule the Memphis BBQ scene. Here they're served either wet (mopped with a sweet tomato-based sauce) or dry (rubbed with a spice mix that's heavy on the garlic and paprika and served sauce-free). Pulled pork is also popular here; sometimes it's even served atop spaghetti or on pizza (invented at Coletta's).
Memphis BBQ icons include:
Alabama: The Home of White BBQ Sauce
If you're looking to identify Alabama-style barbecue with one glance, look for one dish: hickory-smoked chicken, doused in a mayonnaise-based sauce that's also heavy on the vinegar and black pepper that's known as Alabama white BBQ sauce.
That's not the only sauce you'll find in the state, however: Birmingham is known for a sweet & spicy tomato-based sauce, Tuscaloosa boasts a spicy mustard-vinegar sauce, and mustard sauce is popular in the southeast part of the state. That zippy white sauce is its most famous BBQ export, though. It was invented at Big Bob Gibson's Bar-B-Q in Decatur, Whitt's in Athens, and LawLer's in Huntsville.
Eastern North Carolina: All About That Whole Hog
Traditional Eastern North Carolina BBQ is hog wild: they're smoking up whole hogs over hardwood charcoal, occasionally mopping it with a tangy, spicy, vinegar based sauce, and then chopping up the meat with bits of crispy cracklins. It's usually served with additional sauce and crunchy slaw. On Goldbelly, you can get a true taste of the region through Kings BBQ and James Beard American Classic Skylight Inn.
Western North Carolina: Lexington-Style Pork Shoulder
Like its cousin to the east, Western North Carolina BBQ, also known as Lexington-style BBQ, is also all about the pork. But instead of whole hog with a vinegar-based sauce, this 'cue uses pork shoulder that's slow-smoked and served with a ketchup-based red sauce. It's centered in the small town of Lexington, which is home to dozens of BBQ joints. Local legends include Stamey's and Lexington Barbecue, and BBQ icon Ed Mitchell is also dousing his pork with three different Carolina-style sauces.
Hawaii: Aloha, Kalua Pig & Huli Huli Chicken!
Hawaii's signature barbecue style is best exemplified by the state's most famous dish: kalua pig, which cooks for hours in an underground pit (called an imu) heated with hot volcanic rocks and covered with banana leaves, ti leaves, and burlap sacks. Huli huli chicken, which is slowly grilled over mesquite wood (called kiawe in Hawaii) until deeply burnished with crispy skin, is another Hawaii BBQ staple. For a taste of classic Kalua Pig, check out Highway Inn in Waipahu.
California Central Coast: The Home of Santa Maria Tri-Tip
California's Central Coast is home to a barbecue style all its own, commonly known as Santa Maria-style BBQ. This type of 'cue is made with a specialized grill that can be raised or lowered over red oak embers to control the temperature.
Tri-tip, a lean cut from the bottom sirloin, is the steak most commonly associated with this style of barbecue; it's usually cooked for about two hours until medium-rare and sliced thin. You can try it for yourself by heading to The Hitching Post II in Buellton (made famous in the film "Sideways") or by ordering Seaside Market's famous "Cardiff Crack."
South Carolina: Whole Hog & Carolina Gold
In South Carolina, whole hog reigns supreme. What sets it apart from the pack is the sauce: known as "Carolina Gold," the state's signature BBQ sauce is mustard-based and kicked up with vinegar and brown sugar. You'll also find spicy vinegar sauces and tomato-based sauces in the state. Renowned South Carolina whole hog BBQ joints include Rodney Scott's and Sweatman's.
Chicago: Hot Links, Rib Tips, & Aquarium Smokers
Chicago-style 'cue is super-saucy and deliciously messy! On the South Side, you'll find plenty of places smoking up ribs, chicken, hot links (spicy sausages), and rib tips (made from the strip that's removed from St. Louis ribs) in what's called an aquarium smoker, which are made of steel and have glass doors. It's all drenched with a sweet tomato-based BBQ sauce. If you're looking for great Chicago BBQ, look no further than Smoque BBQ, The Slab, and Lem's.
Kentucky: Mutton, Mutton, Who's Got the Mutton?
In western Kentucky, especially around Owensboro, a handful of barbecue places are still serving up the state's BBQ claim to fame: mutton! Here it's usually smoked over hickory, chopped or sliced, and served with a sauce that's heavy on the worcestershire and allspice.
Elsewhere, you'll find pulled pork shoulder topped with the same sauce as well as hickory-grilled pork steaks. And on the side? Burgoo, the state's signature meat-and-vegetable stew. Moonlite Bar-B-Q Inn and Old Hickory Bar-B-Q, both in Owensboro, are still smoking up the mutton.
Georgia: Chopped Pork & Brunswick Stew
In Georgia, you'll find plenty of BBQ joints specializing in chopped pork that's topped with a mustard-based BBQ sauce kicked up with brown sugar, cider, and vinegar. Brunswick stew, a tomato-based stew with lima beans and other vegetables, is a popular side dish. In Atlanta, Fox Bros. Bar-B-Q is a must-visit.
If it's not already obvious, there's a whole lot of great BBQ out there, and the only thing most of them have in common is that they're slowly smoked over wood. Discover all of Goldbelly's top barbecue– and don't forget about those barbecue sides!