LEARN WHAT MAKES NEW YORK, CHICAGO, DETROIT, & MORE PIZZA STYLES UNIQUE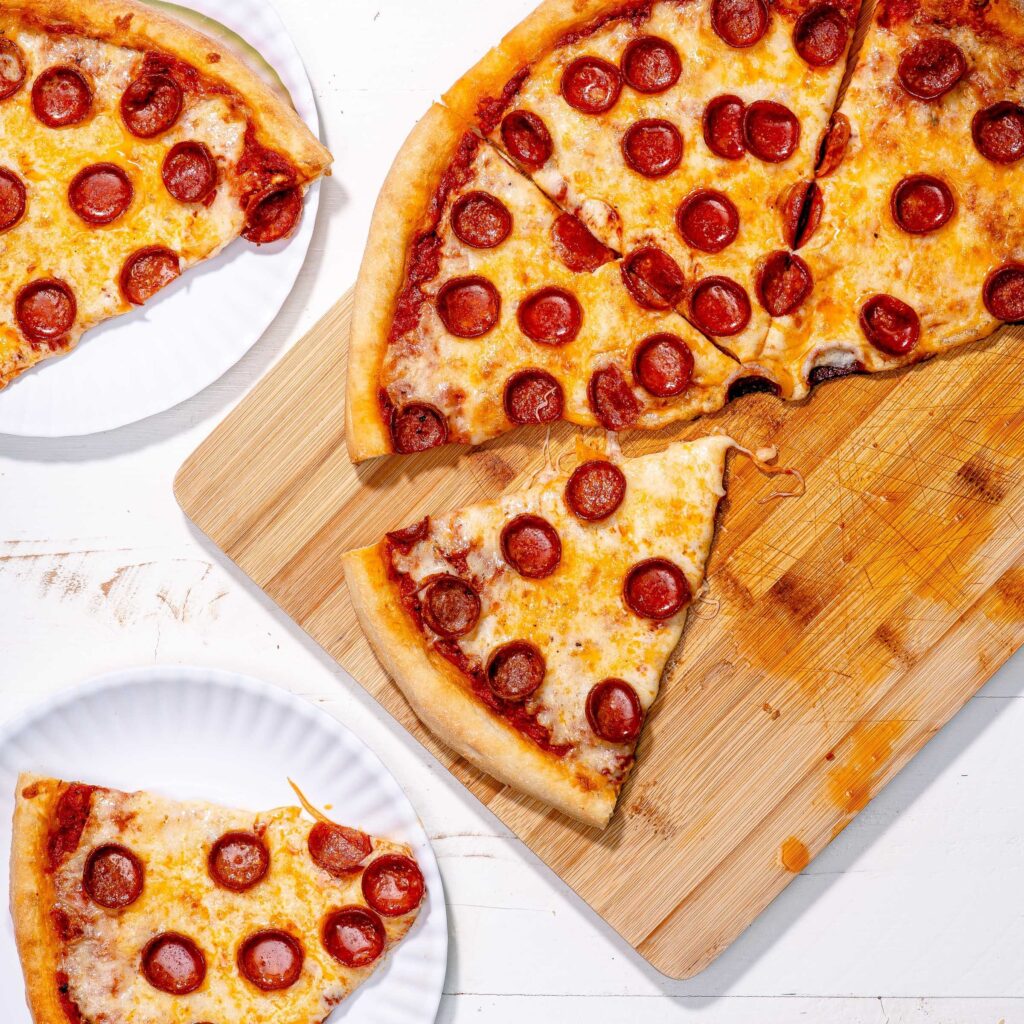 Pizza is one of the most delicious foods on earth, so it's no surprise that folks nationwide have made it their own and developed regional styles that they're fiercely proud of. From its Neapolitan roots to its transformation into big, foldable New York slices and thick-crusted Detroit squares, many cities and regions have put their own spin on pizza. Read on to learn about a wide variety of these pizza styles, and what makes each unique:
New York: The Quintessential Slice
When you think of pizza, this is what you most likely think of! Big, cheesy slices cut from thin-crusted round pies or thicker-crusted Sicilian-style pizzas and devoured while taking a stroll down the sidewalk. For a virtual trip to a New York street corner, look no further than these iconic New York style pizza purveyors:
Chicago: Not Just Deep-Dish
The Windy City is synonymous with deep-dish pizza, which has a high-edged, buttery crust that encircles lots of gooey, melty cheese, chunky tomato sauce, and ample toppings. These are some of the most legendary deep-dish pizzerias:
There's also a lesser-known Chicago cousin: Chicago thin-crust, which has a crisp crust that's almost cracker-thin and is cut into squares, "tavern-style." For an authentic taste of Chicago thin-crust, look no further than:
Detroit: Thick, Crisp, & Chewy
Invented in the mid-1900s, Detroit's signature pizzas were originally baked in rectangular steel trays used to hold automotive parts. These square pizzas have a relatively airy, thick, chewy crust with a crisp bottom, cheese from edge to edge, and usually "racing stripes" of tomato sauce on top. Bring a taste of Detroit to your dinner table with Buddy's Pizza (where the pizza was invented!) and Detroit Style Pizza Co.; this pizza style has become so popular that amazing versions can now be found in:
New Haven: Don't Call it Pizza!
In New Haven, Connecticut, it's called apizza (pronounced "ah-BEETZ," based on an old Neapolitan dialect), and while it may resemble New York-style pizza, it's totally different. Coal-fired with a slightly charred crust, chewy, and a little oblong, New Haven apizza is insanely delicious—one bite and you'll be hooked! Crowds line up for a taste of the city's most iconic pizzerias, which include:
Read More: What is New Haven Style Pizza?
Neapolitan: Straight Outta Naples
Naples obviously isn't in America, but we'd be remiss if we didn't include the birthplace of pizza on this list! Traditional Neapolitan pizza has a soft & puffy ring of crust surrounding tomato sauce and dollops of mozzarella and few other toppings, with a slightly soupy center. It's the pizza from which all other pizzas originated, and here in the U.S. including:
Colorado: Thick-Crusted "Mountain Pies"
Colorado-style pizza is big, bold, and unapologetic! These pizzas are heavy, doughy, and thick, loaded up with plenty of toppings and sometimes surrounded by a ring of braided crust that pairs well with a drizzle of honey. One is enough to feed a family! If you want to try out this lesser-known regional style for yourself (and you do!), check out Idaho Springs' Beau Jo's and Fort Collins' Panhandler's.
Philadelphia: A Different Type of Tomato Pie
If you head to Philly and visit any of the city's classic old Italian bakeries, you'll discover a close relative of pizza that can only be found in and around the City of Brotherly Love: the tomato pie. These pies are light, airy, crisp, and served at room temperature, and they're topped with a sweet homemade tomato sauce and a sprinkling of Romano cheese instead of mozzarella. Corropolese Bakery has been serving one of the city's most iconic tomato pies since 1924, and Iannelli's Bakery has been a local landmark since 1910.
New Jersey: Tomato Pies on the Shore
If you head to the Jersey Shore, you'll discover a style that resembles its cousin to the north, but is indeed a style all its own: Jersey Tomato Pies. These pizzas are big, cheesy, and sold by the slice along the boardwalk, and best identified by its swirl of tomato sauce on top. To transport yourself to the shore, check out Maruca's, the tomato pie gold standard since 1950.
St. Louis: Square Beyond Compare
Meet me in St. Louis for some insanely good pizza! St. Louis' signature pizza has a cracker-thin, yeast-free crust, and it's topped with an oregano-heavy tomato sauce and Provel cheese (a white processed cheese that melts into gooey deliciousness) and cut into squares. Picture-perfect St. Louis-style pizza can be found at the city's renowned Imo's Pizza, which has been going strong for nearly 60 years.
Old Forge-Style Pizza
It takes some nerve to call yourself "The Pizza Capital of the World," but that's exactly what the folks in the tiny town of Old Forge, Pennsylvania, have done. Old Forge pizza has a thick crust that's light and airy, and it's topped with plenty of cheese and sauce. It's a beloved lesser-known regional style, and for the first time you can try it without hitching a ride to Lackawanna County by ordering from the town's renowned Arcaro & Genell.
California: All About the Toppings
California-style pizzas are usually single-serving, with a crust similar to New York-style. Where it really differentiates itself, however, is in the toppings. When this style of pizza was popularized at Wolfgang Puck's West Hollywood hotspot Spago in the 1980s, toppings including goat cheese, duck sausage, smoked salmon, prosciutto, and seasonal vegetables including zucchini flowers –– inspired by the local-focused "California cuisine" movement –– were simply unheard-of.
Hungry for more? Check out all of the world-class pizzas that can be shipped straight to your door on Goldbelly!