EVERYTHING YOU NEED TO KNOW ABOUT THE FLORIDA KEYS' MOST FAMOUS FOOD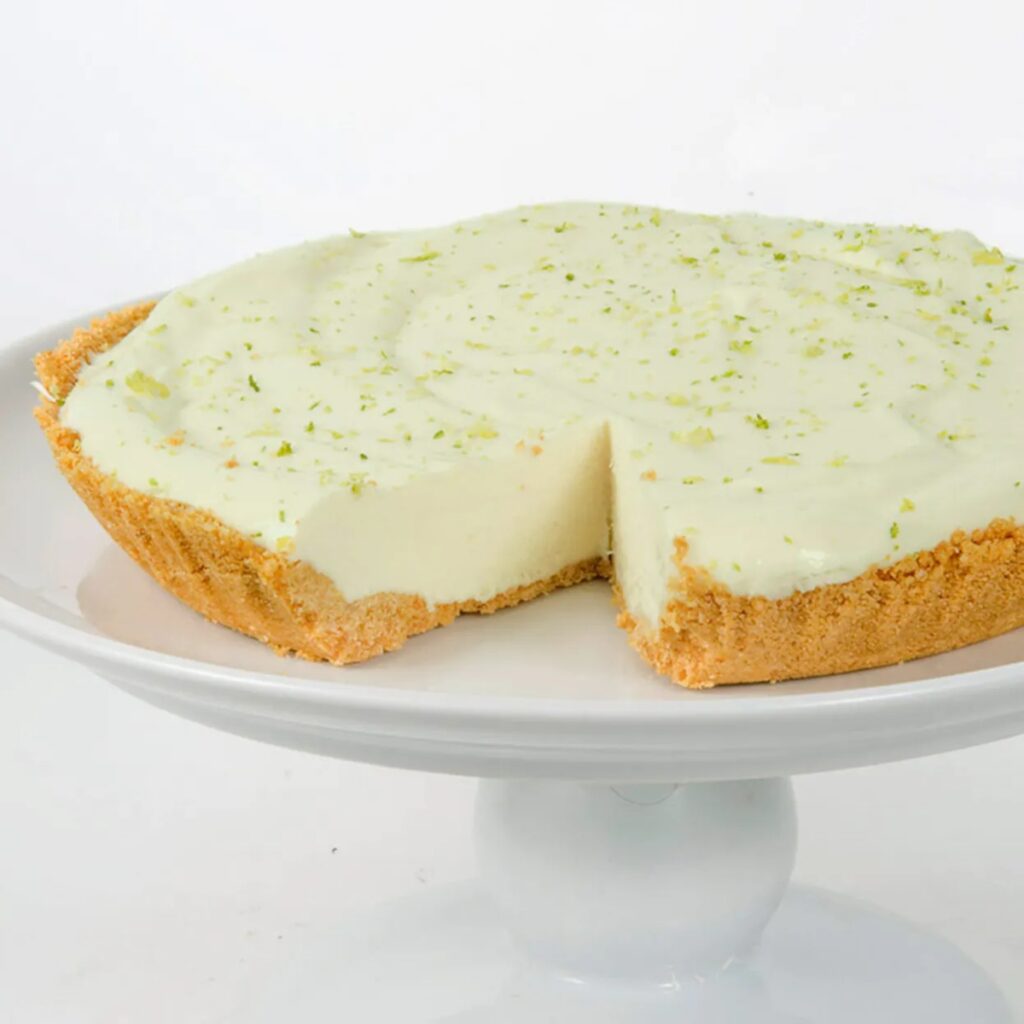 Key lime pie is a lime green, fresh, tart, and sweet open-faced fruit and cream pie. Key lime pie is synonymous with the Florida Keys. This citrus pie is the official state pie of Florida. Plus, there is an annual summertime Key Lime Festival in Key West, Florida. One bite of this pie is a true taste of the Florida Keys, a 120-mile island chain off Florida's southernmost tip.
What's Key Lime Pie Made of?
Key lime pie is made of a handful of simple ingredients. This famous Florida pie is easy to make. It requires no baking if you use a ready made crust and don't use eggs. The pie is named after the Key limes used to make the smooth and creamy pie.
Key Lime pie recipes vary but all are made of the following:
Fresh-squeezed (or bottled) Key lime juice
Sweetened condensed milk
Graham cracker crust (made from butter, brown sugar, and graham crackers)
Some recipes include a custard-like filling made with egg yolks. Some use sour cream, cream cheese, or Greek yogurt instead of eggs or no eggs at all. Some bakers use a pastry crust instead of a graham cracker crust.
A Key lime pie may be served plain or with toppings like:
Berries like blueberries, strawberries, and raspberries
Candied lime slices
Chocolate sauce or syrup
Meringue
Nuts
Whipped cream
What Does Key Lime Pie Taste Like?
Key lime pie tastes simultaneously bitter and sweet. The pie itself is not overly sweet. The sugar from the condensed milk counterbalances the acidic taste of the Key limes.
Read More: The Best Pie Flavors & Where to Try Them
What makes Key lime pie so distinct is the type of lime used called the West Indian lime or Mexican lime. They are sour and would make your mouth pucker if it weren't for the creamy condensed milk and whipped cream!
Why is it Called Key Lime Pie?
Key lime pies are named after the Key limes that are the signature ingredient in this classic, tropical pie. West Indian limes were introduced to the Florida Keys in 1838. They became naturalized and folks started referring to these citrus fruits as Key limes.
A hurricane in 1926 wiped out commercial lime production in the Florida Keys, but the name for these limes still endures.
Key limes are a type of lime that are perfectly round, lighter green, and smaller than regular limes. They have a floral aroma and are more acidic than the more common oblong Persian limes. These limes are slightly bitter, slightly sweet, and have a more intense taste.
Key lime pie originated in the remote Florida Keys in the early 19th century. It's thought that condensed milk was used instead of milk because refrigeration wasn't common in the island chain until the 1930s.
In addition to traditional Key lime pies and mini Key lime pies, Key limes can also be enjoyed in the following ways:
Key lime pie jars
Key lime pie pops
Key lime popsicles
Can You Freeze Key Lime Pie?
Yes, you can freeze Key lime pie. One of the most popular variations is a frozen, chocolate-dipped Key lime pie slice served on a wooden stick. Other variations include refrigerated and frozen strawberry Key lime pies.
Key lime pie can be served cold, straight from the refrigerator, or eaten frozen, like a popsicle.
Most Famous Key Lime Pies
It's not hard to find a piece of Key lime pie, particularly in Florida and most easily in the Florida Keys. America's best bakeries, pie shops, and restaurants are making the most famous and legendary Key lime pies.
Key lime is so sublime. The best Key lime pies are shipping nationwide on Goldbelly!