THE MOST DELICIOUS CAKE IS ALSO THE MOST MYSTERIOUS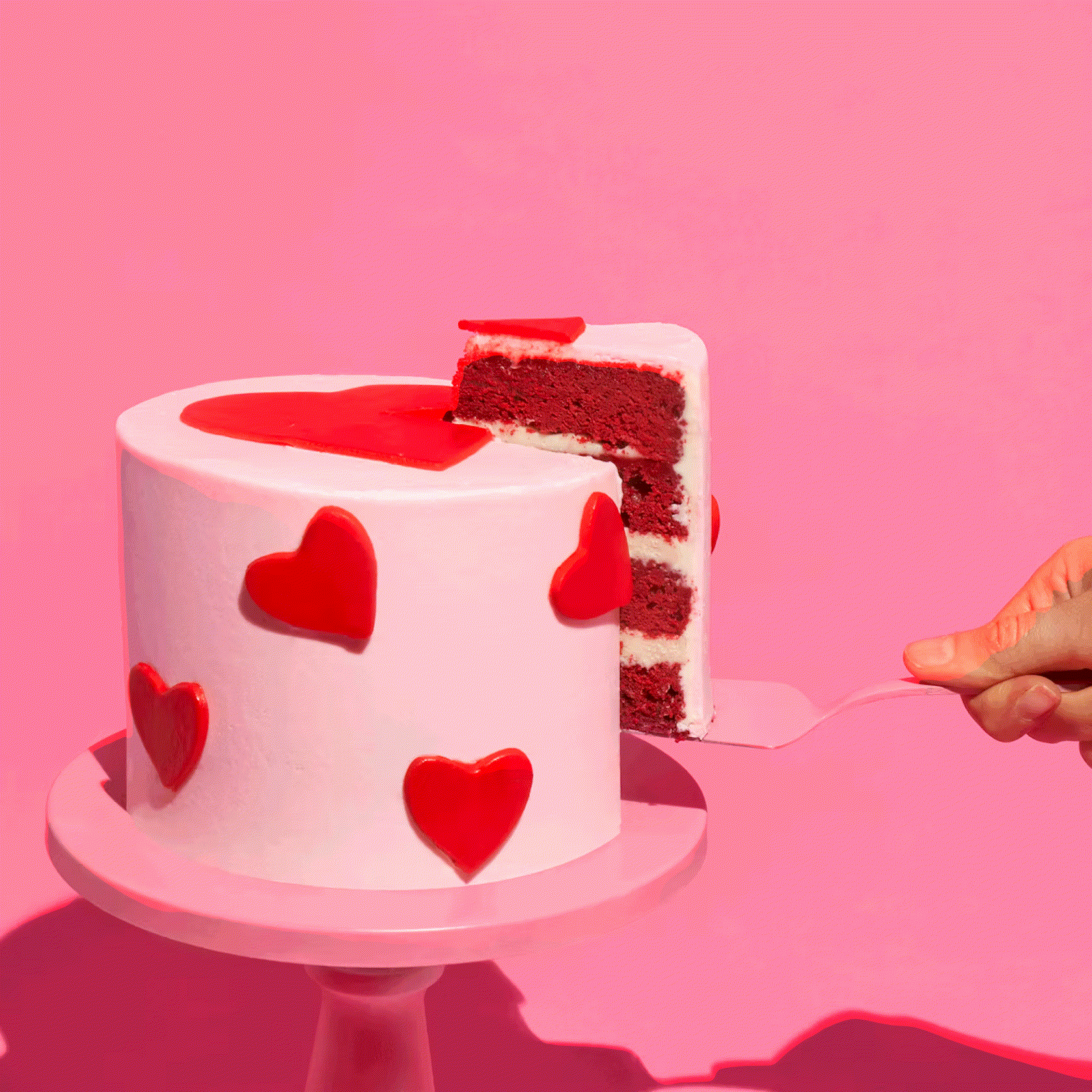 If you find yourself perusing a diner's dessert menu or scanning a bakery's cake selection for the perfect birthday cake, plain old chocolate and vanilla seem downright bland when compared to the queen of Southern cakes, red velvet.
With its deep red color and rich cream cheese frosting, there's just something about red velvet cake that tends to get us more excited than just about any other layer cake. But what's red velvet's deal, exactly? Where did it come from, and why is it red?
What is Red Velvet Cake Made Of?
Just like with any type of cake, the specific recipe for red velvet cake can vary from baker to baker. Most recipes, like the James Beard Foundation, have some ingredients in common. They all include typical cake ingredients like flour, butter, sugar, and eggs, of course, but red velvet cake usually includes a couple ingredients that other cakes don't. One is a small amount of white vinegar in the batter, and the other is the addition of buttermilk; both of these lend a tang that adds a depth of flavor to the finished cake and help to keep the cake moist and light.
Another mandatory red velvet cake ingredient is a hefty dose of unsweetened cocoa powder. That's right: even though you may not realize it, red velvet cake's predominant flavor is that of chocolate.
As for toppings, French-style butter icing is actually the most traditional, but as it's very time consuming classic buttercream and cream cheese frostings have become more common nowadays. As for us, we'll always prefer cream cheese frosting on our red velvet cake.
Why Are Red Velvet Cakes Red?
Nowadays, the vast majority of red velvet cakes get their distinctive deep red color from red food coloring. Before the widespread availability of food coloring, however, the cake was still red (albeit not quite as pronounced) due to a chemical reaction between the acidic vinegar and red compounds called anthocyanins in the cocoa powder. The addition of beet juice is also a fairly common coloring agent in lieu of food coloring.
The History Behind Red Velvet Cake
A style of cake known as velvet cake, which was softer than the more common coarser-crumb cakes, was first served at upscale restaurants back in the 1800s. New York's famed Waldorf Astoria Hotel is sometimes credited with inventing red velvet cake, and it remains the hotel chain's signature dessert even though it was introduced before food coloring became popular. When red food coloring became widely available during the Great Depression, the cake caught on in popularity among bakers due to its bright red color, especially in the South.
Red velvet cake is also closely associated with Black foodways, as it's a very popular celebration dessert. It's especially popular at Juneteenth celebrations, as the consumption of red foods and drinks is associated with the holiday. A recipe for a coloring-free precursor to red velvet cake was also included in a 1911 cookbook by Rufus Estes, a formerly enslaved person and chef.
More recently, red velvet cake saw a popularity boost thanks to its inclusion in the 1989 film Steel Magnolias, and it's also become a popular cupcake flavor.
Most Famous Red Velvet Cakes
Countless bakeries and restaurants offer red velvet cakes nowadays, but some of the most famous (and delicious) red velvet cakes are shipping straight from America's top bakeries to your door!
These are just a handful of the incredible red velvet cakes – baked by everyone from "Ace of Cakes" Duff Goldman to "Cake Boss" Buddy Valastro to NYC's renowned Veniero's – that are shipping nationwide from Goldbelly. Check out the full collection of red velvet cakes, and discover for yourself why this cake is so universally beloved!