EVERYTHING YOU NEED TO KNOW, INCLUDING THE ORIGIN AND WHO INVENTED BUFFALO WINGS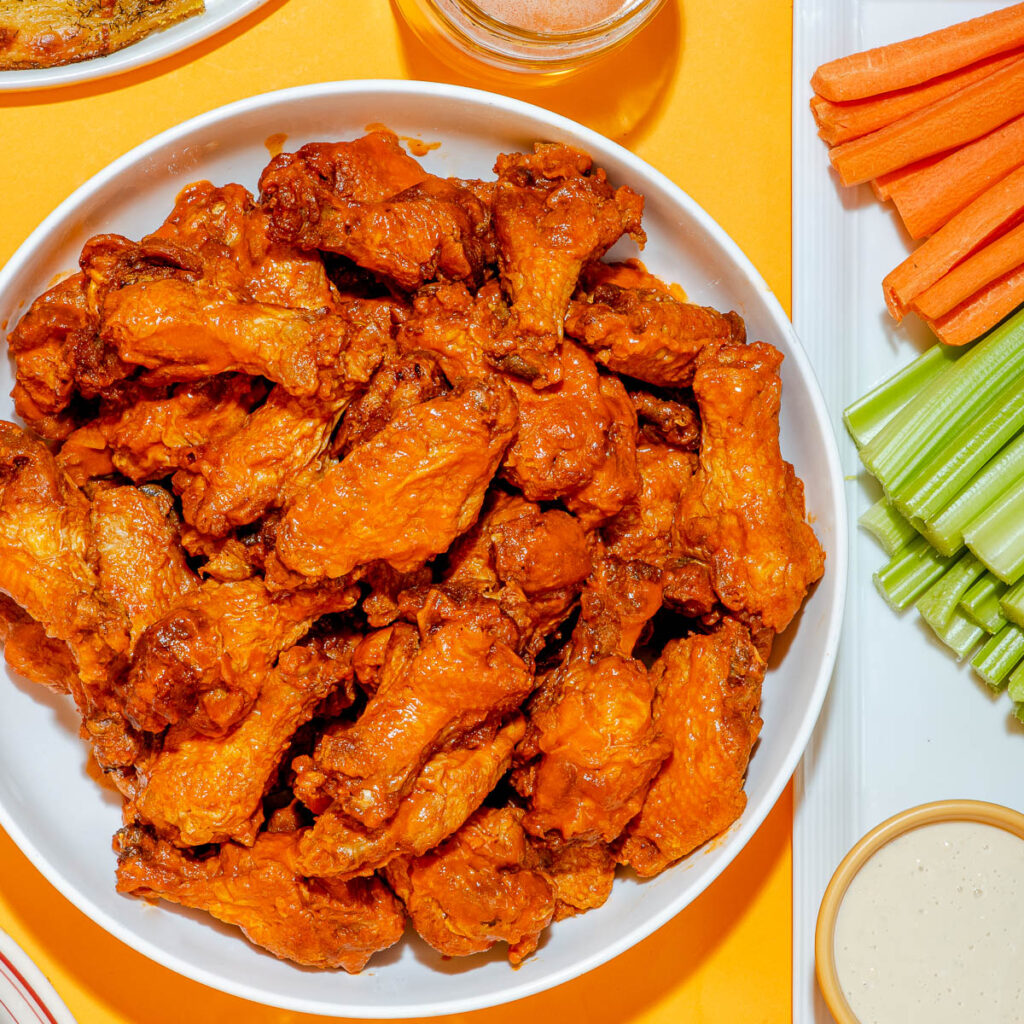 Buffalo chicken wings are a popular bar snack and game day delight that are on practically every bar menu. Buffalo chicken wings are unbreaded chicken drums and flats. They are deep fried and then tossed and coated in Frank's RedHot, a spicy cayenne-based hot sauce. They are served with creamy blue cheese dipping sauce and celery.
Read More: Game Day Party Food Ideas
What are Buffalo Wings?
Buffalo Wings are chicken drumettes and flats that retain their skin but are not breaded. The juicy chicken pieces are deep fried and then coated in Buffalo Wing sauce, a buttery hot sauce, and served with blue cheese dressing and celery. The blue cheese dipping sauce and raw celery have a cooling effect and are a refreshing complement to the fiery Buffalo Wing sauce.
Who Invented Buffalo Wings?
Like most iconic foods, there are several origin stories. Most folks attribute the invention of Buffalo Wings to the Anchor Bar in Buffalo, New York. Sicilian immigrants Frank and Teressa Bellissimo opened Anchor Bar in 1935 and invented the Buffalo Wing in 1964.
After a long shift tending bar, Dominic Bellissimo, the owners' son, and his friends were looking for the perfect finger food as they sat around the bar. Teressa, who had extra chicken wings in the back, deep fried the wings, tossed them in buttery cayenne pepper sauce and served them with celery sticks and blue cheese dressing and the rest is history.
There are others who believe chicken wings are rooted in Southern BBQ. During the post-Civil War Great Migration, 6 million Black people from the South moved to cities in the North, including Chicago, and brought their culinary traditions with them. At the time, Chicago was America's largest meatpacking hub, and chicken wings were discarded by slaughterhouses. The Southern tradition of frying up chicken wings became popular in the Windy City, particularly during Prohibition, where they were served at speakeasies.
No matter who invented them, the savory finger food is a staple on sports bar menus across the U.S. Buffalo chicken wings are so popular there are many variations, including:
Boneless Buffalo Wings
Buffalo chicken pizza
Buffalo chicken sandwiches
And Buffalo chicken dip
Why is it Called Buffalo Sauce?
Named for Buffalo, New York, the city that many regard as the birthplace of Buffalo Wings, Buffalo Sauce is a red sauce that packs a bit of heat. Buffalo Sauce is a mix of cayenne pepper, butter, vinegar, garlic powder, salt, oil, and paprika. Most recipes use Frank's RedHot, which was invented in New Iberia, Louisiana.
Why are Chicken Wings Called Buffalo Wings?
The term chicken wing is used to describe many kinds of fried chicken, but Buffalo Wings refer to the orange hued wings that were invented in Buffalo, New York. Buffalo Wings have enough heat to make your tongue tingle. They are served with tangy blue cheese sauce and crisp, cold celery. There are many kinds of chicken wings, including:
BBQ wings
Korean-style wings
Thai-style wings
Are Buffalo Wings and Hot Wings Different?
Buffalo Wings should not be confused with hot wings. Buffalo Wings are unbreaded, deep fried chicken wings that are hot, hot, HOT! Hot wings are typically coated in a fiery chile pepper-based sauce not a cayenne-based sauce like Buffalo Wings. Hot Wings are not served with dipping sauce. Buffalo Wings are served with cooling blue cheese and celery sticks.
Most Famous Buffalo Wings and Chicken Wings
It's time to have a wing ding with the most famous Buffalo Wings and chicken wings from America's best bars and restaurants. Get out the Wet Naps and dig in to these finger lickin' good wings.
Let Goldbelly be your wing man with the most legendary Buffalo Wings. Get saucy and bring on the heat with mild, medium, or hot sauces.