EVERYTHING YOU NEED TO KNOW ABOUT KBBQ, ONE OF THE MOST FAMOUS KOREAN FOODS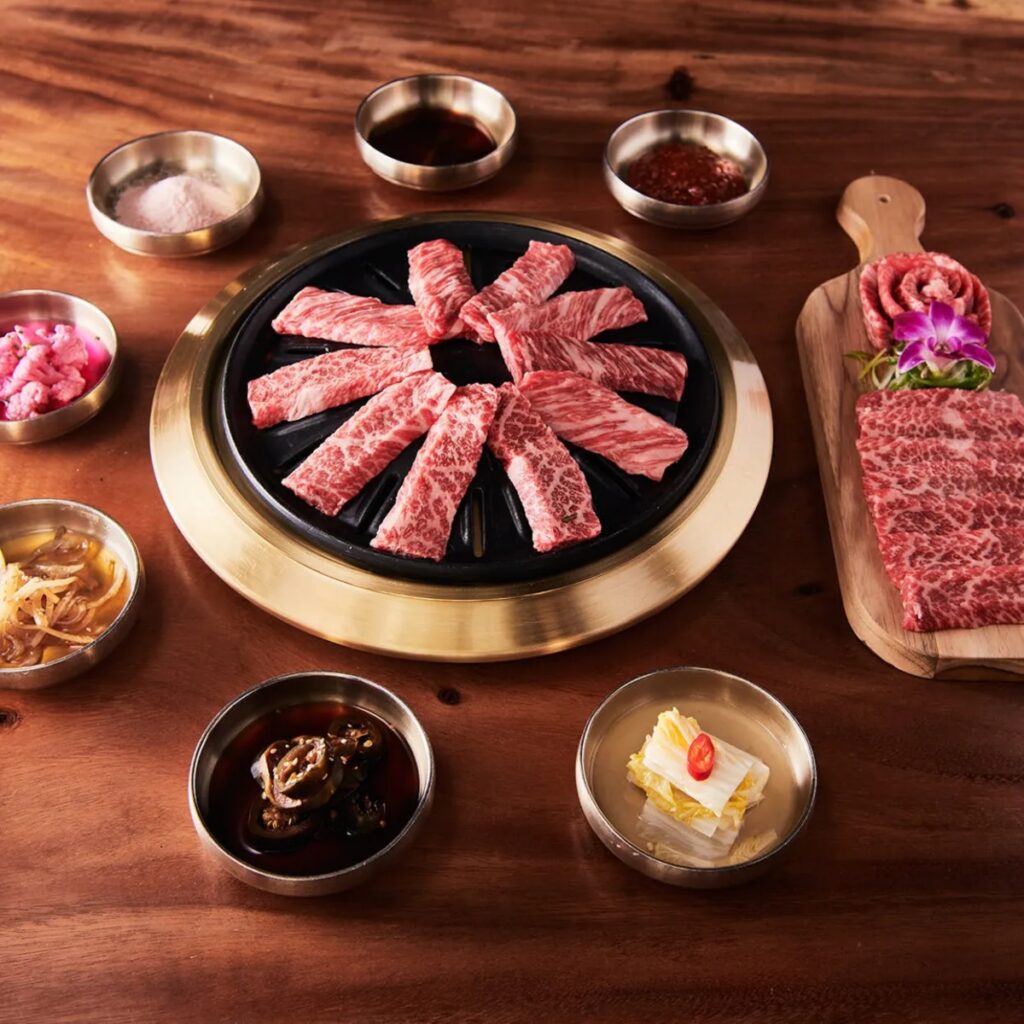 Fire up the grill. Korean BBQ is a communal dining experience that involves grilling marinated meat over a charcoal grill or gas grill. This smoky tableside epicurean endeavor involves lots of thinly sliced meat, fermented and pickled vegetables, and fun times.
Korean barbecue is a grill-it-yourself or grill-in-front-of-you feast that is as enjoyable to cook as it is to eat. Quality cuts of meat, fresh veggies, and savory sauces combine for an eat-a-thon you and your dining companions won't soon forget.
Read More: Types of BBQ: Regional American Barbecue Styles Explained
What Does Korean BBQ Consist of?
Korean barbecue consists of:
Sliced meat, most commonly beef, but also pork and chicken
Sauce like ssamjang (soybean paste and chili paste) and gochujang (a spicy chili paste)
Lettuce or perilla leaves
Garnishes like sliced garlic, scallions, and toasted sesame seeds
Banchan (small side dishes). Types of banchan include kimchi, marinated veggies, spicy cucumbers, bean sprouts, and sautéed spinach.
Rice
Doenjang jjigae (bean paste soup)
Popular KBBQ meats include:
Bulgogi (beef like brisket, ribeye, or sirloin)
Galbi (beef short ribs)
Samgyeopsal (pork belly)
Dwaeji Bulgogi (spicy pork)
Buldak ("fire" chicken)
The meat in Korean barbecue is marinated in sauces like:
Gochujang (chili paste)
Doenjang (soy sauce)
Chamgireum (toasted sesame oil)
What Does Korean BBQ Taste Like?
Korean BBQ tastes like delicious barbecue. This Korean-style grilling has the hallmarks of other barbecue types. KBBQ's marinated meats are juicy, tender, smoky, and slightly charred. The thinly sliced meats with the perfect amount of fat melt in your mouth.
The marinades and dipping sauces are rich and filled with umami. It's the perfect marriage of meat, marinate, and fat. A Korean barbecue feast includes all kinds of textures — chewy and crunchy — and tastes: sweet, savory, spicy, sour, and bitter.
Korean barbecue is a feast for the senses. Freshly grilled meat can be eaten straight after grilling. It is also commonly dunked in sauce or served ssam (wrapped in leaves like lettuce and perilla leaves).
Why is Korean BBQ so Popular?
Korean BBQ is popular because it is tasty. This dining experience is interactive and fun. Diners get to not only enjoy a delicious grilled barbecue meal, but they also get to have fun preparing it.
Using chopsticks, diners pick up pieces of sliced marinated meats and place them directly on the grill. Scissors are often included to make it easier to slice up larger pieces of meat into bite-size morsels.
Grilled meat is then dipped in sauce and eaten. Grilled meat can also be dunked in sauce, enhanced with garnishes, and then wrapped in lettuce or perilla leaves. KBBQ is also a crowd pleaser thanks to the variety of meats and flavor profiles, from sweet to savory to spicy. KBBQ also has something for everyone as it is served with a seemingly endless assortment of banchan.
This is often accompanied by Korean drinking games like Sam Yuk Gu (3-6-9), a counting game in which players cannot say a number that contains 3, 6, or 9.
Is Korean BBQ Always Beef?
Korean BBQ isn't always beef, but beef, like short rib, is the most common meat. Beef, pork, and chicken are the most popular KBBQ meats. Other popular meats to grill include:
Gopchang (beef or pork intestines)
Gyutan (beef tongue)
Makchang (beef stomach)
Most Famous Korean BBQ
You don't have to travel to Korea to enjoy some of the world's most famous Korean BBQ.
Turn up the heat with KBBQ. The best Korean BBQ, including quality meats, beautiful banchan, and superior sauces, is shipping nationwide on Goldbelly!