LEARN THE DIFFERENCES BETWEEN RED VELVET AND CLASSIC CHOCOLATE CAKE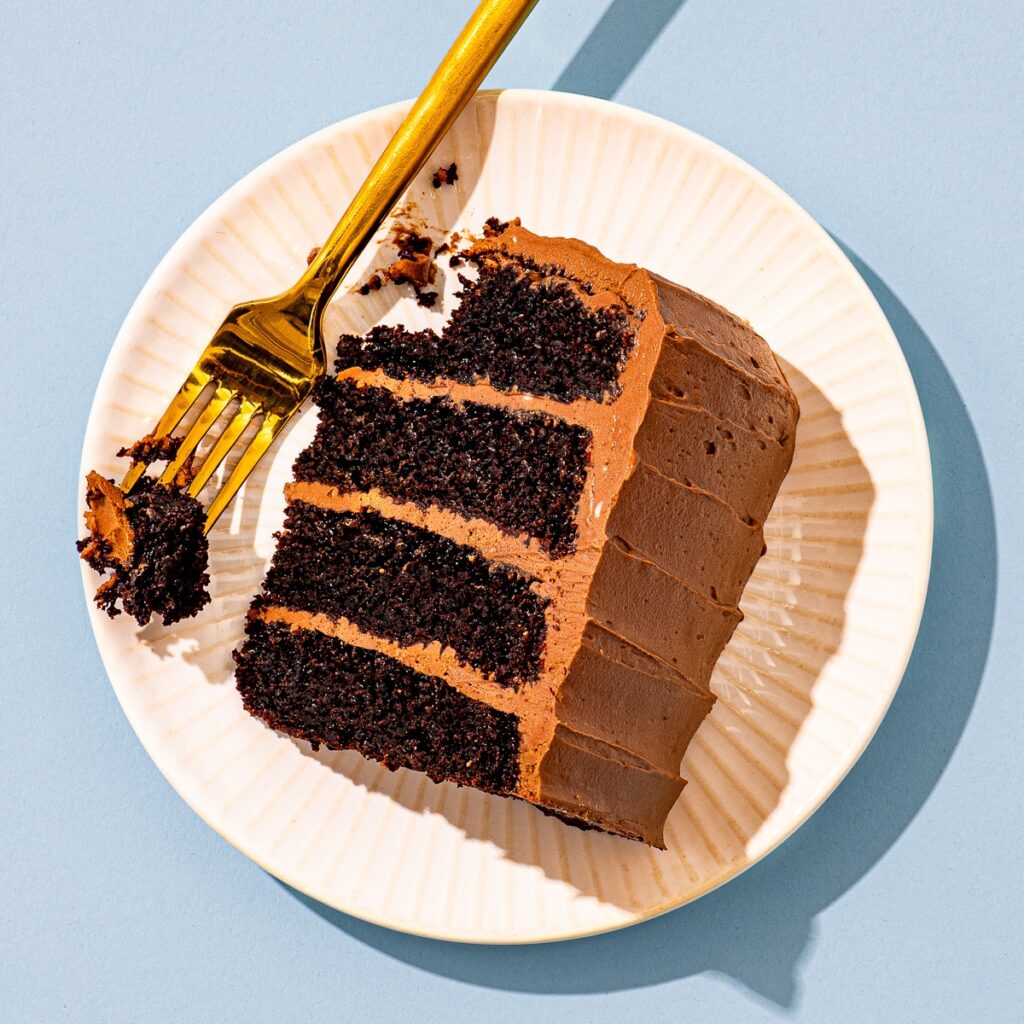 Mmm…cake. Nothing brings on a smile like a thick slice of Chocolate Cake or Red Velvet Cake generously slathered in frosting. Whether it's birthday parties, special occasions, or a late-night snack, you batter bet cake is our go-to baked bestie.
Like the perennial battle of chocolate or vanilla ice cream, are you Team Chocolate Cake or Team Red Velvet? Perhaps a taste test and primer on Red Velvet vs. Chocolate Cake can help you decide.
Whether you're a chocoholic that gravitates toward rich Chocolate Cake or a cake connoisseur that loves a fabulous Red Velvet Cake, let's dig into what makes both cakes deliciously distinct.
Is a Red Velvet Cake Just a Chocolate Cake?
No, Red Velvet Cake is not just Chocolate Cake. While both Red Velvet Cake and Chocolate Cake use cocoa, that's where the similarities basically end. Chocolate Cake is made with Dutch processed cocoa, melted chocolate, or both. It has a dark brown or black color and is typically frosted with chocolate, vanilla, or cream cheese frosting.
Dutch processed refers to when cocoa beans are washed and treated with an alkalizing agent. This process reduces the cocoa's acidity so the chocolate doesn't taste as bitter as it naturally does.
Red Velvet Cake is flavored with non-Dutch processed cocoa, buttermilk, and vinegar. What makes this unique is that its red color is the result of a natural chemical reaction. The buttermilk and vinegar cause a reaction that brings out cocoa's anthocyanin. Anthocyanin ia a pigment found in cocoa beans and other plants.
Red Velvet Cake is traditionally frosted with ermine icing (a French-style frosting made by cooking flour, milk, and sugar). Nowadays, Red Velvet Cakes are typically frosted with cream cheese or buttercream frosting.
Red Velvet Cake also has a slightly tart and has a mild cocoa flavor, while Chocolate cake is creamy, buttery, and has a rich cocoa taste. Red Velvet Cake is smooth, light, soft, with a velvety crumb (hence, the "velvet" in Red Velvet Cake). Chocolate cake is soft and fluffy and has a solid crumb.
What Flavor is Red Velvet Supposed to Be?
Red Velvet tastes like a really mild version of chocolate cake. Ignoring the cake color, some might mistake Red Velvet for a cocoa-flavored cake like Devil's Food Cake, but it's not. Devil's Food Cake is made with chocolate. It's also not simply vanilla cake with a bit of cocoa and red food dye, and not a variation of a Chocolate Cake made with buttermilk.
Red Velvet Cake is not supposed to be anything other than Red Velvet! This red cake has its own unique flavor profile — slightly sweet and tart. This iconic cake has an unmistakable tang due to the buttermilk and vinegar.
Read More: What is Red Velvet Cake and Why is it Red?
What's the Difference Between Red Velvet Cake and Other Cakes?
The difference between Red Velvet Cake and other cakes are its ingredients and colors. No other layer cake uses buttermilk and vinegar in the recipe.
When mixed with cocoa powder, the buttermilk and vinegar cause the chemical reaction that turns the cake red. The vinegar also helps preserve the cake's iconic color.
Sure, you can make a cake red with a little beet juice or red food coloring, but Red Velvet Cake's ingredients create the red color naturally.
Read More: Best Cake Flavors For Birthdays & Celebrations
What's Another Name For Red Velvet Cake?
Red Velvet Cake has several names, including Waldorf-Astoria Cake. Many attribute the now-shuttered New York City hotel with creating the cake.
This crimson color cake is sometimes called $300 Cake. This is because a patron of the Waldorf-Astoria once asked the chef for a recipe. The hotel chef provided it along with a bill for $300.
There's only one name for classic Chocolate Cake, but there are many variations of Chocolate Cake. These include Brooklyn Blackout cake, Chocolate Lava, Chocolate Mud, and Chocolate Fudge.
Most Famous Red Velvet & Chocolate Cakes
It's a piece of cake to find Red Velvet and Chocolate Cakes at bakeries and restaurants across the US, particularly in the South. Fortunately, you don't have to look further than Goldbelly to get the most famous Red Velvet and Chocolate Cakes delivered straight from the oven to your door.
Life is batter with cake! Goldbelly takes the cake with the best Red Velvet Cakes and Chocolate Cakes shipping nationwide on Goldbelly!