THE DEFINITIVE GUIDE TO AMERICAN BISCUITS AND BRITISH SCONES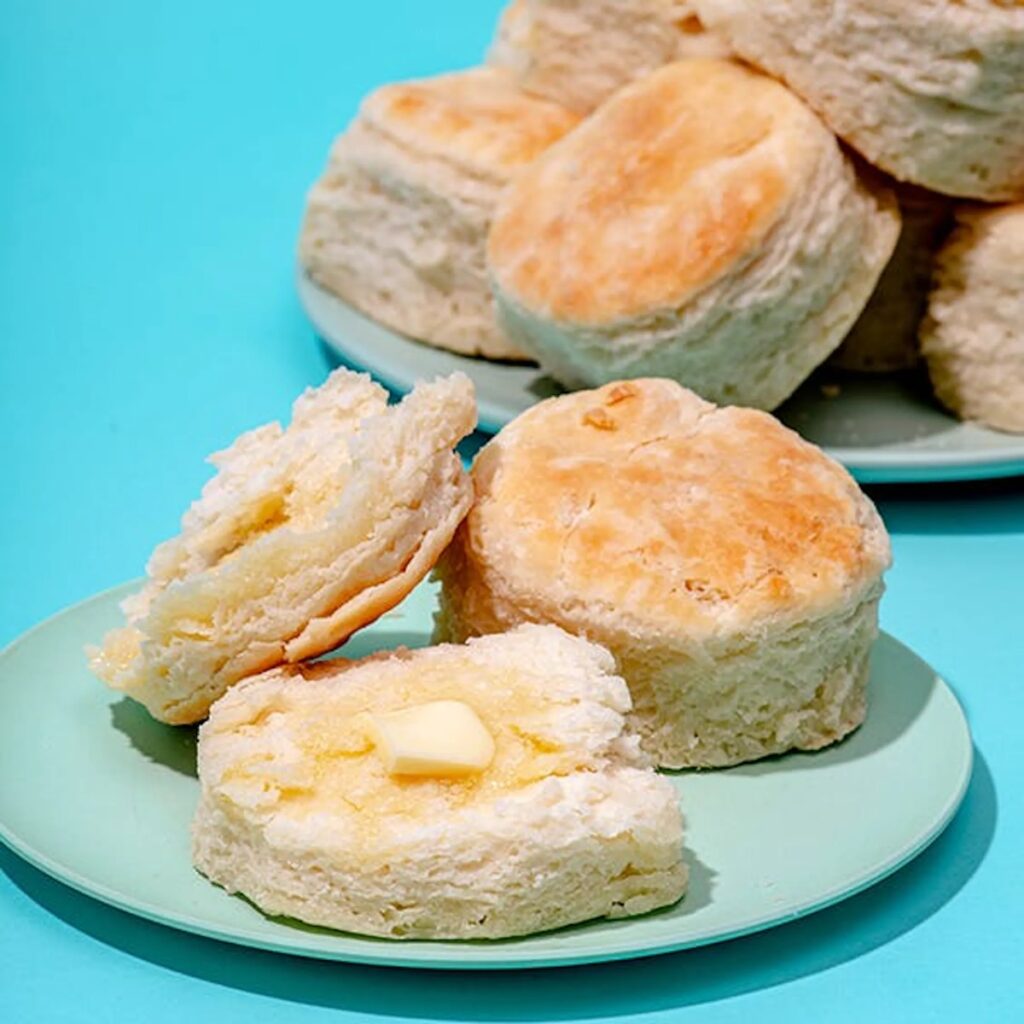 Nothing beats splitting open a piping hot biscuit and watching the steam billow out. Then, slathering a hefty pat of butter on it before devouring this fluffy bread. Likewise, indulging in a warm scone with a heap of fruit jam and scoop of clotted cream is pure delight.
But what, exactly, is the difference between a biscuit and a scone? If you're in the U.S., a biscuit is a round, flaky, buttery piece of leavened bread. In the U.K. a biscuit is a crisp cookie often enjoyed at tea time.
A scone is a quick bread that is denser than a biscuit and can be either savory or sweet. Scones come in many shapes, like round or triangular. Biscuits are round or square.
Are Scones and Biscuits the Same Things?
No, scones and biscuits are not the same thing. However, they are made with similar ingredients:
Dairy: traditionally buttermilk for biscuits and heavy cream and/or eggs for scones
Fat: like butter, lard, or vegetable shortening
Flour: traditionally barley flour or oatmeal for scones
Leavener: like baking powder or baking soda
Scones are also made with sugar. They are dense, drier, and can be larger than biscuits. Originally, scones were baked in cast iron pans. Nowadays, the dough is quickly kneaded, then rolled, and cut into diamonds, rounds, triangles, or wedges.
Scones come in many flavors. Sweet scone flavors include:
Blueberry
Chocolate
Cranberry
Currant
Lemon poppyseed
Maple
Orange cranberry
Vanilla bean
Savory scone flavors include:
Bacon, cheddar, and chive
Cheese
Garlic herb
Biscuits are airy, have layers, and are flaky. The dough is cut into rounds or squares and baked in the oven. They may be served with a variety of sweet and savory condiments and toppings like:
Butter
Gravy
Jam
Pimento cheese
Biscuits can also be used to make sandwiches like:
Bacon, egg, and cheese
Sausage, egg, and cheese
Country ham
Fried chicken
What's Better, Scone or Biscuit?
It depends on who you ask and what you prefer. We love both, particularly biscuits for breakfast and dinner and scones for breakfast and tea time.
Variations of these two quick breads include:
Scuffins: a dense, muffin-shaped scone with a crumbly texture and a generous dollop of rich, fruity preserves at the center
Welsh Cakes: a cake that is a scone/biscuit/pancake hybrid
Are English Scones the Same as American Biscuits?
Yes, English scones are the same as American biscuits. Scones originated in the British Isles in the 16th century. When the British scone arrived in America, it morphed into two different kinds of quick bread because of the availability of local ingredients.
Southerners made their scones with easily available buttermilk, lard, and low-protein soft wheat. This yielded a lighter, fluffier bread that became known as a biscuit. Northerners used a harder wheat to make their version along with heavy cream, eggs, and sugar to create what is now referred to as a scone.
Why Are Scones Called Biscuits in America?
The reason scones are called biscuits in America is likely because the recipe to make Southern biscuits is similar to those used to make hardtack. Hardtack is a dense cracker or biscuit made of similar ingredients, but no dairy. The mixture of flour, water, and salt was commonly served as a military ration from the 17th to 20th centuries.
Most Famous Biscuits & Scones
Get up all in our biscuits before they are going, going, scone. The most famous biscuits and scones are shipping nationwide on Goldbelly!
Crumb and get the best biscuits and scones ever with nationwide shipping on Goldbelly!