THIS DELICIOUS DESSERT IS AN ITALIAN BAKERY STAPLE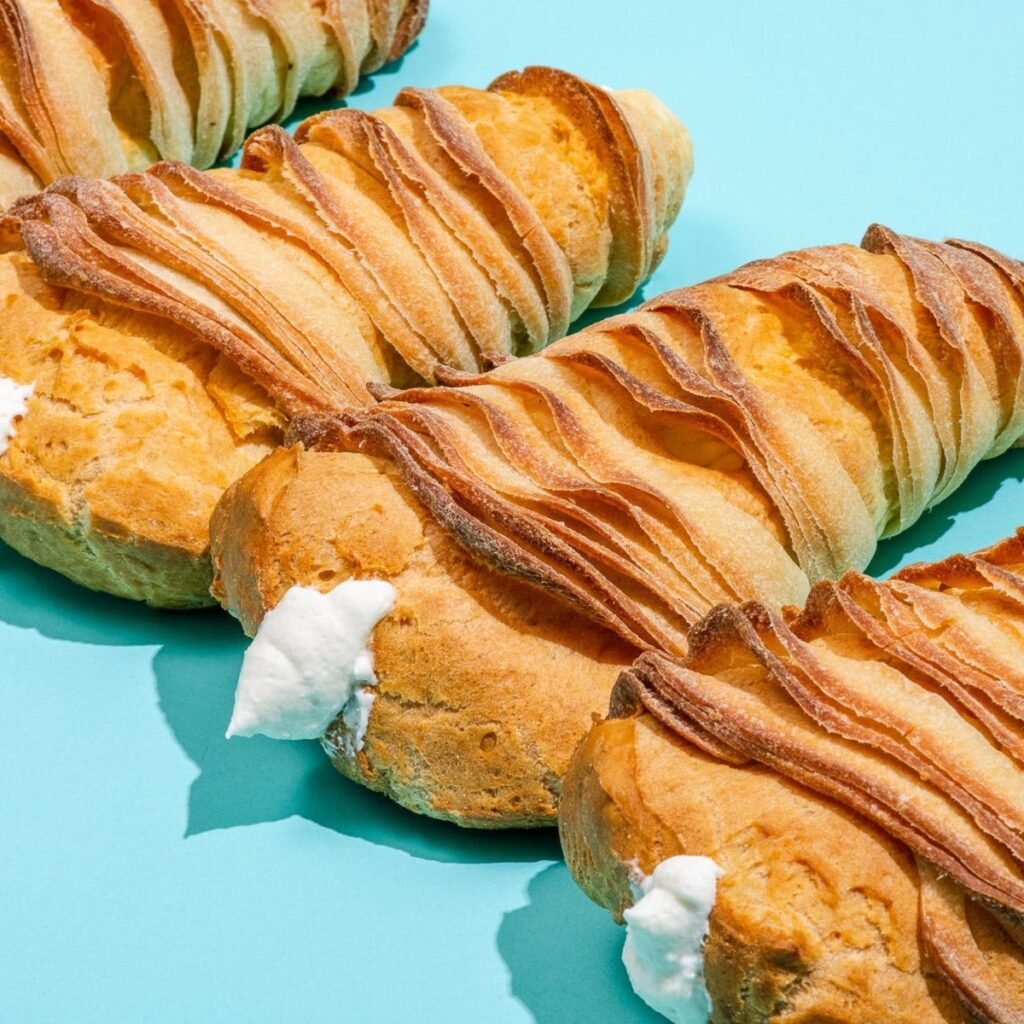 If you stop by your local Italian bakery and take a look behind the counter, you'll find plenty of easily recognizable offerings: crunchy, ricotta-filled cannoli; cream-filled, overflowing cream puffs; crunchy cookies and biscotti. But there's one pastry that always catches our eye, and is quite possibly the most intriguing one of all: the flaky, layered, cream-filled lobster tail.
The lobster tail pastry (so named because it resembles a lobster tail, obviously) is an Italian-American bakery staple, and when properly made it has a light, crispy, crunchy exterior and an interior that bursts with cream when you bite into it. But what are they, exactly, and how are they made? And are they the same as sfogliatelle?
How is a Lobster Tail Pastry Made?
As you can probably guess just by looking at it, it's not easy to make a perfect lobster tail. The process starts by combining flour and water with a pinch of salt, and kneading it into a tight ball of stiff-yet-pliable dough. After resting overnight, it's rolled out until as thin as possible (using a pasta maker is recommended), coated with a layer of butter or shortening, and rolled up tightly into a long cylinder, comprised of countless layers of dough and butter (this is commonly referred to as a "laminated" dough).
This cylinder is then sliced into inch-thick coins, which are pressed flat into a concave disc. This disc is then hand-formed into a cone, thick choux paste (made by cooking flour, eggs, butter, and sugar until doughy) is piped in, and it's baked until golden brown and crisp.
While baking, the pastry expands and the individual layers of dough separate slightly, creating those signature flaky layers. After cooling, cream is piped in, and a dusting of powdered sugar is the final touch.
What is the Filling in a Lobster Tail Pastry?
The choux paste puffs up in the oven; it's the same dough that's used to make cream puffs, so there's essentially a cream puff inside the flaky shell, providing space for the cream to be piped into.
So what kind of cream is in a lobster tail, exactly? Each bakery has its own specific cream filling recipe, but it's usually some combination of the trio of fresh whipped cream, Italian pastry cream, and ricotta. When it's a combination of whipped cream and ricotta, it's similar to the filling in cannoli. When it's a combination of whipped cream and pastry cream, it's referred to as diplomat cream.
Read More: What is a Cannoli?
Is a Lobster Tail Pastry the Same as Sfogliatelle?
The short answer: no! Sfogliatelle is a traditional Italian pastry that's different from lobster tails in several ways. If you see lobster tails and sfogliatelle side-by-side, you'll notice that even though they look similar, sfogliatelle are smaller, about half the size. They also aren't made with choux paste; the filling is piped directly into the cone of dough before baking.
Also, the filling itself is different: it's made with durum semolina (similar to cream of wheat) which is cooked down with milk before being cooled and combined with lots of ricotta and flavored with vanilla, cinnamon, and optional chopped dark chocolate and candied orange peel. The semolina adds a fair amount of heft to the finished product.
Our Favorite Lobster Tail Pastries
If all this talk of lobster tails has got your mouth watering, you're in luck! Lobster tails from some of America's most legendary Italian bakeries are shipping straight to your door.
If you love lobster tails, then you'll definitely love the hundreds of pastries – Italian and otherwise – that are shipping nationwide on Goldbelly! Shop today for delivery to your door.