THIS CLASSIC ITALIAN DESSERT IS WORTHY OF RENOWN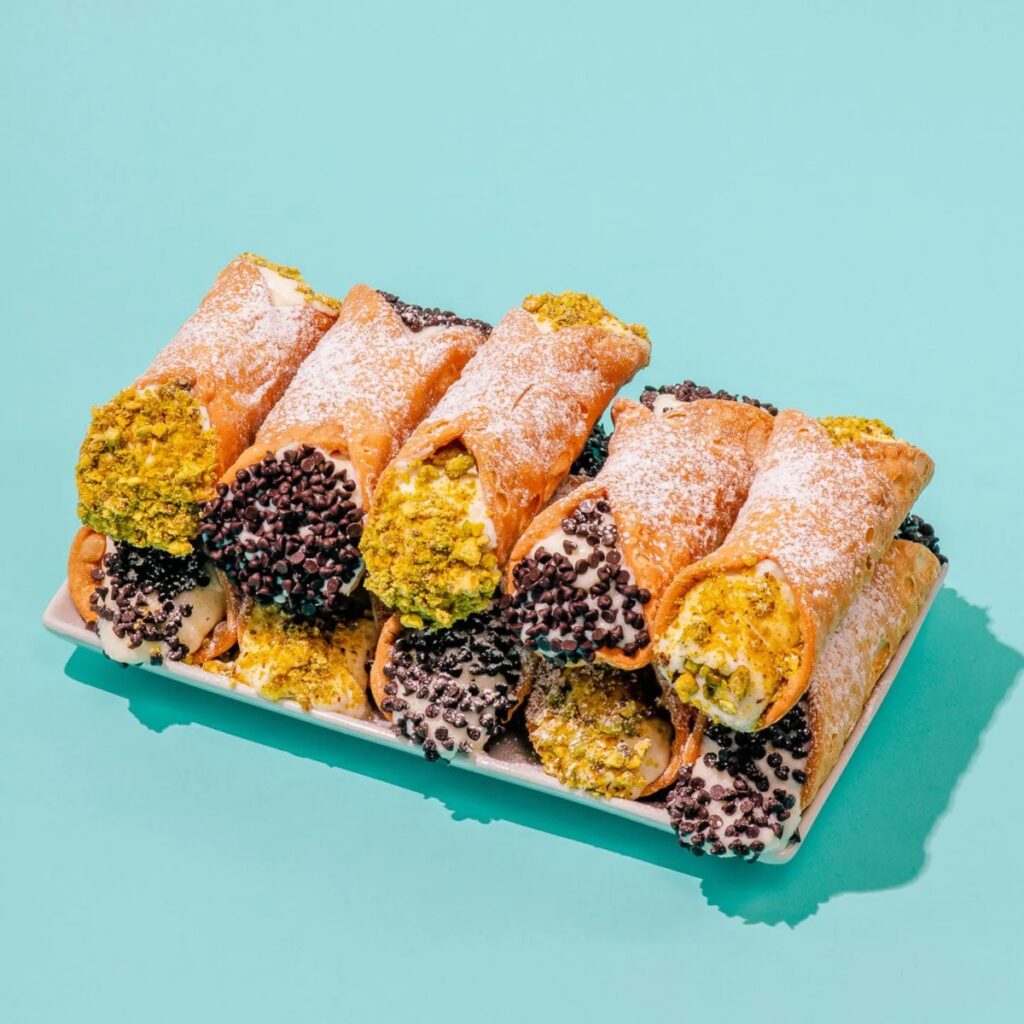 If you've ever visited an Italian bakery, also called a pasticceria, then you've most likely seen cannoli front-and-center. This legendary Italian pastry is one of the most famous and iconic desserts to come out of Italy, and it's also a staple at Italian restaurants across the country. But what is a cannoli, exactly, and how is it made?
What is a Cannoli, Exactly?
First things first, the word "cannoli" is actually plural. If you've spent any time studying Italian, than you already know that the singular form of cannoli is "cannolo" (and yes, this means that "spaghetti" is also plural; a single spaghetti strand is called a "spaghetto").
Historians have traced cannoli's roots to the Palermo and Messina areas of Sicily, in the time period of approximately the year 1000 AD. During this time, the island was ruled by Arabs, and the word itself may have derived from the Arabic word qanawāt, meaning "tubes." The word "cannoli" itself translated from Italian into "little tubes." Perhaps not coincidentally, several Middle Eastern desserts resemble cannoli.
Over the years, cannoli came to be associated with Sicily's Carnival season (which immediately precedes Lent), possibly as a fertility symbol. Their popularity spread from Sicily to the rest of Italy, and then to the United States with the millions of Italian immigrants who came over in the late 1800s and early 1900s. And once America got a taste, it couldn't get enough.
How Are Cannoli Made?
Cannoli start with a crunchy shell, which is made by shaping a circle of dough around a cylinder and deep-frying it for a few minutes until crisp and crunchy. Dough ingredients include:
Flour
Sugar
Eggs
Butter
Salt
A pinch of cinnamon
A splash of Madeira wine
After cooling, these shells are occasionally coated with melted chocolate for an extra indulgence.
What is the Filling in a Cannoli Made of?
These shells are filled with a sweet, creamy ricotta-based filling. Recipes for this filling can vary, but traditionally include:
Fresh whole milk ricotta
Powdered sugar
Whipped cream
Warming spices including cinnamon and allspice
Chocolate chips, occasionally
A piping bag is used to fill the shell; the filling is usually added at both ends in order to make sure it's filled the whole way through. After the cannoli are filled, the dessert is usually finished with a dusting of powdered sugar. It's best to fill the shells immediately or shortly before serving; if the filling sits inside the shell for too long, it can cause the shell to become a little soggy.
What Types of Cannoli Are There?
While some pastry shops flavor the filling with espresso or chocolate, the main differences in types of cannoli are in the adornment. Cannoli ends can be dunked in mini chocolate chips, crushed nuts including pistachios or almonds, or candied citrus peel. Many Italian pastry shops will have several varieties of cannoli on offer. A lesser-known type of cannoli, called Venetian cannoli, has a flaky puff pastry shell and is filled with vanilla or chocolate custard instead of ricotta.
The classic flavors and textures of cannoli can also be translated into a cake or pie. The Cannoli Pie Co., for example, fills a cannoli shell crust with cannoli cream and tops it with chocolate chips and cannoli shell crumbles.
Is Cannoli a Dessert or Breakfast Food?
In short, both! While cannoli are most commonly consumed as dessert alongside an espresso, they also make for a lovely breakfast, accompanied by a cup of coffee or cappuccino.
Is Cannoli Served Hot or Cold?
Cannoli are always served cold or at room temperature. If the filling is added while the shell is still warm, it can cause the filling to melt.
America's Best Cannoli
If you don't have a great Italian bakery in your backyard, a great cannoli is just a click away! America's best cannoli are shipping nationwide. Discover them all here!