FROM CROISSANTS TO MADELEINES, THESE TREATS ARE A TASTE OF FRANCE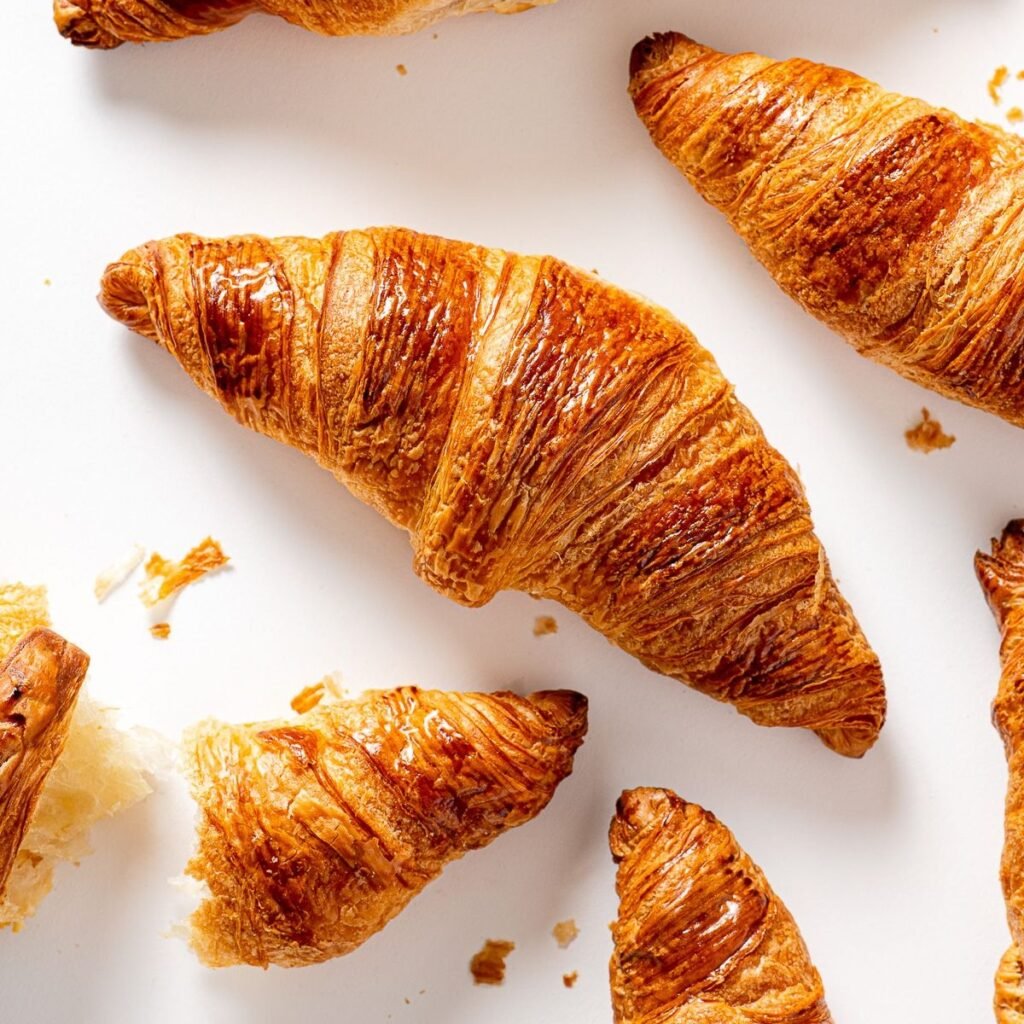 If there's one country that knows how to start its day on the right foot, it's France. French pastries, sold at patisseries and alongside hot cups of coffee at countless cafes, make for a perfect breakfast, whether enjoyed on their own or alongside some fresh fruit and a soft-boiled egg or two. Some are sweet, some are more savory, but they're all undeniably delicious.
When we think of French pastries, we tend to think of croissants and other buttery, flaky baked goods. These fall into a category of pastry called viennoiserie, which originated in Vienna (as the name implies) but have since become most closely associated with France. Viennoiseries are made by folding yeasted dough and a thick slab of butter countless times before being shaped and baked, a process called lamination; the end result is a pastry with those familiar flaky layers.
Other categories include patisseries – which aren't yeast-risen or flaky, like eclairs and macarons – and French bread like baguettes, which are sold at boulangeries.
Thankfully, many of the most popular French pastries have made their way to the United States, and the best versions of these can rival what you'll find at the finest patisseries in Paris.
What is the Most Popular Pastry in France?
The most popular pastries in France include:
Croissants
There's a reason why croissants are so closely associated with French pastry shops – they remain the most popular French pastries, by a long shot, and are enjoyed by millions of French people every morning. They're made by rolling up a triangle-shaped wedge of laminated dough and baking until golden-brown, and the predominant flavor is one of fine French butter. While many croissants are curved at the corners, traditional Parisian croissants aren't.
New York's famed Celi-Cela Patisserie sells both traditional croissants and Parisian croissants, and none other than Martha Stewart ships her ready-to-bake croissants nationwide.
Almond Croissants
Almond croissants are a popular variation on the traditional croissant. To make them, plain croissants are sliced open and filled with frangipane (a sweet almond cream), topped with more frangipane and sliced almonds, and baked again. The end result is crisp and custardy. Portland's Bakeshop PDX sells an exemplary version.
Macarons
Macarons are a beloved sweet French treat, perfect as a snack with coffee or as an elegant dessert. They're made by sandwiching a layer of jam, ganache, or buttercream between two light, crisp meringue cookies made from egg white, sugar, and almond meal. When properly made, they're light and crisp on the outside and a little chewy on the inside, and Paris' Laduree and Chicago's La Fournette both ship picture-perfect ones in a variety of flavors.
Read More: The Best Macarons
Kouign-Amann
The kouign-amann (pronounced "queen aman") originated in Brittany, and it's so delicious that it's becoming more and more popular in the United States. It also starts with laminated dough, but it's covered with sugar and baked in a way so that the sugar on the bottom caramelizes and becomes crispy and chewy.
The traditional version is as wide as a cake and served in slices, but individual, cupcake-sized ones are becoming more popular. Salt Lake City's Les Madeleines, Martha Stewart, and chef Adrienne Calvo all ship their versions nationwide.
Madeleine
Madeleines are small, sweet, pillowy sponge cakes that are baked in a distinctive shell-shaped mold. They usually have a slight almond or lemon flavor, and the best versions are slightly crisp around the outside. Legendary French chef Daniel Boulud ships a bake-at-home madeleine kit that allows you to make them fresh and hot in your own kitchen.
Pain Au Chocolat
Pain au chocolat starts with laminated dough, and it looks similar to a croissant, but in a different shape. Prior to baking, the dough is rolled up into a jelly roll-type shape, with a couple pieces of chocolate in the middle. NYC's Celi-Cela ships an excellent version.
Financier
The financier is a small almond cake that's baked in a mold that's usually rectangular but can vary in shape. It's light, moist, and slightly crisp on the exterior, with a depth of flavor from the addition of brown butter. Some versions, like the ones sold by NYC's Celi-Cela, have a dollop of fruit jam in the middle.
Profiterole
Some French pastries also start with pâte à choux, or choux paste, a hot dough made by cooking water, butter, flour, and eggs together in a saucepan; when it bakes, it puffs up and is hollow inside, ready to be filled. One of the most common applications of pâte à choux is in profiteroles, more commonly known in the US as cream puffs.
After the dough is baked, the puff is cooled before being filled with whipped cream, pastry cream, custard, or ice cream; it's then serves as-is or topped with powdered sugar, chocolate sauce, caramel, or another sweet topping.
Paris-Brest
The Paris-Brest is also made with pâte à choux, which is piped into a wheel shape, baked, sliced in half lengthwise, and filled with praline cream. It was named after the 1891 Paris-Brest bicycle race between the two French cities.
Éclair
The éclair is another pâte à choux-based pastry that's also incredibly popular in the United States. The dough is piped into logs; after being baked, the hollow interior is filled with pastry cream or whipped cream. While flavor variations vary, the most popular type of éclair is topped with a layer of chocolate fondant icing.
Gougère
Gougères are savory pastries, also made with pâte à choux. In this instance, the dough is mixed with cheese before it's baked, usually Gruyère, Comté, or Emmentaler. They're typically quite small, only an inch or so across, and make for a great appetizer or party snack. While they're usually served without any filling, there's plenty of room for creativity; they can be filled with everything from ham to truffle cream.
Palmier
Palmiers are made from puff pastry, which is laminated like croissant dough but not made with any yeast, so it becomes crisp and flaky when baked. Palmier dough is rolled out before being coated with sugar; each end is then rolled up, and the dough is sliced into quarter-inch slices, which are then rolled in sugar and baked. The end result is a sweet, crunchy confection.
Mille-Feuille
The mille-feuille, more commonly known as a Napoleon in the US, is also made with puff pastry. In this application, sheets of puff pastry (usually three) are layered with pastry cream and topped with powdered sugar. There are many variations on the dessert; some incorporate chocolate, others fruit, and some are topped with icing.
Hungry? If you're looking to snack on these spectacular authentic French pastries for yourself, look no further than Goldbelly, which is shipping them straight to your breakfast table!