THESE ARE THE MOST A-DOUGH-ABLE DONUTS FROM AMERICA'S TOP DOUGHNUT SHOPS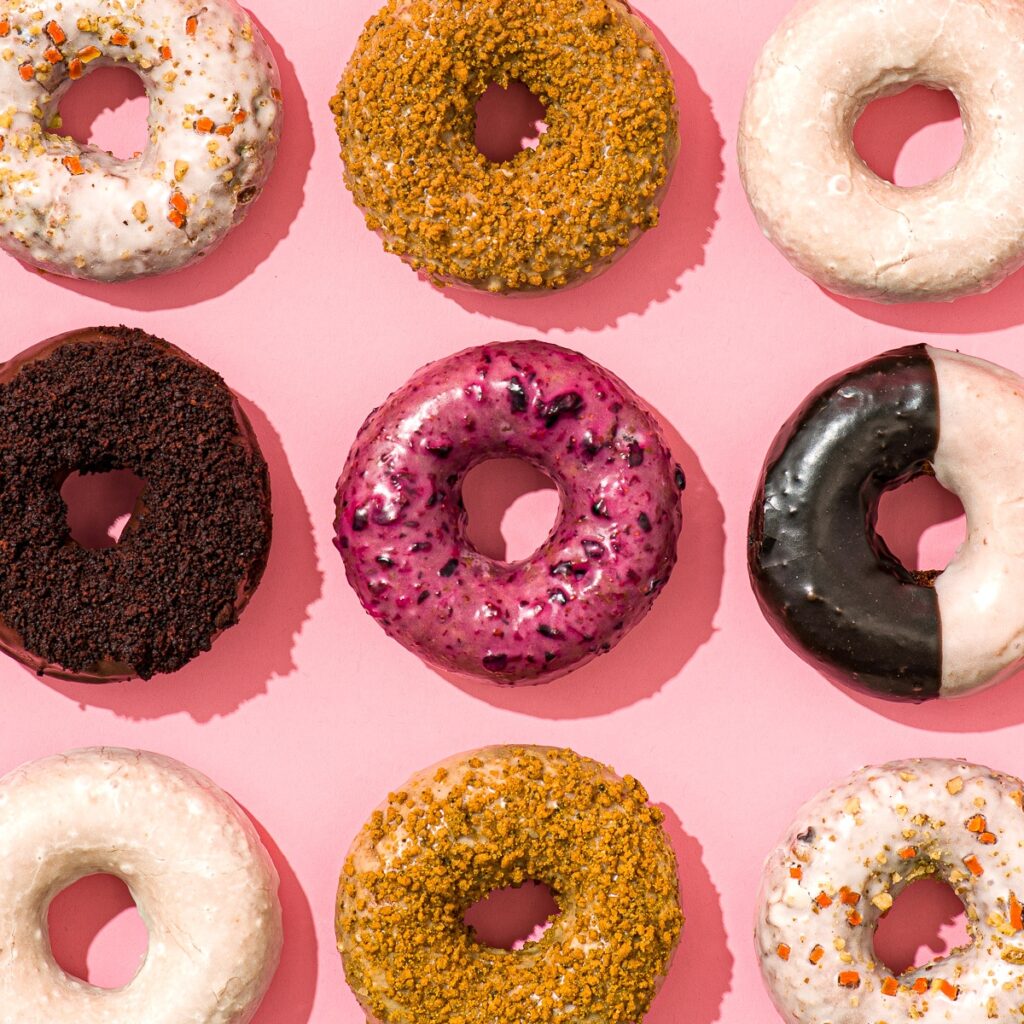 Mmm…donuts. Just like Homer Simpson, we can't resist this classic ringed dough dunked in pink icing and showered with colorful sprinkles. We also don't see ourselves resisting any kind of sweet bread really. Whether for breakfast, dessert, or dinner, we donut know what we would do without the best doughnuts in America.
Doughnuts are beautiful rings of sweetened dough that are baked or fried. They are typically topped with irresistible icing, glaze, chocolate, or sugar. These beloved treats are so delightful there are two days devoted to them. National Donut Day is on the first Friday of every June and National Doughnut Day is on November 5. Either way you spell it, they are delicious.
Whether you like your doughnuts plain, dunked in hot coffee, or as an over-the-top dessert, we got you covered and smothered in sugar, spice, and everything nice.
What is the #1 Donut Shop in America?
It depends on who you ask. The #1 donut shop in America is subjective.
According to Yelp, it's Rocklin Donuts & Cinnamon in California.
Some might also say their go-to is Krispy Kreme, which sells up to 1.6 billion a year, or they run on Dunkin' Donuts, which sells 2.9 billion, but we prefer the mom-and-pop shops.
According to us, it depends on the day. It could be a freshly fried yeast doughnut filled with jelly one day, a classic old-fashioned glazed cake doughnut the next day, and a toothsome Boston cream doughnut the other days.
It could also be a local bakery that makes international variations of doughnuts like:
Beignets: French-style doughnuts dusted with powdered sugar
Bomboloni: Sugar-dusted Italian doughnuts
Cronut: half-croissant, half-doughnut created by Dominique Ansel
Crullers: Deep fried European round or stick pastry that is twisted or braided
Drop donuts: resembling donut holes, timbits, or balls, these are balls of dough dropped into the frier that produce mini donuts.
Filled donuts: Round, deep fried donuts filled with chocolate, cream, custard, or jelly
Fritter: Deep fried dough that is often glazed and includes fruit like apple.
Kolaches: Czech sweet bread filled with fruit, cheese, meat, or cream cheese
Malasada: Fried yeast Portuguese donut
Paczki: (pronounced "poonch-key") Polish doughnuts filled with custard or jelly
Ring Donuts: Yeasted dough or brioche with a whole in the middle
There are 10 billion doughnuts made annually in America, so chances are there's at least a dozen doughnut shops that you can call your favorite too.
What Are the Best Donuts in America?
The best donuts in America are the ones made hot and fresh and delivered straight to your door. Plus, getting perfectly packaged doughnuts on your doorstep means there's zero chance singer Ariana Grande has licked them (yeah, that really happened at a California donut shop back in 2015).
Don't be jelly. Order the Best Donuts in America shipping nationwide on Goldbelly!