THIS JEWISH DELI STAPLE IS A CULINARY MASTERPIECE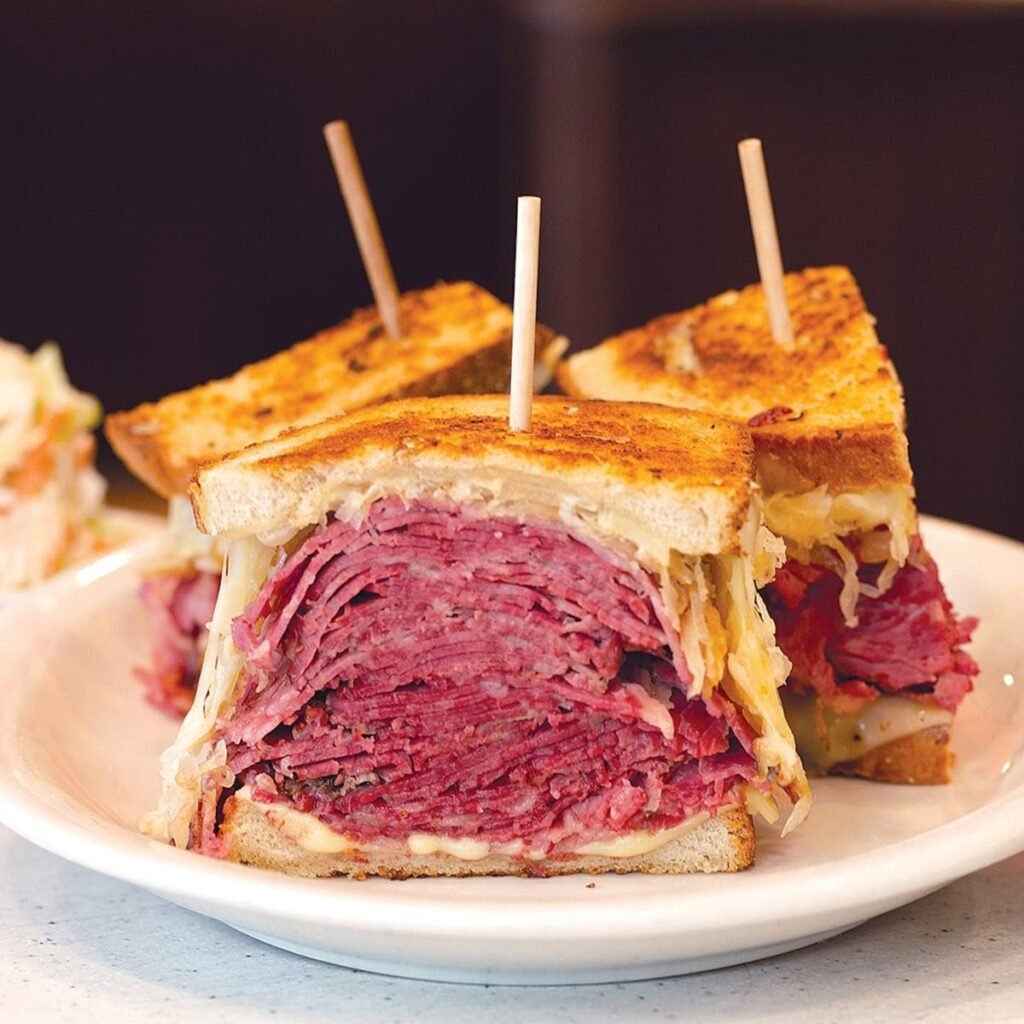 There are two types of people in this world: those who've never had a Reuben sandwich, and those who absolutely love them. There's something about the messy, melty, salty, tangy combination of all the components that makes this Jewish deli staple simply irresistible, high up in the pantheon of the most delicious sandwiches in existence. But what is a Reuben, exactly? And where was it invented?
What is on a Reuben Sandwich?
The classic Reuben sandwich is made by stacking:
hot corned beef,
sauerkraut,
melted Swiss cheese,
and Russian dressing in-between two slices of rye bread.
Like many sandwiches that have been around for a while, however, there are plenty of variations out there. Some replace the corned beef with pastrami, or turkey; some even use fish like walleye or grouper. Many versions use Thousand Island instead of Russian, and some include coleslaw instead of sauerkraut. A sandwich that includes pastrami and coleslaw instead of corned beef and sauerkraut is usually called a Rachel.
There are also several different preparation methods. Some simply melt the cheese on top, while others cook the whole sandwich on a griddle or in a press, panini-style. Recent innovations include the Reuben egg roll, in which all the components are rolled up inside an egg roll wrapper and deep-fried until crispy.
What is the History of the Reuben Sandwich?
As legend has it, the history of the Reuben goes back to the 1920s, when a Jewish grocer named Reuben Kulakofsky would play a weekly poker game at the Blackstone Hotel in Omaha, Nebraska, along with the hotel's owner. The owner's son, who worked in the kitchen there, invented the Reuben for him, and it was an instant hit when added to the restaurant's menu. 
What Kind of Meat is Reuben Made From?
The most common meat on a Reuben is corned beef – brisket that's been cured in a brine before being slowly cooked until super-tender. The most common variation is made instead with pastrami – beef that's also cured in a brine but is then coated with seasonings, smoked, and steamed. Other meats include:
turkey,
Montreal-style smoked meat,
walleye,
and grouper (popular in Florida).
Some omit the meat altogether and use mushrooms or other meat substitutes instead.
Is a Pastrami Sandwich Called a Reuben?
A pastrami sandwich is just what it sounds like – a pastrami sandwich. Unless stated otherwise, a pastrami sandwich will be just pastrami between two slices of rye bread, perhaps with a schmear of deli mustard. Same goes for corned beef. A Reuben is a completely different sandwich altogether. 
Read More: Pastrami vs Corned Beef: What's the Difference?
Is a Reuben Sandwich Kosher?
Kosher guidelines dictate that meat and dairy shall never be combined in the same meal, the Reuben sandwich isn't considered kosher because it's topped with cheese. So even though it will never be found on the menu of a strictly kosher deli, it's a staple at delis that are "kosher-style."
Most Famous Reuben Sandwiches
If you're looking to try a Reuben for yourself, there's no need to track down a deli that serves it. Thanks to Goldbelly, America's most famous Reubens are being delivered straight to your door, ready to build and eat!
There's nothing quite like a great Reuben sandwich, and some of the finest ones in America are shipping straight to your door with Goldbelly!