THE MOST LEGENDARY, MUST-TRY COCONUT MACAROON COOKIES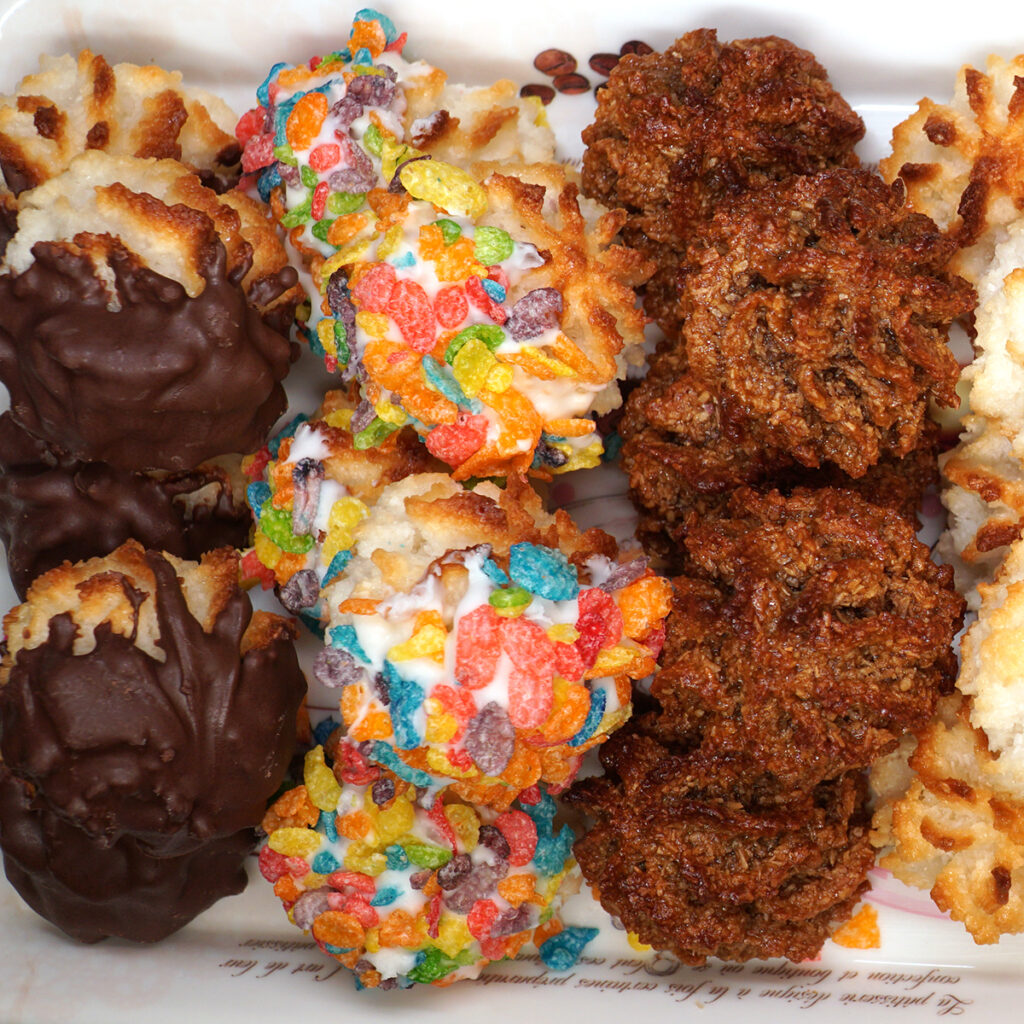 Macaroons are small, coconut cookies that are crispy on the outside and chewy on the inside. Classic coconut macaroons are plain mounds of shredded, sweetened coconut. Sometimes, these tiny cookies are dipped or drizzled in milk or dark chocolate or flavored with almond, pistachio, or salted caramel.
Macaroons are made by whisking egg whites, sugar, salt, and vanilla together, and then adding shredded coconut. Pronounced mac-ah-ROON, macaroons are gluten-free and kosher.
A macaroon and a French macaron are not the same thing. The two are often mixed up and mispronounced. Both are small cookies that have some of the same ingredients, but that is where the similarity ends.
The coconut macaroon is completely different looking and tasting from a French macaron. Macarons are colorful meringue sandwich cookies that are baked into light and airy rounds joined by jam, cream, or ganache.
Read More: Macaroon vs Macaron
Macaroons are denser. They are tightly packed with strands of shredded coconut and formed into a two-bite mound of chewy coconut goodness, occasionally dipped in chocolate.
The Italians are credited with inventing coconut macaroons. The origin of the coconut cookie's name comes from the Italian word maccherone, which means "paste." A version of this cookie with a coconut mixture was made in Italian monasteries in the eighth century. Italian Jews began eating macaroons because they have no flour or leavening (making them kosher for Passover), and they remain a popular Passover treat to this day, especially in the US.
What are the Best Macaroons?
There's nothing quite like biting into a dense, chewy coconut macaroon. Here are our favorite classic coconut macaroon cookies.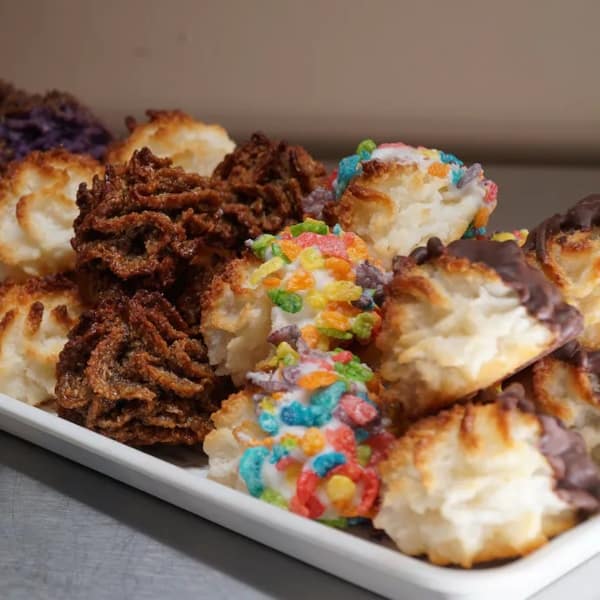 Macaroons with Hawaiian Flavor: Macbaby
Plain macaroons are delicious, but Honolulu's MacBaby makes them next level. Founder Belia Turley makes macaroons with Hawaiian flair. MacBaby's fun flavors include banana, brownie, coffee, Fruity Pebbles, mango, pandan, red velvet, and ube.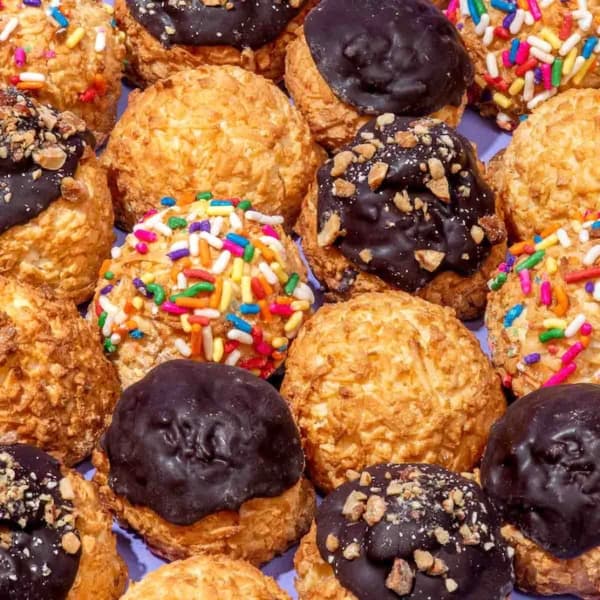 21st Century Biblical Macaroons: Danny Macaroons
New York's Danny Macaroons form each macaroon by hand. Macaroonist Dan Cohen began making his famous coconut clusters 10-plus years ago. He has perfected the shredded coconut delight in flavors like original, chocolate dipped, chocolate almond, salted caramel, chocolate caramel, rainbow sprinkles, and sesame caramel.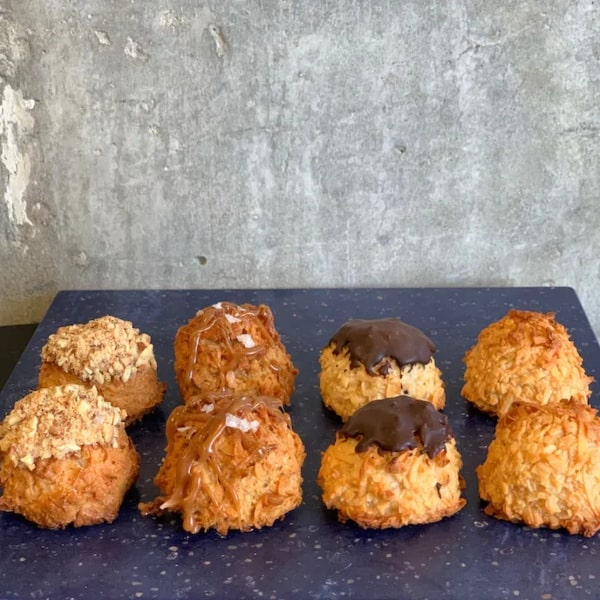 Most Flavorful Macaroons: Russ & Daughters
The NYC appetizing shop ("appetizing" = foods that go with bagels) that has been serving New Yorkers since 1914 makes some of the most superlative macaroons. The family-run storefront's Macaroon Variety Pack in flavors like coconut, almond, chocolate-dipped, and salted caramel.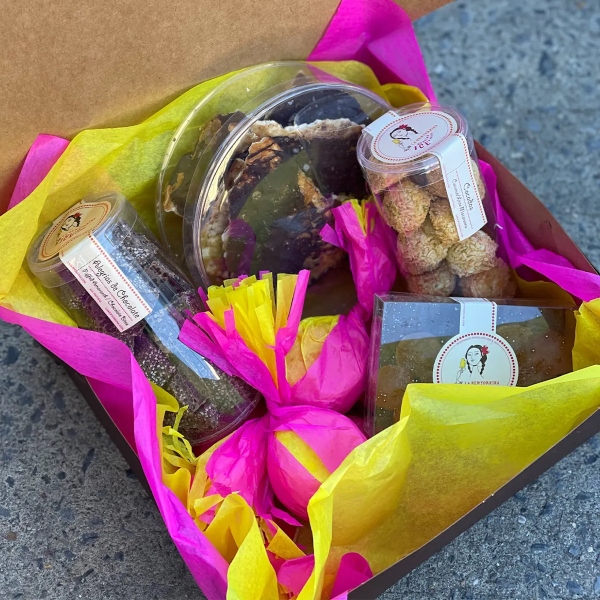 Creative Macaroons: La Newyorkina
Since macaroons don't have flour or leavening, they are often eaten during the Jewish holiday of Passover. Celebrate the holiday with La Newyorkina's Mexican Passover Gift Box. The box includes Cocadas (Coconut Lime Macaroons) plus Alegrias de Chocolate (Mexican Puffed Amaranth & Chocolate Bites), Chocolate Covered Matzah with Caramel & Mexican Chocolate and Sea Salt, and Pumpkin Seed Brittle.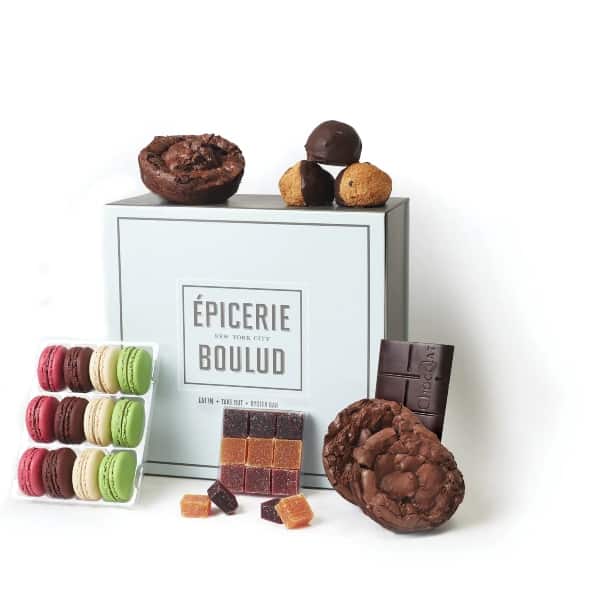 Chocolate-y Macaroons: Daniel Boulud Kitchen
Michelin-starred French Chef Daniel Boulud expertly handcrafts the sweetest treats. Sample sensational sweets with Chef Daniel's Flourless Gluten-Free French Sweets Box. The festival box includes Coconut Macaroons dipped in milk chocolate plus meringue macarons, chocolate hazelnut cookies, pâte de Fruit, and a seasonal dark chocolate bar.
Read More: The Best Macarons
Sweet dreams are made of these… classic coconut macaroons and colorful macarons. Ship the sweet life nationwide with Goldbelly!