EVERYTHING YOU NEED TO KNOW ABOUT THE DIFFERENCE BETWEEN MACAROONS AND MACARONS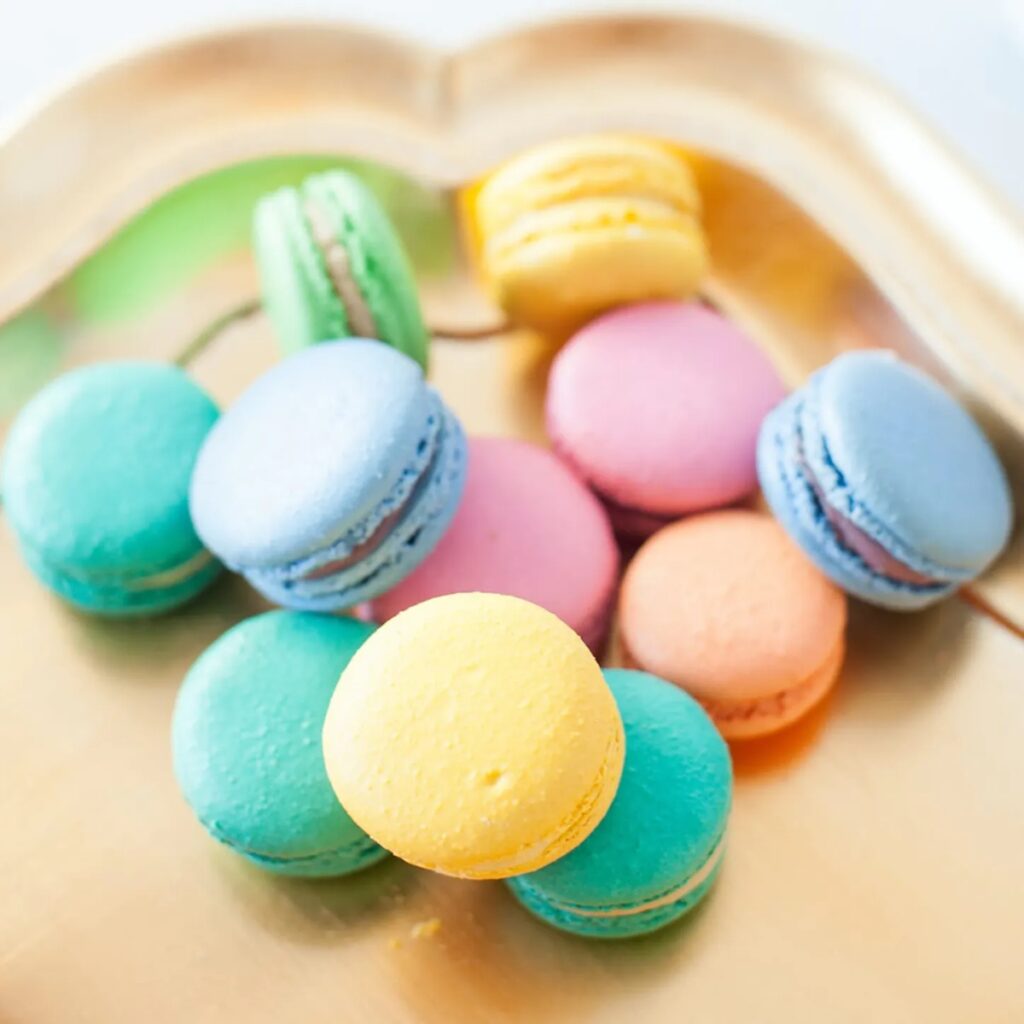 Often used interchangeably, macaroons and macarons are distinctly different French cookies. Macaroons are dense coconut cookies and macarons are meringue sandwich cookies.
Are Macarons and Macaroons the Same?
No, they are not the same. The difference between them is one ingredient: macarons have ground almonds and macaroons have shredded coconut. Despite their differences, both petit cookies contain whipped egg whites, sugar, and vanilla. Both cookies are gluten-free and kosher.
Read More: The Best Cookies for Sweet Gifts
What is a Macaroon?
Macaroons are chewy coconut cookies made with strands of fresh coconut. The cookies are formed into bite-size balls or mounds. These two-bite cookies are crispy on the outside and chewy on the inside.
These cookies are often drizzled or dipped in dark chocolate. Chefs are increasingly experimenting with fanciful flavors like salted caramel, pistachio, and almond.
Most credit the Italians with inventing the macaroon. There was a coconut cookie that was made in Italian monasteries beginning in the eighth century. The name for the coconut macaroon comes from the Italian word maccherone, meaning "paste." 
Macaroons do not contain flour or leavening. Because of this, they are often eaten during Passover. Passover is the Jewish holiday that observes the Biblical story of the Israelites freedom from slavery.
Read More: The Best Macaroons
What is a Macaron?
Enjoyed since the Renaissance, macarons are light and airy sandwich cookies. The cookie has cream, ganache, or jam sandwiched between two meringue and almond flour rounds. These two-bite cookies come in a kaleidoscope of colors. Popular macaron flavors include chocolate, lemon, raspberry, and vanilla.
It is likely macarons were invented in Italy. Queen Catherine de' Medici originally brought the single Italian macaron to France from Italy in the 16th century. It was a Ladurée baker who put two macaron shells together with a creamy filling in the 19th century.
Macaron cookie batter typically contains almonds. The batter is placed in a pastry bag and piped into circles before being baked. Macarons are smooth on top and have a ruffled "foot." Jam, buttercream, or ganache is used to hold two of the delicate meringue shells together.
Read More: The Best Macarons
How to Pronounce Macaron vs Macaroon?
Americans often call macarons macaroons, but this is incorrect. The confusion is not surprising as the pronunciation of the two cookies is similar. The difference in pronunciation is in the third syllable. The colorful French macarons are pronounced mac-ah-ROHN and the coconut haystack macaroons are pronounced mac-ah-ROON.
Popular Macaroon and Macaron Flavors
Macaroons and macarons come in dozens of flavors. Macaroon flavors include:
Almond
Chocolate
Coconut
Pistachio
Salted Caramel
Popular macaron flavors include:
Chocolate
Lemon
Pistachio
Salted Caramel
Vanilla
How to Make a Macaroon Vs Macaron?
Macaroons are simpler to make than macarons. Just whisk egg whites, sugar, salt, and vanilla together, and add coconut shred. Spoon onto a baking sheet and bake for 20 minutes or so until golden brown.
Macarons are a bit more challenging to make. You have to whip egg whites and sugar into stiff peaks before adding almond flour and food coloring. Then, the batter is piped onto a baking sheet.
The batter should be left out to dry. Bake for 20 minutes or so until the cookies are shiny and have their iconic ruffle.
Most Famous Macaroons and Macarons
Oh-la-la! Host your own macaroons vs macarons taste test. America's best bakeries and patisseries are shipping the most legendary French pastries nationwide on Goldbelly!