THIS CLASSIC JEWISH PASTRY IS BUTTERY & INDULGENT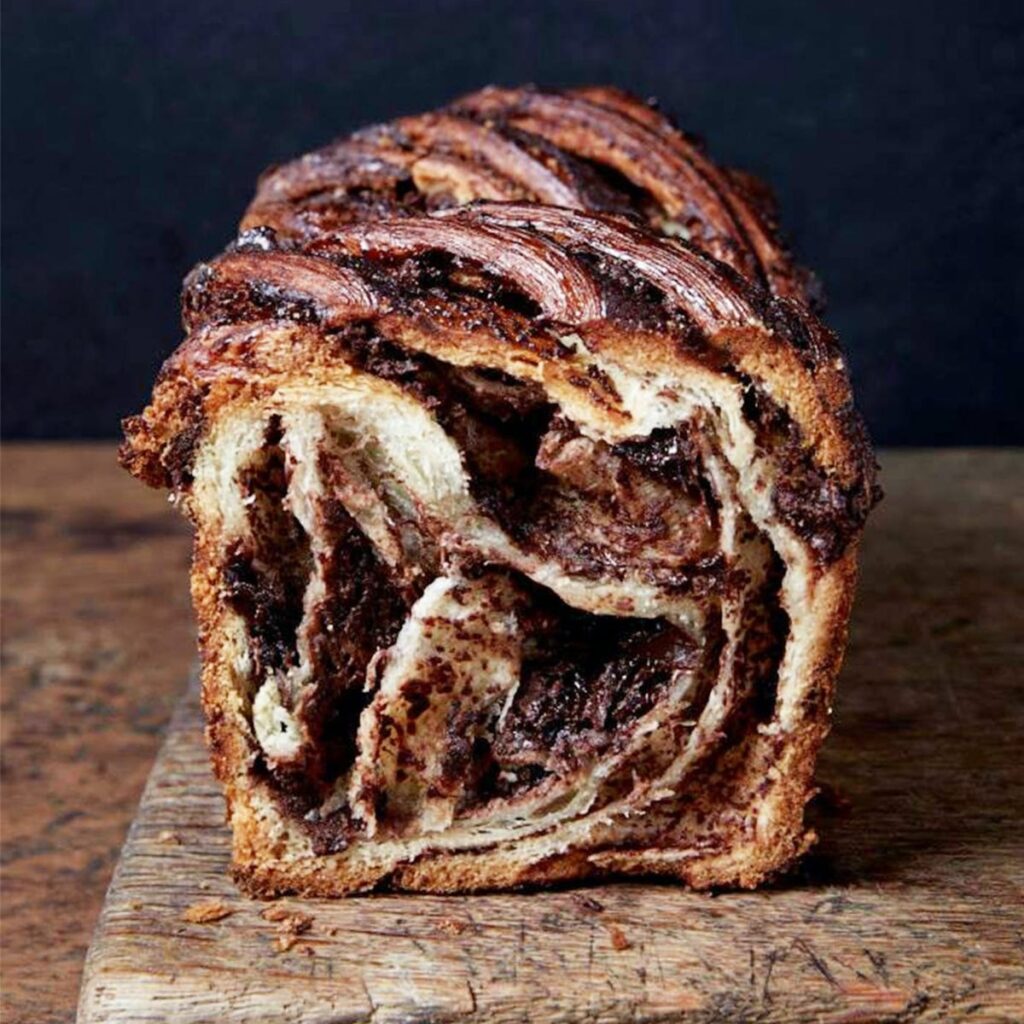 Babka very well might just be the king of all Jewish desserts. The sweet braided bread – usually swirled with chocolate or cinnamon – is addictively delicious, perfect either hot or room temperature, and works just as well as a sweet breakfast dish and a luxurious dessert. But what is babka, exactly, where does it come from, how is it made, and who makes the best?
Where Did Babka Originate?
Like many Jewish-American specialties, babka originated in Eastern Europe – Poland and Ukraine in particular – in the early 1800s. As a way to use extra challah dough, Jews there would roll up the dough with cinnamon or fruit jam and bake it alongside the challah. 
Babka remained relatively unknown outside of Eastern Europe until the 1950s, when European-style bakeries in Israel and the United States began to offer it. By the 1970s, babka had become a mainstay at Jewish bakeries in the New York area, and while it's made its way across the country since then, it remains most popular in and around New York City.
How Babka is Made
The babka that you'll find in New York starts with a sweet, eggy, brioche-style dough that closely resembles the dough used to make challah. In order to give babka its signature braided shape, the dough is rolled out, spread with the desired topping, rolled up like a jelly roll, cut into strips, braided, and finally tucked into a loaf pan and baked.
Once it emerges from the oven, it's brushed with sugar syrup to give it its signature sheen, and is occasionally finished with streusel. It's served by the slice.
Israel has its own style of babka, which is made with laminated dough instead of challah-style dough. Laminated dough is made by layering dough with butter over and over again, and the resulting pastry is flaky and buttery – think a croissant or rugelach. The shape of Israeli babka can also differ from the standard loaf.
What Does Babka Taste Like?
Simply put, babka is delicious. It of course tastes of the buttery dough, but it also tastes like the filling. The most popular babka filling is chocolate, either in the form of melted chocolate, chocolate chips, or chocolate-hazelnut spread like Nutella. Cinnamon-sugar is also a very popular babka filling, but other flavors include:
Apples
Raisins
Sweet cheese
Mohn: a sweet poppy seed pasta
The inside is tender and flaky, the sides and bottom get slightly crisp, and the top is golden brown and crusty.
Is Babka a Cake or Bread?
In the strictest sense, babka is a bread, because it's made with a standard bread dough, which is yeast-risen (as opposed to cake batter, which is risen with baking soda or powder). It can be confused for a cake due to its loaf shape, but like other sweets like Italian panettone, raised doughnuts, Mexican pan dulce, and even cinnamon buns, babka is a sweet yeast-raised bread.
Is Babka Breakfast or Dessert?
Babka is traditionally served as dessert, usually at family holiday gatherings. But if you're the kind of person who likes their breakfast to be on the sweet side, then it's definitely suitable for breakfast as well!
How is Babka Served?
Babka can usually be found among other traditional Jewish desserts on a holiday spread, like black & white cookies, honey cake for Rosh Hashanah, hamantaschen for Purim, Jewish apple cake, and rugelach. It can be served room temperature, warm with a scoop of ice cream on top, or even cold right out of the fridge the following day for breakfast. Coffee and tea make for perfect accompaniments.
Read More: Jake Cohen Shipping His "Jew-ish" Bakery Classics Nationwide
Most Famous Babka Breads
If you want to try a fresh-baked babka for yourself (and trust us, you do!) but don't have a Jewish bakery nearby, not to fear! Several of America's most delicious and iconic babkas are shipping straight to your door on Goldbelly.
In the mood to indulge in a babka all for yourself? Shop now and have it delivered straight to your door with Goldbelly!