EVERYTHING YOU NEED TO KNOW ABOUT AUTHENTIC PHILLY CHEESESTEAK SANDWICHES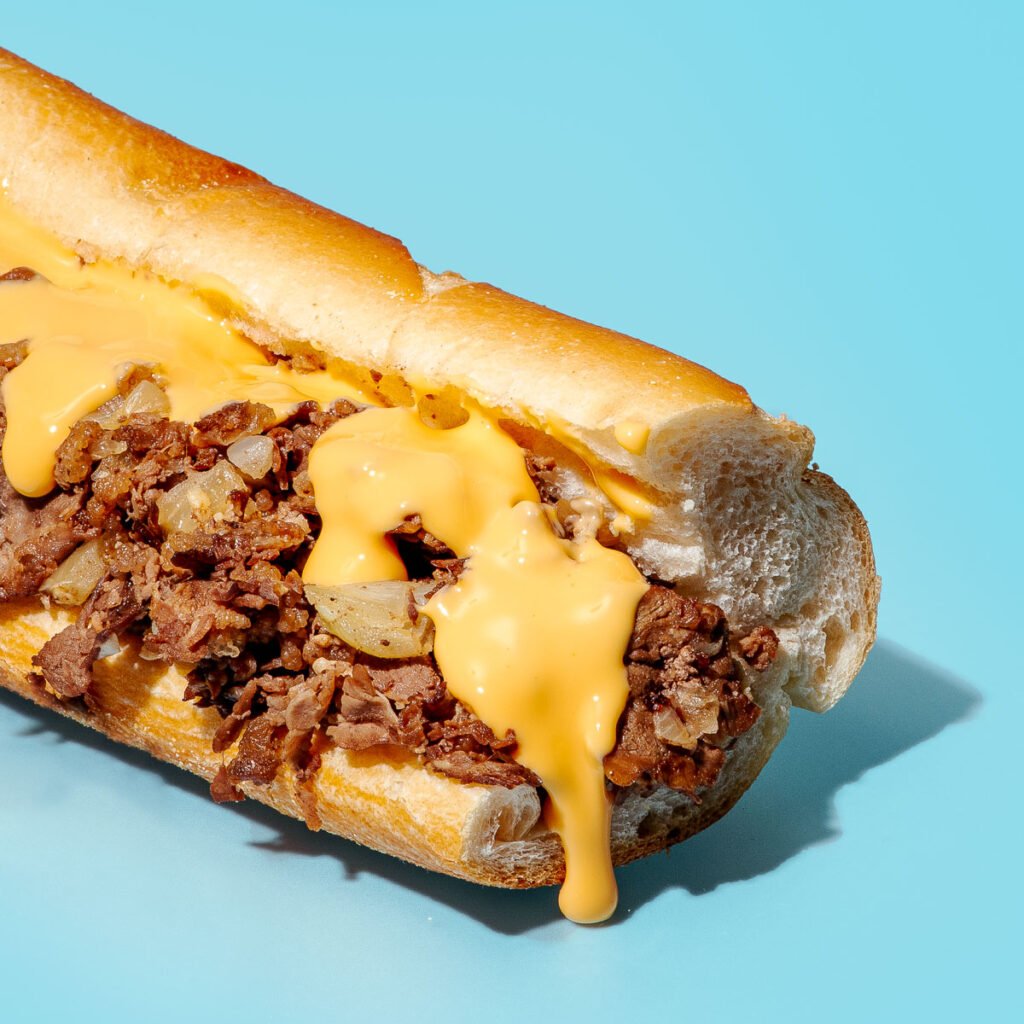 There are few sandwiches more iconic than the Philly cheesesteak. This humble sandwich of thinly sliced griddled beef is an oldie but a goodie. Topped with Cheez Whiz, Provolone, or American cheese and, if you like, "wit' or wit'out" grilled onions, this steak sandwich is a beloved regional masterpiece. There's even a day devoted to it – National Philly Cheesesteak Day is March 25.
What Makes a Philly Cheesesteak Special?
What makes a Philadelphia cheesesteak special is the beef, and the way that it plays with the cheese, onions, and bread to become a cohesive whole that's better than the sum of its parts. Ribeye is the best meat for a cheesesteak, because it is a cut that won't lose its flavor when grilled well-done. Plus, ribeye is tender and its fat content will melt in your mouth.
It's important to use high quality ingredients, including stuffing the split roll with a generous amount of thinly sliced ribeye. Add some cheese, onions, and love, and you have the best sandwich ever.
What Is On a Real Philly Cheesesteak?
There are three basic ingredients and an optional add-on on a real Philly cheesesteak. While the ingredients may be simple, the combination makes for one incredibly tasty sandwich. An authentic Philly cheesesteak sandwich includes:
Beef (typically ribeye or frozen chipped beef) that is sliced super-thin and cooked on a hot flat-top griddle until well done
Torpedo (or submarine) roll
Melted Cheese (traditionally American, provolone, or Cheez Whiz)
Optional: grilled chopped white onions
If you want to order one of these sandwiches like a real Philadelphian, then you order a "cheesesteak wit" if you want onions and a "cheesesteak witout" if you don't want onions.
You can choose any of the three traditional cheeses — American, Provolone, or Cheez Whiz — but do not order Swiss cheese – as American politician John Kerry once mistakenly did when visiting Pat's King of Steaks while on the campaign trail.
To eat a drippy cheesesteak with ooey gooey Cheez Whiz like a true Philadelphian, it's important to assume "the Philadelphia lean" to avoid having cheese drip on your clothes or shoes. Lean forward, prop your arms up on the table, and bring your face to the sandwich to take a bite.
What's the Difference Between a Philly Cheesesteak and a Regular Cheesesteak?
The difference between a Philly cheesesteak and a regular cheesesteak is the use of "Philly" in the name – the two are otherwise basically synonymous. Purists may argue that a true Philly cheesesteak must be made in Philadelphia and have ribeye served on a Torpedo roll that is firm on the outside and soft on the inside. The roll is not toasted.
Sandwiches served in Philadelphia and elsewhere that include steak, cheese, onions, and other toppings like hot or sweet peppers and mushrooms are considered cheesesteaks (there are plenty of variations as well, like the pizza cheesesteak with tomato sauce and mozzarella). A sandwich with just sliced ribeye wit or witout onions is a steak sandwich. Cheesesteak lovers in Philly and elsewhere may also add condiments like ketchup or Sriracha.
What Kind of Meat Is in a Philly Cheesesteak?
Traditionally, a Philly cheesesteak is made with sliced beef, particularly ribeye, which is sliced super thin and cooked on a griddle. Many cheesesteak shops also offer chicken cheesesteaks, made with sliced chicken breast instead of beef.
Read More: Pastrami vs Corned Beef
When Were Cheesesteaks Invented?
The original Philly cheesesteak was invented in the 1930s. Brothers Pat and Harry Olivieri, who owned a hot dog stand in South Philadelphia, decided to mix it up one day. Instead of grilling hot dogs, they sliced up some beef and grilled it along with onions. Then, they stuffed it on a roll.
Their creation's aroma immediately attracted the attention of a taxi driver who frequently bought hot dogs from the brothers. He requested the steak sandwich and one of the most iconic sandwiches ever was born.
It wasn't until a couple decades later when cheese was added, transforming the Philly steak sandwich to the Philly cheesesteak. This might explain why some of the most famous Philly cheesesteak shops just have the word "steak" in their names.
"Cocky" Joe Lorenzo, an employee at Pat's King of Steaks, is credited with adding Provolone to a steak sandwich in the 1950s, birthing the Philly cheesesteak. Cheez Whiz, the bright orange processed cheese product in a jar, was invented in 1953. It became one of a trio of acceptable cheeses to add to this mega meat sandwich.
What Is the Original Cheesesteak Sandwich?
The original cheesesteak sandwich was actually just a steak sandwich with grilled meat trimmings and onions. There wasn't any cheese in the original sandwich. The original sandwich just had grilled sliced beef with onions on a split-top roll.
Most Famous Cheesesteaks
One of the most recognizable sandwiches in the world comes from City of Brotherly Love. Savor food love from Philly with the top cheesesteak makers in Philadelphia.
Read More: The Best Philly Cheesesteaks
It's no mis-steak: Goldbelly has the best Philly cheesesteaks, shipping nationwide. Shop the cheesesteaks sale now!