THIS CLASSIC JEWISH SOUP IS A CURE FOR WHAT AILS YOU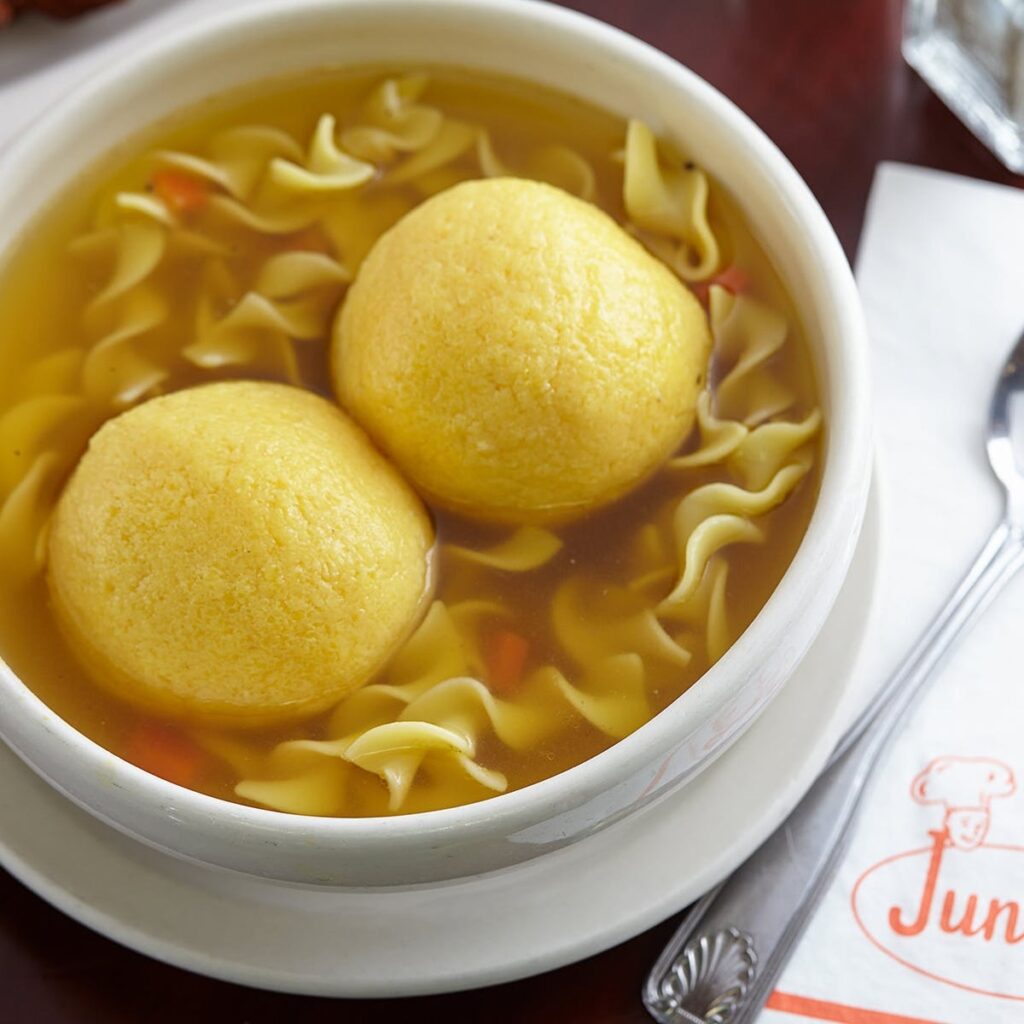 If you've ever been to a Jewish deli, you've most likely seen matzo ball soup on the menu. It's a classic Eastern European Jewish soup and is seriously comforting, but even if you've eaten a matzo ball you might not know exactly what that big dumpling floating in your bowl is. So what is a matzo ball, exactly, and who makes the best around?
What is Matzo Ball Soup?
The "soup" element of matzo ball soup is easy: it's usually just chicken soup. 
As for the matzo ball itself (called knaidel in Yiddish), the name should give you a good hint that the main ingredient is matzo, or more specifically, matzo meal, which is made by grinding matzo into flour. The recipe is quite simple: It's made by combining matzo meal with beaten eggs, water, and fat – chicken fat (called schmaltz) is usually used, but oil or margarine is also common (butter is usually avoided as it results in un-kosher matzo balls due to the mixing of dairy and animal products).
This mixture is then formed into balls and dropped into simmering water or chicken soup, in which they poach until increased in size and cooked through. Some matzo balls are larger in size than others, some are dense "sinkers" while others are lighter "floaters" – the addition of baking soda helps to lighten them up.
Some matzo ball soups are just a matzo ball in chicken broth, while some also include noodles, veggies like carrots and celery, and/or pieces of chicken.
Even though matzo ball soup is a traditional Passover food – and a common addition to the Passover seder – it's enjoyed year-round, and not just during the holiday.
Who Makes the Best Matzo Ball Soup?
Nearly every Jewish deli serves matzo ball soup, and not only do some of the top delis in America make exemplary versions of the dish, they also ship it nationwide!
Discover all of the matzo ball soup that Goldbelly has to offer, and all kosher Jewish deli foods, shipping directly to your door!