What's your cookout craving? Spring has sprung and Memorial Day calls for EPIC eats. Fire up an amazing summer spread of juicy burgers, finger-lickin barbecue and more or cool down with scoops from the best ice cream shops in the US! Check out our list of the most iconic Memorial Day foods that can be delivered straight to your door:
Goldbelly "Burger Bash" Pack from Pat LaFrieda Meat Purveyors
Get your hands on a new, exclusive Burger Bash pack from the legendary Pat LaFrieda and really wow your guests this year at your Memorial Day feast. These melt-in-you-mouth burgers are deliciously crafted with Pat Lafrieda's most popular burger blends and Goldbelly's very own custom Gold Label Burger blend. You'll have everyone begging to try a bite of these masterpiece burgers. Order here now »
American Wagyu Grill Classics from Snake River Farm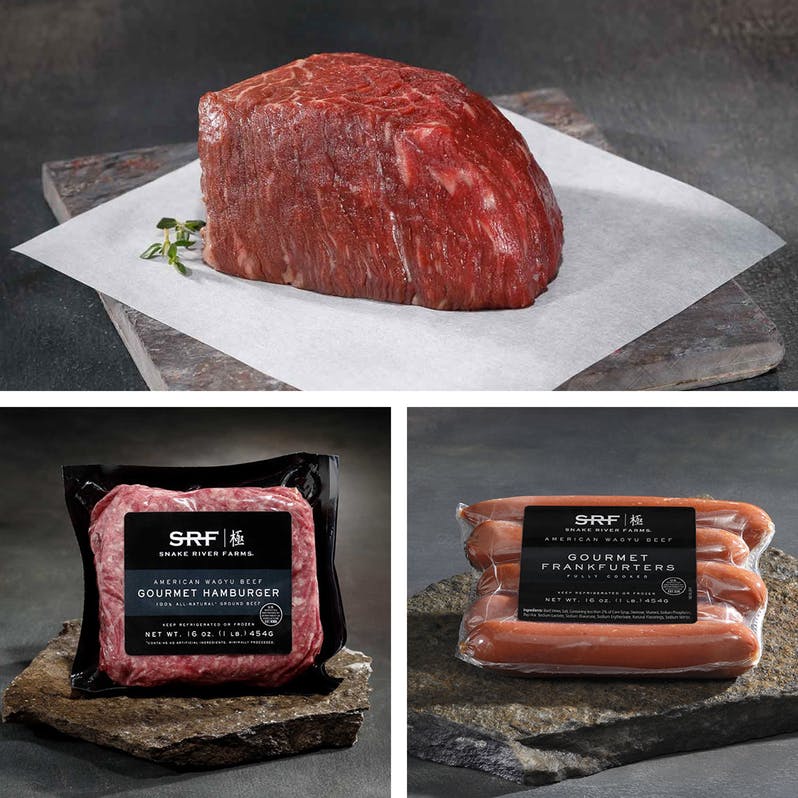 These Snake River Farm classics will take your grilling to the next level. Fill up on American Wagyu Top sirloin steaks, Wagyu burger patties, and Wagyu hot dogs. Put these bad boys on the grill and you're entire neighborhood will be asking to drop by! Order here now »
Chicago Style Hot Dog Kit from Vienna Beef Hot Dogs
Nothing says Memorial Day quite like a juicy all-American hot dog and Chicago has some of the best around. Get your hands on the iconic Chicago dogs from Vienna Beef today! Order here now »
Hatch Green Chile Burgers from Sparky's
Who doesn't want to feast on a perfectly grilled, smoky, spicy patty this Memorial Day? We know we do! And, there's no better place to get a scratch-made burger packed with flavor than at Sparky's. Their Hatch Green Chile burgers will have your drooling. Order here now »
Great Steakhouse Burgers + Jumbo Steak Dogs from Allen Brothers
Want to throw a Memorial Day feast that'll be memorable for years to come? Here's your answer. Not only does this package include the world's best steak burgers from Allen Brothers, but it also includes firm, juicy jumbo steak dogs that'll be sure to impress your guests. Order here now »
Hawaiian Ahi Tuna Ultra Fillet from Honolulu Fish Company
Put a little Hawaiian twist on your Memorial Day bash and say "Aloha" to the Ahi tuna from Honolulu Fish Company. This filet of tuna is the best grade of Ahi available in the world. Because of its high-quality status, this fish is best prepared as sashimi. Order here now »
Van Leeuwen Artisan Ice Cream
Stay cool this Memorial Day with a few bites of sweet, sweet ice cream from Van Leeuwen Artisan Ice Cream. They're unique flavors like Earl Grey Tea, Honeycomb, and Sicilian Pistachio have earned them a cult following in NYC. Plus they have vegan options so there's something for everyone! Order here now »
Assorted Ice Cream Sammies Pack from Coolhaus
Stack it up with these ice cream sammies from one of the coolest ice cream shops in LA. Try Coolhaus' Gimme S'Mores or Baked Apple to kick off summer right! Order here now »
Giant Mint Fudge Ganache Ice Cream Cake from Anderson's Frozen Custard
Do you love cake? Do you love ice cream? Want to have the best of both worlds? Anderson's Giant Mint Fudge Ganache Ice Cream Cake is your calling. Trust us… you won't be disappointed. This delicious cake is masterfully created with handmade chocolate-mint ice cream and layers of chocolate fudge and cookie crunch cuts. Yum! Order here now »
Looking For More Memorial Day Food Ideas For Your Party this Year?
If this doesn't cover the Memorial Day foods you want, don't fret! We have so many more eats to choose from. Check out our top eats for Memorial Day feasts here!