CHEESE, FRUIT, CHOCOLATE, & NUTS ARE ALWAYS WELCOME GIFTS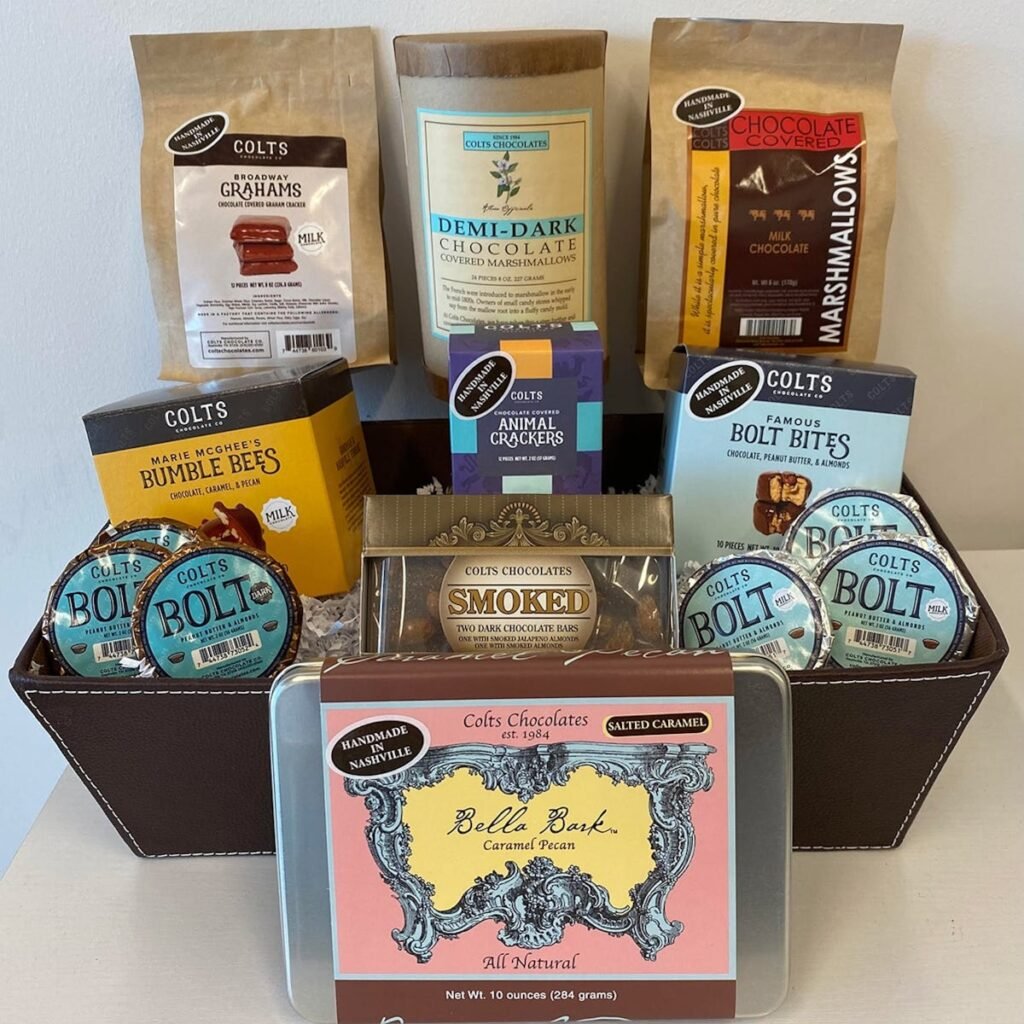 If you're looking to send the perfect gift to a friend, family member, or loved one, a gift basket is pretty much ideal. As opposed to tired standbys like flowers or a scented candle, a gift basket can contain an assortment of items, and shows a more personal touch while also giving your recipient a variety of things to discover.
In our opinion, the best gift baskets are ones that are loaded with food! If you know that the recipient is a fan of one specific type of food, you can fill it with a selection of favorites. If you're not entirely certain of a specific favorite of theirs, you're welcome to mix and match. And you can also take a regional approach; if you live in, say, the Pacific Northwest, you can fill it up with regional specialties that you think they'll love but may not have access to where they live.
How Do You Put Together a Gift Basket?
The great thing about gift baskets is that you can put as much or as little thought into it as you like. For example, if you know that the recipient is really into beef jerky, you can send them a big basket full of jerky. But the more thought you put into it, the more appreciated it'll be.
And a gift basket doesn't even technically need to be a basket; you can load up a box full of candy, and we guarantee that they'll be just as thrilled when they open it than they'd be if it came in a wicker basket. But if you actually do start with a basket and fill it to the brim with little surprises and things to discover, it won't go unnoticed.
What to Put in a Gift Basket?
If you do decide to use an actual basket, you might be wondering what to put in the bottom. We recommend you use something along the lines of colorful shredded paper. This will help to fill out any extra space, and if you hide smaller items amongst the shreds it'll make for a truly exciting unboxing experience as they find them.
If you're looking for ideas as to what are the best types of food to include in your gift basket, there are great places to start:
Cheese
Who doesn't love cheese? If you live near a great cheese shop, you can mix and match a variety of cheeses – for example, a blue cheese, a washed rind cheese, a semi-soft sheep cheese, and a hard cow cheese, just like you would a cheese board.
Chocolate
Chocolates are always a sweet and thoughtful gift. Whether you're sending boxes of chocolates, chocolate-covered pretzels, chocolate bars, handmade truffles, or other chocolatey creations, chocolate travels very well.
Fruits
Anyone can find fruit at their local grocery store, but certain types of fruit can make for an ideal gift, especially if it's not your run-of-the-mill produce. Ripe citrus from Florida, seasonal Georgia peaches, exotic tropical fruits they may not have ever even heard of, and super-sweet Hawaii-grown pineapple can all brighten someone's day.
Charcuterie
Charcuterie – usually meant to refer to cured meats like salami and prosciutto as well as spreadable patés and terrines – can make for an incredibly elegant and upscale gift basket, especially when partnered up with cheeses, crackers, and accompaniments like jams and cornichons.
Read More: Unique Charcuterie Board Ideas
Fudge & Candy
What's a gift basket without fudge and different types of candy? If your recipient has a sweet tooth, few surprises will make them happier than a basket that's filled with creamy handmade fudge and enough candy to keep them nibbling away for days.
Our Best Gift Basket Ideas
There's no need to worry about assembling a gift basket from scratch, however! Let Goldbelly take care of it for you. Here are just a few of our favorite gift baskets:
America's best food makers are shipping the best gift baskets nationwide on Goldbelly!