WHAT DO YOU GIVE SOMEONE WHO FEELS SICK?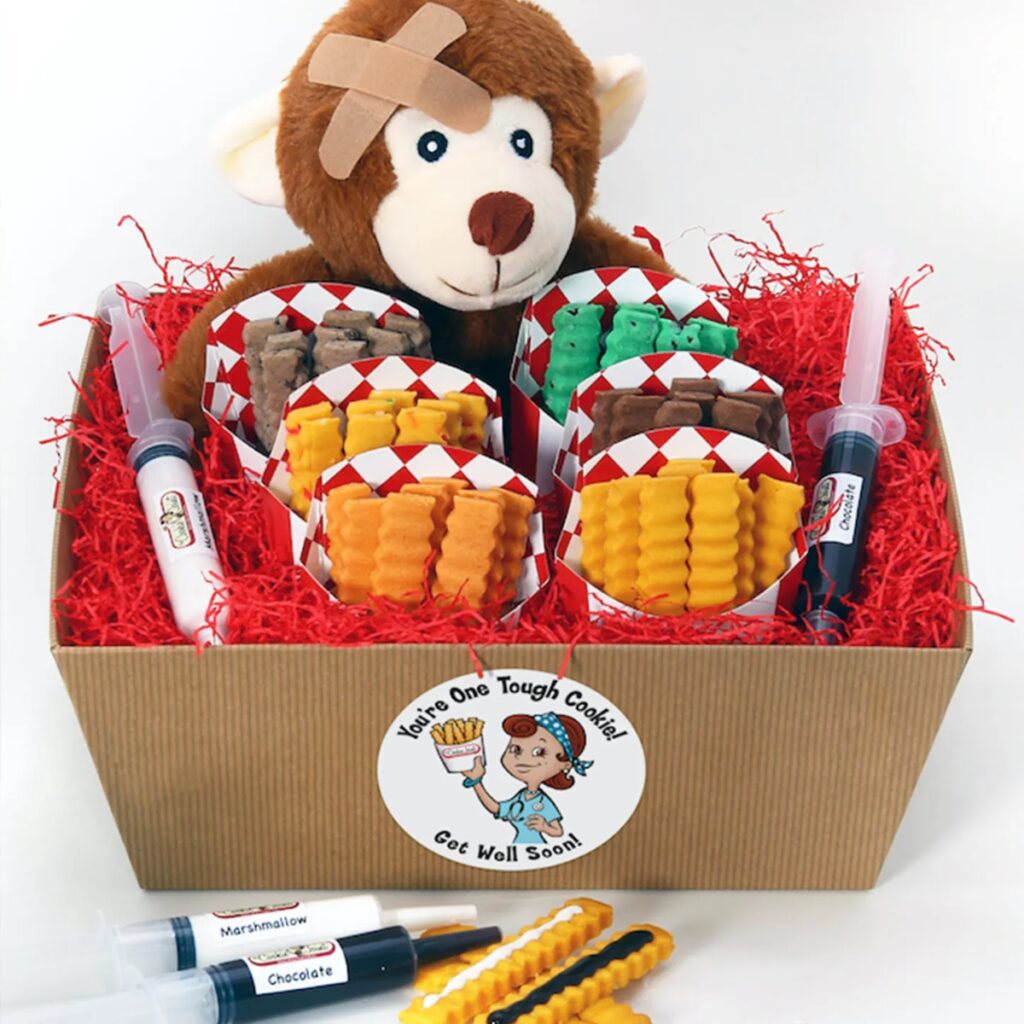 Nothing fights sickness faster than a special delivery from a loved one. While cards and flowers are traditional get well soon gift ideas, a creative care package can be a more thoughtful gift. Care packages give the recipient nourishment that is needed to get better.
From convenient heat-and-eat meals to soothing hot tea and honey to savory and sweet snacks for a Netflix binge, share some TLC with our care package ideas. Whether your nearby friend or long distance loved one is battling through cold and flu season, quarantining with COVID-19, or recovering from an injury or illness, show how much you care with these care package ideas. Then, treat yourself with your own self-care sick kit.
What Do You Put in a Care Package for a Sick Friend?
No matter the reason or the season some of the most popular care package items are:
Soup: a Spoonful of Comfort
Soups are full of soup-er ingredients like veggies, beans, and high-fiber whole grains. Soups help hydrate and boost the immune system. 
Read More: Best Soups For a Cold
Vitamin C-Rich Fruits & Veggies
It's important to eat fruits and veggies every day, but even more so when you're under the weather. Vitamin C is a powerful antioxidant, so eating fruits and vegetables high in vitamin C can boost recovery.
Soothing Tea Set
Tea and its steamy vapors are a natural decongestant. Plus, tea is an antioxidant and an anti-inflammatory, so stock up on black tea, green tea, and herbal tea. To soothe a sore throat, add honey, which has antibacterial properties. To relieve nausea, add ginger.
Healthy Treats
Fruits and vegetables are healthy treats packed with germ-fighting, immunity-boosting vitamins. Enjoy the fruits sliced, in juices, blended in a smoothie, or as a refreshing popsicle.
Something Sweet
Struggling to pick the perfect pick-me-ups for your sick friend? How about a little something sweet for your get well soon care package?
Read More: The Best Cookies for Sweet Gifts
Something Salty
Sometimes salty, crunchy snacks are what satisfies on a sick day. There's more to savory snacking than Saltine crackers.
Gift Baskets
Who doesn't love a gorgeous gift basket? We're gifted with a large collection of culinary gift baskets for all tastes and occasions.
Read More: How to Make a Gift Basket
Gift Cards
Let your imagination scroll with Goldbelly gift cards — perfect for every food explorer. Share Goldbelly love with those who are feeling under the weather.
Read More: Send Goldbelly Without a Shipping Address!
Cheer up your sick friend and show how much you care with care packages filled with soups, teas, fresh fruits and vegetables and tasty treats — all shipping nationwide on Goldbelly! Shop get well gifts for friends or family today!